Welcome to Day 3 of the WSOP Seniors Championship!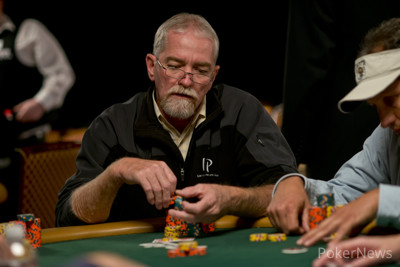 With a total of 4,407 seniors taking their seats on Day 1, this event became the second largest single day opening field for a poker tournament, which proves that poker is still America's pastime for people of all generations. Today, just 34 players return for the third day of play, and one of them will accomplish their dream of winning a World Series of Poker bracelet.
The chip leader coming into the day is James Miller (1,088,000), and he is trailed by Kenneth Lind (1,057,000) and James McClendon (1,029,000), with these the only three to bag and tag more than a million chips.
Along with the hopeful amateurs still in contention, there are still a few experienced professionals in their midst. After finishing 4th in this event just last year, seasoned veteran of the tournament circuit Hoyt Corkins will enter play with a modest 266,000 to work with. Although his chip count is below the average, as we all know from his two WSOP bracelet wins, and his many final tables on the WPT, the Alabama Cowboy is always in the mix to win it all.
Joining Corkins from the professional ranks will be Mark "P0ker H0" Kroon, who will enter play with 358,000 at his disposal. Kroon was the chip leader momentarily as Day 2 drew to a close, but a brutal suckout stopped his momentum in an instant. As one of the first players to dominate the online game, using the hyper-aggressive tactics now typical to a generation raised on internet poker well before they became widely recognized, Kroon is definitely capable of running his stack back up in a hurry.
There were also many notable names to fall short yesterday, including 1997 WSOP Main Event runner-up John Strzemp (125th), rising poker star Young Ji (104th), 2002 Main Event Champion Robert Varkonyi (73rd), and experienced bracelet-winner Dan Heimiller (39th). Although these pros came up short in their bid to bag a bracelet, each of them proved something with their deep runs through this huge field.
To get you ready for the exciting poker action to come, here is the daily update video from our very own Sarah Grant.
.
Stay right here with PokerNews to follow all the action live from the 2013 WSOP Seniors Championship.