Event #45: $1,500 Ante-Only No-Limit Hold'em
Days: 2
Level: 19
Blinds: 0/0
Ante: 6,000
Level: 18
Blinds: 0/0
Ante: 4,000
Event #45: $1,500 Ante-Only No-Limit Hold'em
Day 2 Completed
Level 18 : 0-0, 4,000 ante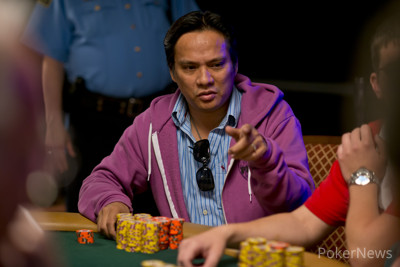 In a short day of play Event 45 $1,500 Ante Only Day 2 has completed. At the start of this day 71 hopefuls were looking to grab a bracelet and first place money of $201,399. Everyone today received a minimum of $2,581. After less than 18 levels, the tournament has reached its final 9 players. Those nine players can get a good night sleep as they will be coming back tomorrow at 12:45 pm PST.
The player with the most impact and most chips heading to the final table is none other than Paul Lieu. He leads the others with 579,000. He gained the chip lead in one of the last hands of the night. He called three times when Chris Moorman bet and won with top pair by the river. Second in chips is Ben Volpe (523,000). The other notable finalist were Chris Moorman (279,000), and Blair Hinkle (182,000).
Unfortunately not all the notable players coming into today made it to day 3. Players that finished outside the final table were: Daniel Idema (49th), Gabriel Nassif (38th), Allen Cunningham (21st), David Williams (18th), David Vamplew (16th), Aaron Massey (12th), and Tommy Vedes (10th).
The final nine players will return tomorrow and they will all look to be the second Ante Only champion in the history of the WSOP. The final table seats and stacks are posted. Check out the live reporting on PokerNews tomorrow as the final 9 players play to a winner with each trying to claim the Ante Only Gold Bracelet.

Level 18 : 0-0, 4,000 ante
Here's how the players stack up at the end of Day 2.
Player
Chips
Progress

Paul Lieu

579,000

-1,000

Ben Volpe

523,000

103,000

Daniel Johnson

479,000

159,000

Louis Bonnecaze

330,000

170,000

Horacio Chaves

314,000

52,000

Chris Moorman

279,000

-1,000

Adam Stone

214,000

-86,000

Blair Hinkle

182,000

-5,000

Samuel Panzica

153,000

-62,000
Level 18 : 0-0, 4,000 ante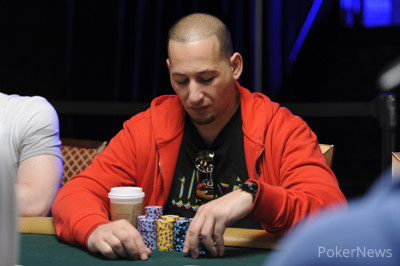 Tommy Vedes pushed all in after Louis Bonnecaze limped. Everyone else folded and Bonnecaze insta-called.
Vedes:

Bonnecaze:
Vedes dumped all his chips as they fell over. He did have some hope however on the flop of
.He needed another nine. The turn was the
. The last card for the night would be dealt the
. Vedes was eliminated and he took 10th place for $12,054.
Level 18 : 0-0, 4,000 ante
Chris Moorman opened the pot with a bet of 17,000, and was called by Paul Lieu and Daniel Johnson. The flop came down
, as Moorman threw out a continuation bet of 45,000. Only Lieu made the call, as the
fell on the turn. Moorman didn't slow down, as another big bet of 75,000 made its way into the middle. Lieu made the call after a short pause, as the
completed the board.
Moorman slowed down, opting to check, as Lieu quickly checked behind.
"Queen is good," said Moorman.
"Show me that it's good," replied Lieu.
Moorman reluctantly tabled his
for a busted flush, before Lieu casually rolled over his
to take down the hand.

Level 18 : 0-0, 4,000 ante
With the elimination of Joshua Macciello in 11th place, the final 10 players have redrawn and are seated on the unofficial final table of Event #45. One more elimination is required before play ends for the night and the final table become official.
Here's how they currently line up.
| Seat | Player |
| --- | --- |
| 1 | Blair Hinkle |
| 2 | Adam Stone |
| 3 | Tommy Vedes |
| 4 | Paul Lieu |
| 5 | Samuel Panzica |
| 6 | Ben Volpe |
| 7 | Daniel Johnson |
| 8 | Horacio Chaves |
| 9 | Chris Moorman |
| 10 | Louis Bonnecaze |
Chips counts will be updated shortly.
Level 18 : 0-0, 4,000 ante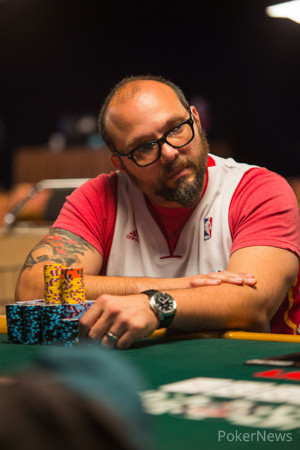 After a few limps Joshua Macciello moved all in for less then 100,000. Dan Johnson who was the original limper went all in himself. The rest folded and the cards were tabled.
Macciello:

Johnson:
Macciello was behind and the board was not kind to him as it came
. Macciello shook his opponents hand and left out the door.

Level 18 : 0-0, 4,000 ante
Chris Moorman opened to 9,000 and only Blair Hinkle called. The high-stakes pair shared a
flop. Moorman picked up chips worth 14,000 and made a continuation bet. Hinkle paused ever so briefly before raising to 35,000. Moorman sat motionless, considering all of his options before settling on a call.
The
turn card was checked by Moorman and Hinkle checked behind. The flush-completing
was greeted by a 47,000 bet from Moorman, which sent Hinkle into the tank for over 90 seconds. Hinkle eventually emerged and did so with a fold.