Nguyen Cracks 100k

Level 14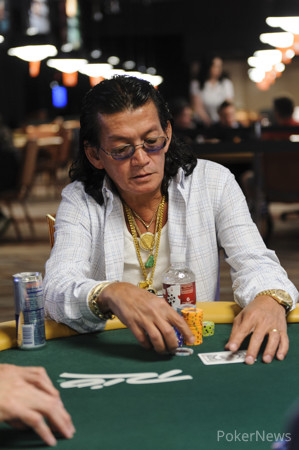 No-Limit Hold'em
Action folded around to Scotty Nguyen's button and he made it 2,500 to go. Joseph DeLuca three-bet to 6,500 from the small blind and the big blind folded. Nguyen flat called to see a flop.
The dealer fanned
on the table and DeLuca continued out for 7,400. Nguyen stuck around and both players checked the
on fourth street. The board completed with the
and DeLuca checked for a second time. Nguyen announced a 12,000-chip bet and DeLuca went into the tank for about forty-five seconds. Eventually DeLuca decided to call but mucked his cards after Nguyen showed
for top pair. Nguyen scooped up the pot and now has about 105,000 in chips.