Event #50: $2,500 10-Game Mix (Six Handed)
Day 2 Completed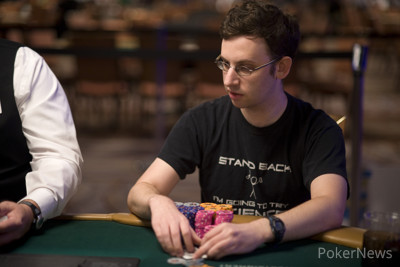 Less than half a starting field of 372 returned for today's second day of play in Event #50: $2,500 10-Game Mix, and after 10 more one-hour levels it was last year's 12th-place Main Event finisher Scott Abrams who had collected the most chips of anyone to end the night as leader with 20 players remaining.
The field quickly whittled down during the first couple of hours of play, and by the dinner break they were already down to 44 players and just two off the money. The first hands back from break then saw Michael Fant and Steven McLoughlin swiftly lose their short stacks and the money bubble had burst.
Start-of-day-2 chip leader Howard Smith was one of the first to cash by finishing in 39th. Among those following Smith to the rail were Scott Fischman (38th), Dan O'Brien (36th), Freddy Deeb (31st), Marcel Luske (30th), Trai Dang (29th), Gavin Smith (28th), Kenna James (26th), Shawn Buchanan (25th), and Rep Porter (23rd).
The last elimination of the evening was five-time bracelet winner and 1998 Main Event champion Scotty Nguyen in 21st place. Nguyen tangled repeatedly with Abrams during the latter portion of the evening, and finally met his end in a hand of stud that saw Abrams make a better two pair.
Those chips helped Abrams build a wide margin by night's end with a stack 351,700, with Sebastian Saffari, Philip Sternheimer, and Brian Tate his nearest competitors. Robert Williamson III likewise returns to a 200,000-plus chip stack, with Mike Wattel, Greg Raymer, David Emmons, Bruno Fitoussi, and Konstantin Puchkov among those still with hopes of landing the 10-Game Mix bracelet.
Play resumes tomorrow at 2 p.m. local time as will our coverage. Return then to see who becomes the next WSOP gold bracelet winner.
Scott Abrams

351,700
13,700

Sebastian Saffari

294,300
102,300

Philip Sternheimer

229,900
54,900

Brian Tate

211,800
41,800

Robert Williamson III

203,100
127,100

Christopher George

197,400
-34,600

Michael Jarmark

192,400
127,400

Loren Klein

152,300
37,300

Brandon Wong

145,000
29,000

Tom McCormick

112,500
-32,500

Thomas Kettel

106,700
-19,300

Felipe Ramos

GGPoker Team Brazil

97,100
31,100

Daniel Makowsky

96,000
-12,000

Mike Wattel

92,500
49,500

Tony Hartmann

76,400
-8,600

Martin Lategui

74,700
-16,300

Greg Raymer

69,300
-8,700

David Emmons

48,500
15,500

Bruno Fitoussi

28,400
-20,600

Konstantin Puchkov

17,500
-27,500
The tourney clock has been stopped with 10 minutes remaining and it has been announced that all tables will play four more hands.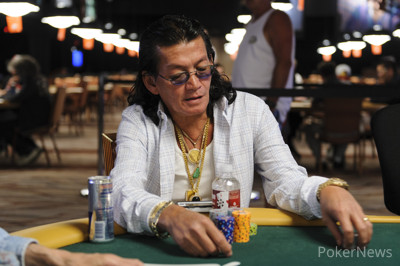 Stud
Shortly after Benjamin Dobson fell in 22nd place to Greg Raymer in a hand of 2-7 Triple Draw, Scotty Nguyen was eliminated in 21st after losing the last of his stack in a stud-8 hand to Scott Abrams.
In Nguyen's last hand, he and Abrams had made it to fifth street with Abrams betting out and Nguyen calling, then the pair followed the same pattern on sixth.
Abrams: (
) /

Nguyen: (
) /
Abrams bet dark before seventh street was dealt, and when Nguyen checked his final card he pushed in the last of his chips as a call. Abrams tabled
for kings and fours, while Nguyen showed
for a lesser two pair and what appeared a busted flush draw.
Nguyen is out, and right now Abrams leads the 20 players who remain.
| | | | | | |
| --- | --- | --- | --- | --- | --- |
| Scott Abrams | | | | 338,000 | 54,000 |
| Scotty Nguyen | | | | Busted | |
| Benjamin Dobson | | | | Busted | |
Stud-8
| | |
| --- | --- |
| Konstantin Puchkov | / / |
| Philip Sternheimer | / / |
Action began with Konstantin Puchkov completing and Philip Sternheimer tossing out a call. Bruno Fitoussi called as well with an
showing and the bring in folded. Fitoussi picked up a
on fourth but checked over to Puchkov. Puchkov led out, Sternheimer called, and Fitoussi ditched his cards.
On fifth street, Puchkov moved all in for less than a big bet and Sternheimer called. By the end of the hand, Puchkov made two pair and a low which was good enough to scoop the pot and earn him a double up to about 45,000.
| | | | | | |
| --- | --- | --- | --- | --- | --- |
| Philip Sternheimer | | | | 175,000 | -25,000 |
| Konstantin Puchkov | | | | 45,000 | 21,000 |
Badugi
Felipe Ramos raised from middle position, and Scotty Nguyen called from the blinds. Nguyen drew two and Ramos one, and Nguyen checked. Ramos bet, Nguyen check-raised, Ramos three-bet, Nguyen made it four bets, and Ramos called.
Both stood pat on the next two draws with Nguyen betting and Ramos calling after the second, and then both players checking on the end. Ramos then tabled
, which was good enough as Nguyen mucked.
Felipe Ramos

GGPoker Team Brazil

66,000
-9,000

Scotty Nguyen

58,000
-48,000
The girls bring you their favorite winning moments and best videos from the last week at the WSOP.
2-7 Triple Draw
Tony Hartmann opened with a raise before the draw and both Sebastion Saffari and Brian Tate called. Tate took two cards, Hartmann stood pat, and Saffari drew one.
Tate checked, Hartmann bet out and once again found two calls. Both Tate and Saffari took one card while Hartmann stood pat once again. The same action as last street occurred and both Tate and Saffari drew one card at the final draw.
Finally, Tate checked and Hartmann moved the last of his chips all in. This was a bet of 6,800 and it induced a fold from Saffari who failed to make a hand. Tate called but mucked his hand when Hartmann fanned
. Hartmann dragged in the pot and now has roughly 85,000 in chips.
| | | | | | |
| --- | --- | --- | --- | --- | --- |
| Sebastian Saffari | | | | 192,000 | -18,000 |
| Brian Tate | | | | 170,000 | -8,000 |
| Tony Hartmann | | | | 85,000 | 32,000 |
Level: 18
No-Limit Hold'em - Razz - Limit Hold'em - Badugi LIMIT 2,500 5,000 5,000-10,000

Stud - NL 2-7 Draw - Omaha 8 1,000 2,000 5,000 5,000-10,000
PLO (No Ante) - 2-7 Triple Draw - Stud 8 NL/2-7/PLO 600 1,200 2,400