Lots of Legends Among Final 10 of Event #7 $1,000 No-Limit Hold'em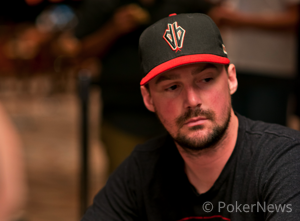 The 2013 World Series of Poker is only a week in, but the final table of Event #7 $1,000 No-Limit Hold'em is making a strong early case for becoming the toughest final table of them all. Granted, we're technically not at the final table yet as 10 players of a 1,837-player field remain, but once we lose one more it'll be official. As long as that elimination isn't chip leader Amit Makhija, Matt Waxman, Brent Hanks, Jason Koon or Eric Baldwin, then the final table will be contain five superstars with a combined $4,027,878.88 in career WSOP winnings!
As mentioned, Makhija does hold the chip lead with 1.101 million. Jess Dioquino comes in second with 921,000, the Waxman sits in third with 829,000. The short stack of the final table is Scott Yelton with 167,000 in chips, but in poker anything can happen, so a double up and a few pots here or there will put Yelton right back into the swing of things.
Clearly, all eyes will be on Baldwin and Hanks. Both of these players are looking for their second piece of WSOP hardware. Hanks is riding a bit of a heater coming into the 2013 WSOP, having won the California State Championships Main Event in May.
Needless to say, everyone at the final table is excited to be there, but the level of competition is hard to ignore:
Final table of event #7! Stacked table, have around avg chips. Lookin to add to the jewelry collection. #yeahp
Follow @Bhanks11
Made the final table of WSOP event 7. Have 348k of the 5.5M in play. 10 players remain. Time for a new #WristBelt
Follow @basebaldy
Made the $1k event #7 FT. I'm 3/10 with 829,000. Lots of legends there with me. Should be quite the challenge, but I'm up for it! #WSOP
Follow @Matthew_Waxman
The winner of today's event will take home the seventh gold bracelet awarded this summer and the accompanying $305,952 first-place prize? Will someone have their dreams come true by winning their first WSOP gold bracelet, or will either Brent Hanks or Eric Baldwin be able to capture their second piece of gold? Join us at 1:00 p.m. PST as we bring you all the action on the way to the next winner.