Hands 79 – 84, Paster Loses Some

Level 25 : 15,000-30,000, 5,000 ante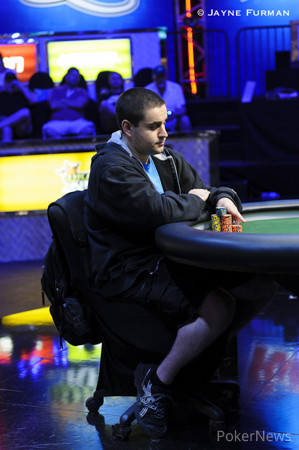 Hand #79 Ylon Schwartz opened for 60,000 and won the hand.
Hand #80 Schwartz opened for 60,000 on the button and Kyle Cartwright called in the big blind. The flop was
. Cartwright checked and a 50,000 bet from Schwartz won him the hand.
Hand #81 Cartwright made it 75,000 from the small blind and Schwartz folded.
Hand #82 Cartwright raised to 60,000. Schwartz in the small blind three-bet to 110,000. Paster folded and Cartwright four-bet to 215,000. Schwartz made the call.
The flop was the
. Schwartz checked and Cartwright's bet of 115,000 saw Schwartz raise to 315,000. Cartwright quickly mucked his cards.
Hand #83 Kyle Cartwright gets a walk in the big blind.
Hand #84 Jason Paster opened for 60,000, Schwartz called and they saw a heads up flop of
.
Schwartz checked and Paster bet 70,000 which Schwartz called. The turn was the
and once more Schwartz checked. Paster went for chips and bet 140,000.
Schwartz flexed his fist and then rested his head on both clenched fists. He then reached for a tower of chips and made it 625,000.
It was Paster's turn to think. He took a couple of minutes but in the end he released his cards.