Final Table Interview: Lynne Beaumont
Level 38 : 300,000/600,000, 100,000 ante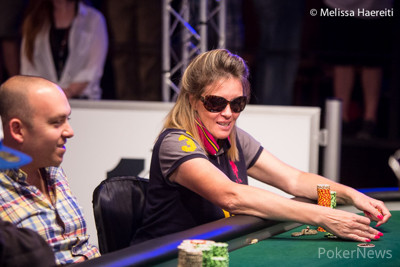 When the Monster Stack event was added to the World Series of Poker schedule, players like Lynne Beaumont were the target audience for one of poker's most innovative tournaments.
The British-born Beaumont plays the game for passion as much as for prize money — but she is no slouch on the felt, amassing $216,687 in earnings over 88 live cashes since 2005. Predominately playing small buy-in tournaments between $100 and $500 in London or Las Vegas, Beaumont has 11 first-place results on her record, but it was last year that she nearly made the bracelet breakthrough.
After playing in the WSOP Ladies Championship for a five years prior, Beaumont notched her first WSOP cash in the 2013 Ladies Championship, where she nearly made the final table before bowing out in 11th place.
Back again this year after coming oh-so-close to making a final table appearance and playing for a bracelet, Beaumont managed to eclipse her previous performance by reaching the final table of the Monster Stack event. Before busting out in sixth place, Beaumont expressed optimism that a comeback was in the cards when PokerNews caught up with her during the recent break:
PokerNews: Last year you added your first WSOP cash to a long list of minor results. Tell me about that experience.
Lynne Beaumont: That was my fifth or sixth time playing in the Ladies, and it's only the Ladies I've ever played except for the Seniors the year before, I played for the first time. And I played the Main Event a couple of years ago, and I bubbled third from the money.
PokerNews: Prior to that deep run you had put up solid results in London's small buy-in tourney circuit. Did the close call on the WSOP stage motivate you to return for another crack at it?
Yeah, lots of bits and pieces but nothing big, you know, so this is just awesome. It's amazing... the trouble was though, I was so torn. Because I wanted to play the Ladies and do better, and then they go and clash this so it was such a shame. I said 'I'll play this, and if I get through to Day 2 then the Ladies is out the way, and if not I'll play the Ladies.' I cruised to Day 2, so this is just a dream come true.
PokerNews: How did you manage to make it through the massive field, and how did you enjoy the experience of a new tournament addition like the Monster Stack?
I mean, I have been playing well to be quite modest, but I've been playing well, been out here and I've got lots of results. So I just said I'll only play the Ladies unless I get something going in the smaller tourneys. I haven't been hitting the top-3 spots though, so of course then you don't really get enough money. I've been playing well and so this is like 'wow,' and I've only had... before today, I only had one all in I think, so this is just awesome.