Event #51: $1,500 No-Limit Hold'em Monster Stack
Day: 1b
Event #51: $1,500 No-Limit Hold'em Monster Stack
Day 1b Completed
Level 9 : 300/600, 75 ante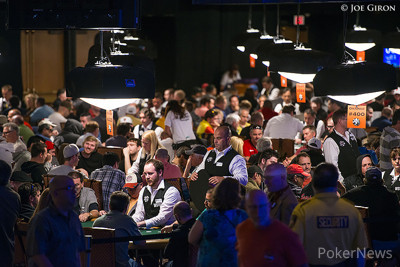 Massive, Giant, Huge, Mammoth, Monster...All could be used to describe Day 1 of the inaugural $1,500 no-limit hold'em "monster stack" event. It all kicked off at noon where flight one drew the cap of 4,020 players.
The 5 p.m. second flight quickly filled up as well and some of the 'Day 1b first wave' registrants had to wait nearly three hours before they were seated for play. Four more "waves" for seating players were planned, but ultimately the large majority seemed to have to wait until the start of level six to be able to play some poker.
Just over one hour later registration closed and the event's total number of entrants was set at 7,862. A whopping prize pool of $10,613,700 was created with a another millionaire maker for the one who navigates their way through the sharks and dreamers. $1,327,083 to be exact and six-figure paydays for all who make the official final table. Not too shabby for a $1,500 investment.
We will have a better idea of the total number of entrants that made it through at the start of Day 2, as the two flights will combine into one field. The event is scheduled for five days and survivors will start Day 2 on Friday at 3 p.m. Tune in then as PokerNews continues coverage of this historic event.
Level 9 : 300/600, 75 ante
Player
Chips
Progress

Matthew Haugen

157,300

John Monnette

156,500

156,500

Alexander Ziskin

139,800

1,800

Evan Yanoshik

136,600

Uri Nir

131,700

Ardavan Yazdi

129,300

Jose Maymo

122,100

Greg Ronaldson

118,500

John Grue

113,400

Victor Shuchleis

107,300

Javier Swett

105,600

-4,000

Jordan Young

105,000

25,000

Sarkis Akopyan

103,300

Liam Batey

102,700

40,000

Anthony Nguyen

102,000

Andrey Marsavin

101,200

Martins Adeniya

100,000

Sho Otsu

98,900

Zephyr Peling

98,500

Steven van Zadelhoff

98,000

Javier Gonzalez

97,200

Gabriel Paul

96,600

Daniel Chamberlain

96,500

Bryce Yockey

95,000

Ayaz Manji

94,900
Level 9 : 300/600, 75 ante
We picked up the action with a completed board of
and around 16,000 in the middle. Jeff Madsen bet 7,000 and his opponent thought for a couple of minutes before finally making the call. Madsen confidently tabled
and his opponent mucked.
Level 9 : 300/600, 75 ante
Nearly 8,000 entries set the prize pool at $10,613,700, with over $1 Million to the winner.
The $1,500 Monster Stack drew 7862 entries creating a prize pool of $10,613,700. Winner takes home $1,327,083.
Follow @WSOP
Level: 9
Blinds: 300/600
Ante: 75
Level 8 : 200/400, 50 ante
With the deep stack and large field this event could certainly pass for a main event warm up. Jeff Gross, for one, sure seems to think so.

Up over 30k in #wsop51 monster stack tourney... Started at 11pm tonight this feels like a good warm up for the main!
Follow @Jgross5
Level 8 : 200/400, 50 ante
We caught the action with a board of
. Piragibe Junior bet 3,500 and Ravi Raghavan made the call. The river was the
and Junior checked. Raghavhan bet 8,500 and Junior snap-called. Raghavan mucked and Junior showed
for just bottom pair.
Raghavan looked at this reporter and scoffed, "huh, that was a good one." Raghavan's tablemates laughed as they headed to the next hand.
Player
Chips
Progress

Piragibe Junior

43,000

43,000

Ravi Raghavan

26,000

-3,500
Level 8 : 200/400, 50 ante
We caught the action after a flop of
and Kenna James facing a lead bet of 1,200 from an opponent. James raised to 3,100 and his opponent folded. James turned over
to show the table his good fortune.
James has built a nice stack today, though we're not certain it's all from flopped sets.
Level 8 : 200/400, 50 ante
Player
Chips
Progress

Darren Elias

35,000

20,000

Ambassador

Jeff Madsen

30,000

15,000

Ravi Raghavan

29,500

14,500

Matt Waxman

28,500

7,500

Keven Stammen

20,000

Phil Laak

15,800

Humberto Brenes

14,700

-300

Tom Marchese

14,000

Athanasios Anachronopoulos

10,000

Ryan Laplante

7,400

-7,600

Andrew Lichtenberger

6,700