Event #51: $1,500 No-Limit Hold'em Monster Stack
Day: 1a
Event #51: $1,500 No-Limit Hold'em Monster Stack
Day 1a Completed
Level 9 : 300/600, 75 ante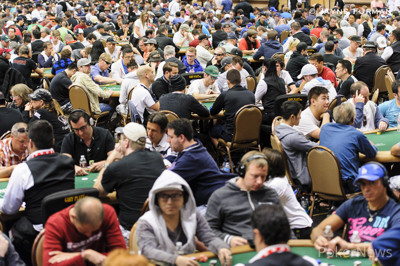 The halls and the poker rooms of the Rio were packed today as players turned out in droves for Event #51, the $1,500 No-Limit Hold'em Monster Stack.
The numbers were so big that a second flight was introduced with flight A capped at 4,020 entrants. As they finished play for the day at the end of nine one-hour levels flight B players were still taking their seats with the tournament screen showing 7,734 registrations.
The prize pool has yet to be announced but with those numbers it means over $11 million will be paid out with the winner sure to walk away with over $1.3 million
It was difficult to pick out a chip leader at the end of the day as players were still seated in several areas, but Pierre Calamusa will take some catching finishing with over 220,000 chips.
With a starting stack of 600 big blinds the tournament held the promise of a lot of play for the entrants but it didn't necessarily work out that way for everyone. For the less experienced players it was a chance to see a few more flops and recover from early mistakes. For the pros it was a chance to show their deepstack skills and to make the most of the value that the field represented.
It looked as if at least a third of the starting flight had been eliminated by the end of their allotted nine levels of play, but with no official confirmation yet it is hard to put an exact figure on the eliminations.
Some of the notables in the first flight who will be coming back tomorrow include Sofia Lovgren, Kara Scott, Barny Boatman, Dermot Blain, Dash Dudley and Jimmy Fricke. Many more have opted to join the second flight and are still playing in the hope of joining them.
Coverage of Day 2 resumes tomorrow at 3 p.m. and PokerNews will be there to keep you up to date with all the developments of this huge tournament including confirmation of the chip leaders, final numbers and prize pool as the two flights merge and the action continues.

Level 9 : 300/600, 75 ante
Player
Chips
Progress

Pierre Calamusa

243,000

123,000

Team Pro

Arnie Friedman

164,000

Tim Davie

143,700

Matthew Weber

136,300

William Tzotzolis

130,200

Ross Bybee

118,600

100,500

Richard Santana

112,800

Jonathan Luckett

110,800

-1,075

Justin Gardenhire

106,800

Trisha Hustus

104,900

Pavel Zuev

104,700

Zachary Gruneberg

104,500

4,300

Michael Vogel

103,700

Peter Gelencser

102,100

Mayu Roca

101,700

Tarik Arram

98,300

Orez Mokedi

94,700

Michael Richardson

94,200

Scott Baumstein

93,500

Scott Watson

93,100

Ryan Mcclean

92,700

Jason Lilly

91,600

Kyle Bowker

91,000

Michael Dentale

90,500

500

Sebastian Tejada

88,900
Level 9 : 300/600, 75 ante
The floor had just announced three more hands for the night.
More tables are breaking and heading towards the Brasilia tournament room. We are seeing a few of the shorter stacks getting their chips in the middle looking for that double up to make it worth their while coming back tomorrow at 3 p.m..
The floor are doing a terrific job of shifting people around as quickly as possible to make way for the late joiners in flight B.
Level 9 : 300/600, 75 ante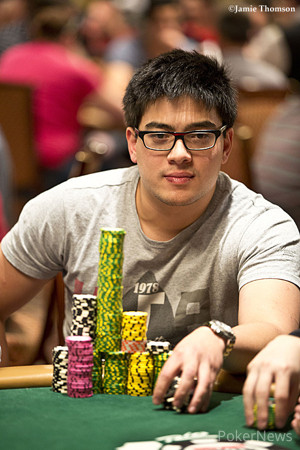 Into the last level of the night for flight A of Day 1.
Here's some chip updates including Pierre Calamusa who shows no sign of slowing down and may well be the chip leader.
Player
Chips
Progress

Pierre Calamusa

120,000

30,000

Team Pro

Michael Bublitz

75,000

75,000

Sofia Lovgren

66,000

10,000

Pok Kim

40,000

16,000

Govert Metaal

33,000

19,000

Kara Scott

18,500

-11,500

Ambassador

James Dempsey

14,000

-3,000

Mathew Frankland

10,200

-7,800
Level: 9
Blinds: 300/600
Ante: 75
Level 8 : 200/400, 50 ante
Pierre Calamusa is another player approaching the 100,000 mark. He has built an impressive tower in front of him and had just over 90,000.
Breaching the 100,000 barrier though is Mike Vogel currently sitting with 103,000
Level 8 : 200/400, 50 ante
Jimmy Fricke told us he purposefully arrived late in the day so as not to face the long grind of a full day. The way he's going though, it looks like he might have to face that long grind tomorrow.
Sat to his right, Dermot Blain is back down to 40,000.
Level 8 : 200/400, 50 ante
One of the bigger stacks at the moment in flight A is surely Michael Dentale.
He told us that he was down to 4,000 earlier in the day but since then has, "Chipped up slowly." and is now playing 90,000.
That's some chipping up.
Level: 8
Blinds: 200/400
Ante: 50