Jaffee Pays Peng Off
Level 22 : 8,000/16,000, 2,000 ante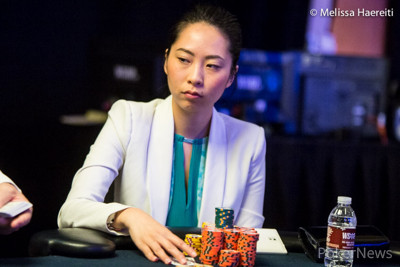 The pot contained about 100,000 or so with the board showing
by the turn, and Jared Jaffee led out for 57,000 from the small blind.
Xiao Peng took her time to think things through before flatting, and the river card was the
.
Jaffee continued to press the action with a bet of 131,000, but after cutting out a stack of green T25000 chips and riffling them in silence, Peng assembled a stack and raised to 346,000 total.
Jaffee was agonized by the spot he found himself in, and he rechecked his hole cards while separating the calling chips from the rest of his stack.
"Are you ever bluffing here?" he asked to both Peng and himself. "Are you ever bluffing here?"
Finally, after a minute or so of thought Jaffee slammed in the stack and looked Peng up, only to see that she had filled up on the river with
. The huge pot was pushed to Peng, while Jaffee could only shake his head in frustration.