Cantu Crippled by Jaffee's Counterpunch
Level 22 : 8,000/16,000, 2,000 ante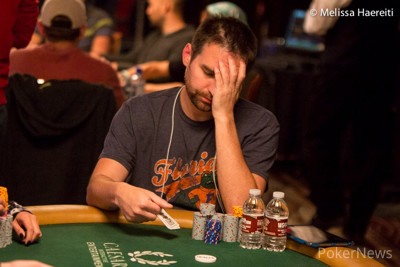 A raising war just erupted between two of the biggest stacks in play, as Jared Jaffee and Brandon Cantu went toe-to-toe and squared off with half of the chips in the tournament on the line.
The excitement began when Cantu opened to 35,000 from the button, and Jaffee three-bet to 108,000 out of the big blind.
Cantu asked for a count and then elected on a four-bet to 275,000, with Jaffee taking very little time to announce himself all in for 1.568 million total.
The huge five-bet shove made Cantu shoot up out of his chair, but the word "call" came out of his mouth as fast as he stood up.
Jaffee:

Cantu:
"No!," cried Cantu when he caught sight of the cooler. "Gahhh!"
"Hold up one time..." said Jaffee quietly to himself while turning away from the table.
The dealer waited a beat to let the drama build, before sliding the
flop across the felt.
"How is this real!" screamed Jaffee when he saw that Cantu had caught up. "Why?!"
Cantu remained silent while the turn card came
, but the anxious look on his face betrayed the intensity of the emotions he was no doubt experiencing. He stared straight at the board and waited to see how the deck would decide his destiny.
River:
"Yes!," erupted Jaffee when the king came on the river to give him the massive double.
"No!" bellowed Cantu at the exact same time, throwing his water bottle across the room toward Sailor Roberts' World Championship banner. "No!"
The pain clearly evident on his face, Cantu circled the table, with Mike Matusow on hand to affirm that "that pot was for all the chips in the tournament" as his friend struggled to regain his composure. Jaffee, meanwhile, celebrated with David Williams, who is nearby playing Day 3 of the $3,000 Omaha Hi-Low event.