Event #63: $1,500 Six-Handed 10-Game Mix
Day: 2
Event #63: $1,500 Six-Handed 10-Game Mix
Day 2 Completed

Level 20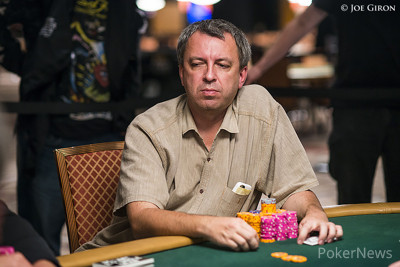 That's all she wrote from Day 2 of Event #63: $1,500 Six-Handed 10-Game Mix! A grand total of 85 players returned for Day 2 action and by the end of the day just 9 remained. Leading the final nine and the closest to earning the $153,220 and gold bracelet for first place is Jan Suchanek who bagged up 494,000.
Suchanek bloomed toward the end of the night and shot his stack to the top of the chip counts during the final two levels. Suchanek holds a substantial lead over the rest of the competition, having right around 200,000 more than his nearest competitor. That competitor happens to be none other than start-of-day chip leader Bryn Kenney. Kenney began the day at the top of the chip counts and never wavered from the top spots as the day progressed. Kenney is searching for his first gold WSOP bracelet and has a strong chance to ride the momentum that he's built in this tournament all of the way to the gold.
Randy Ohel sports another familiar face returning for Day 3 play. Ohel is a WSOP bracelet winner who has racked up his second cash of the summer with this event. Ohel's other cash saw him finish just shy of a second bracelet, adding a runner-up spot to his resumé in Event #22: $10,000 H.O.R.S.E. Championship. Ohel has a shot at redemption, returning fourth in chips of the remaining nine with 212,500. Finally, Andrey Zaichenko bagged up 259,000 to end the night which was good for third overall in chips. Zaichenko has scored two other cashes during this summer and looks for a big score before heading into the Main Event.
The top 48 players made the money and were guaranteed a payday of at least $2,703. Some of the players to find elimination in the money include Jeremy Ausmus (47th), Scott Clements (46th), Phil Laak (44th), Chris Klodnicki (40th), Sergey Rybachenko (33rd), Justin Bonomo (24th), Victor Ramdin (23rd), Marcel Luske (19th), Tom Koral (16th), Roland Israelashvili (14th), Allen Cunningham (13th), and Stuart Rutter (10th).
Also cashing in this event was Brandon Shack-Harris who was ultimately eliminated in 21st place. This cash allowed Shack-Harris to edge out George Danzer for the current lead in the WSOP Player of the Year race.
Play resumes at 2 p.m. on Friday where the field will play down to the 63rd bracelet winner of the summer. As always, PokerNews will be on hand to provide coverage of all of the big pots, bad beats, and bust outs!

Level 20
Player
Chips
Progress

Jan Suchanek

494,000

34,000

Bryn Kenney

298,500

88,500

Andrey Zaichenko

259,000

84,000

Randy Ohel

212,500

30,500

Fabio Coppola

212,000

Daniel Zack

205,000

117,000

Michael Mixer

172,000

28,000

Haresh Thaker

116,500

-88,500

David Blatte

41,000

-79,000

Level 20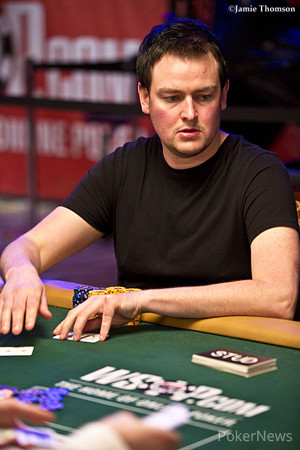 Omaha 8
Action folded around to David Blatte on the button and he moved forward a raise. Andrey Zaichenko folded his small blind and a short-stacked Stuart Rutter moved all in from the big blind. Blatte called and the hands were turned over.
Rutter:

Blatte:
The board fell down
, giving Blatte Broadway with his ace-queen. Rutter was eliminated from play and Blatte increased his stack to about 120,000.

Level 20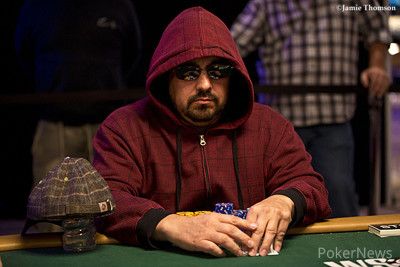 Orjan Skommo was recently eliminated in 12th place and Troy Lozano fell in 11th place. Both players fell in rapid succession and unknown action. They each collected $7,689 for their efforts.

Level 20
Badugi
Picking up with the action after the first draw, we saw Haresh Thaker check and Troy Lozano bet. Randy Ohel came over the top with a raise and Thaker and Lozano both called. All three players stood pat on the second draw and action checked to Ohel. He fired out one more bet and both opponents called.
The final draw saw all three players stand pat once again and Thaker led out. Lozano called and Ohel cut out a raise. Thaker called and Lozano let his cards go.
Ohel fanned
for a five badugi to scoop up the pot. He now has about 182,000 in chips while Thaker has dropped to 206,000.

Level 20
Table #353
| Seat | Player |
| --- | --- |
| 1 | Bryn Kenney |
| 2 | David Blatte |
| 3 | Andrey Zaichenko |
| 4 | Orjan Skommo |
| 5 | Stuart Rutter |
| 6 | Daniel Zack |
Table #359
| Seat | Player |
| --- | --- |
| 1 | Randy Ohel |
| 2 | Michael Mixer |
| 3 | Fabio Coppola |
| 4 | Jan Suchanek |
| 5 | Haresh Thaker |
| 6 | Troy Lozano |
Player
Chips
Progress

Jan Suchanek

310,000

11,000

Haresh Thaker

268,000

38,000

Fabio Coppola

220,000

69,000

Bryn Kenney

210,000

58,000

Andrey Zaichenko

175,000

-136,000

Michael Mixer

144,000

39,000

David Blatte

140,000

-5,000

Randy Ohel

130,000

-115,000

Troy Lozano

105,000

-30,000

Daniel Zack

88,000

-7,000

Stuart Rutter

78,000

35,000

Orjan Skommo

29,000

-40,000

Level 20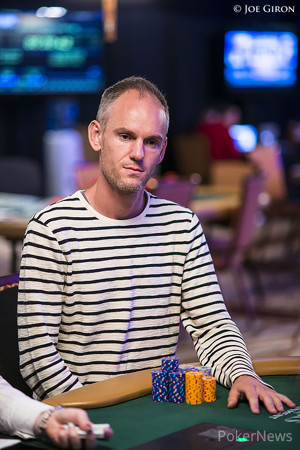 Stud
Cunningham:
/
/

Thaker:
/
/
After a series of what looked to be four bets on third, Allen Cunningham and Haresh Thaker saw their fourth street cards. Thaker continued out with a bet and Cunningham called. Thaker paired eights on fifth and led one more time. Cunningham raised exactly 100 more and Thaker called, promptly rolling over
for tens and eights. Cunningham showed
in the hole for a pair of nines.
Cunningham pulled a second trey on sixth, but his two pair was still the second best hand. He received a
to finish the hand and was eliminated in 13th place. Thaker completed his hand with the
and then scooped the pot. He now sits around 230,000 in chips.
Level: 20
LIMIT FLOP/DRAW GAMES - 3,000 6,000 6,000-12,000
STUD GAMES 1,500 2,000 6,000 6,000-12,000
NO-LIMIT (2-7/HOLDEM) AND POT-LIMIT GAMES 700 1,500 3,000 -

Level 19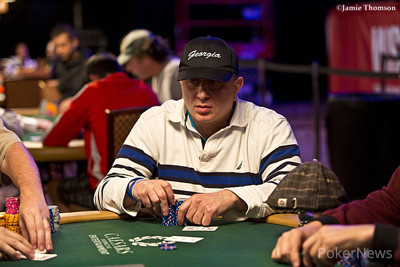 Roland Israelashvili has been eliminated from play in unknown action.