Bardah's Strive for Five Still Alive

Level 13 : 1,200-2,400, 400 ante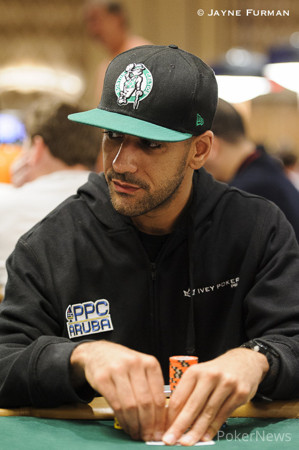 Ronnie Bardah, winner of the 2012 $2,500 Six-Handed Limit Hold'em event, has cashed in the World Series of Poker Main Event four years in a row leading into 2014. In 2010, Bardah finished 24th out of 7,319 players for $317,161. In 2011, he placed 453rd for $27,103 from a field of 6,865. In 2012, Bardah finished in 540th place out of 6,598 for $21,707, and in 2013 he placed 124th out of 6,352 for $50,752.
In the four recent years, Bardah has played in an average Main Event field size of 6,783.5 players with an average finish of 285.25. In total, Bardah's four consecutive cashes have earned him $416,723, and he has a chance to earn his fifth cash in a row if he's able to make the money here in 2014. After beginning the day with 215,800, Bardah's stack has slipped back to 70,000, but he's still alive.
The current record for most consecutive cashes in the WSOP Main Event is four, and it's a record shared by a few people. Bardah is one of those, and he's joined by Robert Turner (1991-1994), Bo Sehlstedt (2004-2007), Theodore Park (2005-2008), Chris Overgard (2007-2010), Chris Bjorin (2008-2011), and Christian Harder (2010-2013).