Zach Zimbile Qualifies for Main Event Via WSOP.com

Level 3 : 150/300, 0 ante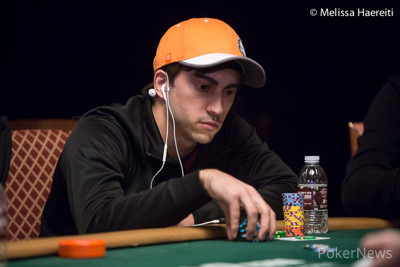 On Saturday, July 5, WSOP.com hosted their $215 buy-in WSOP Main Event Scramble, which guaranteed 25 seats into the $10,000 buy-in Main Event. The online qualifier attracted 1,235 players, and true to their promise they awarded 25 seats into the "Big One."
Zach Zimbile is no stranger to the WSOP as he's at the Rio almost everyday; however, he doesn't come as a player, but instead as an employee of Kondler & Associates, the poker tax specialists who man a popular booth in the halls of the Rio.
Zimbile had longed dream of playing in the Main Event, but the buy-in proved a little too steep for his bankroll. Thanks to WSOP.com, Zimbile's dream has come true and he now finds himself among the hopefuls competing for a $10 million payday. Needless to say, if he manages a nice score, he'll have the tax stuff all figured out.
PokerNews caught up with Zimbile on a recent break from the Main Event for a quick interview.
PokerNews: Can you tell us a little more on how you qualified for the Main Event?
Zimbile: I've always wanted to play the Main Event, but I don't play a ton of poker and obviously a $10,000 buy-in is way out of my league. But the other night I decided to throw $200 on WSOP.com and they had 1,250 runners and gave 25 seats away. Twelve hours later I found myself 23 out of 25 people and I got myself a seat, so here I am now on Day 1c.
We've seen you at the Rio quite a bit for Kondler & Associates. What's it like to be on the other side of the table so to speak, playing against players instead of working with them?
I played a few sit-n-go's to start the WSOP, and that's really all I did. I was here for work for the Main Event last year, this is our second year here at the WSOP, and watching all the players it looked like it was an unbelievable amount of fun. Even after the first level I'm having a great time.
I see a few people at the table I recognize. Sam Trickett is in the three seat, so that's always interesting when you see a familiar face, but I've settled in and it seems like it's going to be a fun tournament. I hope it goes a little bit longer than just today.
Some players enjoying mixing it up with the pros. Do you like having notable competition or would you rather have a really soft table?
Easy tables are always great, but you could think you have an easy table and all of a sudden you could have four guys who're online winners and you would never know they are great players to begin with. I know that Sam Trickett is a great player, I've seen him play before, and I know he's capable of making plays. It's fun to play with pros, but I'm going to sit back and enjoy it for what it is. If I happen to play well great, but this is probably a once in a lifetime tournament.
You say once in a lifetime. What is it that makes the Main Event so special?
I'm not going to get ahead of myself, but I can understand why all these people pay $10,000 to try and win $10 million. Just looking around the room and thinking someone here could be the Main Event champion and $10 million richer, that's crazy, you can't get that anywhere else.
*Interestingly, Zimbile went on to eliminate Sam Trickett from the 2014 WSOP Main Event, which you can read about by clicking here.