The 2016 World Series of Poker is Over (Mostly). Here's What We Thought.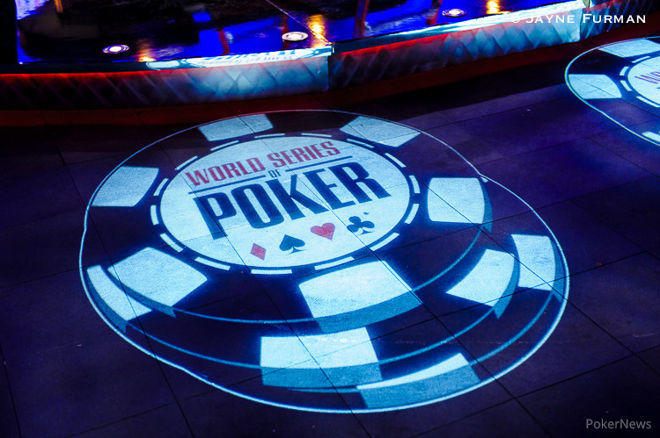 Another World Series of Poker is in the books. Well, most of it at least, since we've still got the completion of the WSOP Main Event to look forward to in a few months. The world's largest poker series certainly didn't dissapoint as we saw some truly amazing individual performances, massive multi-million dollar prize pools, record-breaking field sizes, and much more.
As always, PokerNews was on site to soak up all of the excitement, and the team reflects on this year's summer in Las Vegas.
What was the biggest storyline as you saw it from this year's WSOP?
Martin Harris: It has to be Jason Mercier's overall series (good enough to clinch WSOP Player of the Year), and in particular that three-event stretch in which he finished first, second, and first. Justin Bonomo picking up two runner-ups and two third-place finishes and Brian Rast winning a second $50K Poker Players Championship were both noteworthy accomplishments and interesting stories as well.
Pamela Maldonado: Aside from Mercier's performance, the return of both Chris Ferguson and Howard Lederer. Everyone was expecting one or none, and we were "blessed" with both. That being said, their return had little-to-no impact on the WSOP.
Marty Derbyshire: With his chase for three bracelets and a 180-to-1 triple-bracelet bet with Vanessa Selbst, Mercier stole all the headlines at the WSOP this summer. Of course, he didn't get there, but with three $10,000 championship event final table appearances and two bracelet wins in a seven-day period mid-summer, he had a week that will go down in history as one of the best the WSOP has ever seen. Considering he won WSOP Player of the Year going away, Mercier was the easy choice for this one, but there was another headline grabbing story that came out of the summer.
Online poker legend Cliff "JohnnyBax" Josephy made the final table of the 2016 WSOP Main Event and will have the chip lead when it begins at the end of October. Josephy is widely known for dominating the satellite game in online poker's heyday, previously backing a large stable of young online players including 2009 WSOP Main Event champ Joe Cada, winning two WSOP bracelets, and being an all-around great guy. If he can go wire-to-wire at the final table and win poker's most prestigious title, Josephy will become an instant shoo-in for the Poker Hall of Fame.
Frank Op de Woerd: Without a doubt for me the biggest storyline was Jason Mercier's bracelet bet, and the drama surrounding it. His winning the first one in the $10K 2-7 was already exciting, but things got really interesting when he immediately made a second final table in the $10K Razz. Vanessa Selbst felt the heat and some small drama followed. He failed to win a second bracelet in the Razz, but then won it the $10K H.O.R.S.E. a couple days later.
After that, his quest for bracelet number three was basically the first thing I checked up on each morning — was he deep in another tournament? He did make another final table but busted early on, and cashed a bunch of times after that, but the thrill was real every time. Just the size of the bet reminded me of the times the likes of Tom Dwan, Phil Ivey, and Daniel Negreanu had those huge bracelet bets. It's exciting!
What was this year's biggest surprise at the WSOP?
Sarah Herring: The biggest surprise was the return of the Full Tilt Poker drama in the form of Howard Lederer and Chris Ferguson. Players finally had them right in front of them to vent their rage, and boy did they. I saw some pretty awful things, including people yelling at them and filming while lambasting them. I didn't witness the throwing of drinks, but I definitely heard about it.
Frank Op de Woerd: To be honest, and I don't want to sound salty, but it really surprised me that the staff made the starting times of the Main Event 12 p.m. again after Day 2c players complained. I thought they wouldn't budge once the 11 a.m. starting time had already been communicated to the 2a/b players, but they did. I think it really was the good move, and it shows they can listen and act when needed. So while I list this as a surprise, it really should be perceived as a compliment toward the WSOP.
Benny Glaser winning two bracelets also came as a surprise. I mean I've covered him before in a bunch of tournaments and he was definitely on the radar after snagging his first bracelet in 2015, but his winning two this year was something else. For a player to win two (or more in a year), you almost always have to enter the big buy-in events that are non-hold'em. There's a select group of players who have the bankroll or connections (to sell shares) for these events, and I didn't think Glaser was one of them. With his winning his first bracelet early on, he put himself into a position to play the bigger events as well, and he struck gold in the $10K Omaha Hi/Lo. If you had asked me before the WSOP who would win two bracelets, I would've never come up with Glaser's name, so that's why I list it here — that is, me being surprised has nothing to do with his skill level.
Marty Derbyshire: After dominating the European poker scene the past two years, Polish poker phenom Dzmitry Urbanovich seemed poised to make a mark on his first WSOP. He even made a prop bet with Vanessa Selbst, getting 200-to-1 on $10,000 to win three bracelets. I think the biggest surprise of the 2016 WSOP was the fact Urbanovich didn't even get a sniff of a bracelet.
The best he could muster was one 12th and another 13th-place finish in events late in the series. No final tables, no truly deep runs, no chance at WSOP glory. Rookies often have a tough time at the WSOP, but with his focus and dedication to the game, Urbanovich was expected to buck that trend. Instead, variance caught up with him, and in the end, he went home surprisingly empty-handed.
Martin Harris: Probably Ferguson showing up unannounced (before Lederer even did) and playing a full schedule including many low buy-in events. His cashing 10 times (also surprising) only made his return more conspicuous while increasing the discomfort for many in the poker community.
What about this year's WSOP schedule did you like? What didn't you like?
Jason Glatzer: The inclusion of more low buy-in events makes it possible for just about anyone to win a bracelet. While the $10K Championships and even bigger buy-in events are nice to watch and read about due to the tough star-studded fields, those events tend to give the best poker pros a strong chance to win some hardware due to the much smaller field sizes.
While it is awesome to follow the big buy-in events unfold with all the big names involved, it is also nice to see those counterbalanced with an increasing number of low buy-in events an everyday poker player not only can afford to play, but play in a reasonably soft field as well. With the back-to-back success of the Colossus and this year introducing a $565 Omaha event and the $888 Crazy Eights, I hope that we see even more affordable tournaments on the schedule for poker enthusiasts who don't have an unlimited bankroll.
Pamela Maldonado: I liked the Little One Drop being the last event on the schedule. I think it broke up the disappointment for players who had busted the Main Event and gave some variety to the media covering the series.
Marty Derbyshire: I have on ongoing gripe with the WSOP schedule that continues year after year. There's just simply too many events. The schedule is over-packed and, as a result, the WSOP is watering down the value of poker's most prestigious prize. Sixty-plus bracelets handed out every summer is too many. I love gimmick events like the Colossus, Millionaire Maker, and the 888 Crazy Eights, but these events could be played instead of the many $1,000 and $1,500 no-limit hold'em tournaments, rather than alongside them. If the bracelets are going to have any value in the years to come, they've just got to stop handing out so many of them.
Which player(s) were the biggest disappointment?
Sarah Herring: I had high hopes for Dzmitry Urbanovich. He has been such a standout on the EPT and since this was going to be his first WSOP I thought he would crush it. Unfortunately, I saw him walking the wrong way down the halls of the Rio most of the time.
Frank Op de Woerd: The obvious answer is Urbanovich, as he went into his first series with such high expectations. Two near final tables and a third cash isn't even bad for someone playing his first series, but in Urbanovich's case I had hoped for more. Winning three bracelets was extremely ambitious (and unrealistic, really), but he used it as motivation to keep grinding.
Another disappointment was Phil Ivey — or the lack of Phil Ivey I guess. His absence from entire series outside of the Main Event was a big disappointment for poker fans. A lot of casual poker fans who follow the WSOP coverage still consider him to be the greatest, and for the greatest poker player alive not to participate in poker's biggest tournament, it is disappointing. Ivey giving the Main Event a go was satisfying, and to see his fans, the Humphries, on the rail again made for a nice story. But I long for the time when he would grind a full schedule and rake in bracelets. Maybe it's just me missing the days where Ivey was the undisputed best player in the world in all formats of the game.
Marty Derbyshire: Chris Ferguson was hands down the biggest disappointment of the 2016 WSOP. He showed up, refused to say much publicly after a five-year absence, and generally acted as if the entire Full Tilt scandal never happened. He did say privately that there was a whole side to the story that isn't being told, but his refusal to go public with it was a huge disappointment, and downright insulting to the poker community. He was given ample opportunity to apologize or explain his absence from the game to the community and he didn't do so. Now it might be too late.
Pamela Maldonado: No shows from big players — Phil Ivey (until the Main), Patrik Antonius, Bill Perkins, and anyone else who didn't show up at all.
What was the toughest Final Table at this year's WSOP?
Frank Op de Woerd: The $10K Dealers Choice won by Jean Gaspard, the $1,500 Razz won by Rep Porter, the $10K Razz won by Ray Dehkharghani, the $10K H.O.R.S.E. won by Jason Mercier, the $10K Stud won by George Danzer, the $10K 2-7 won by John Hennigan, and the $50K Poker Players Championship won by Brian Rast all come to mind. In the end, though, I'm going with the $111,111 High Roller for One Drop. The contenders for gold were all tough players, but what do you expect if the buy-in is over a hundred grand?
Martin Harris: I'll go with the $10K H.O.R.S.E. Championship, in which Jason Mercier topped James Obst (second), Nick Schulman (third), Adam Friedman (fourth), Mikhail Semin (fifth), Jesse Martin (sixth), Yuval Bronshtein (seventh), and Bryn Kenney (eighth).
Jason Glatzer: I feel the $111,111 High Roller for One Drop easily had to have been the toughest final table of the series. On top of Fedor Holz capping off a legendary summer with a huge win, the final table featured one name as big as the other all the way down the line. The $50,000 Players Championship also always provides a tough final table and this year was no different. I also feel we still have something to look forward to in the series as this year's Main Event final table might be the best we have seen in years.
What would you like to see introduced or changed for next year?
Sarah Herring: If I could change anything I would allow media to film in the tournament rooms (obviously). It would provide more value to the sponsors, it would make life easier for players, and it would ultimately create more buzz and excitement about the WSOP in general.
Frank Op de Woerd: This is a question we should ask the players, because it's really all about them. As a poker fan, I would like to see the Main Event live streamed, of course, but I understand this isn't as easy with contracts with ESPN signed until at least 2017. I would like to see another $1 million buy-in event, and I think players would enjoy both "win the button" and 5-card Omaha events.
As one extra remark, I want to give a shout-out to David Tuchman and the people responsible for the WSOP live streams. They did an outstanding job to cover so many tournaments and final tables, always finding something to talk about and players to join Tuchman in the booth. I really enjoyed them, and applaud the WSOP for making them one of the cornerstones of their coverage of the WSOP.
Marty Derbyshire: I'd like to see the WSOP reduce the number of events it runs every year, returning the prestige to the WSOP bracelet. Half of the no-limit hold'em events run four days, anyway, and they could expand the structures to ensure most do, giving those tournaments more play and allowing skill to play a bigger role in who wins.
Of course, the popular gimmick events can stay, and turbo events could be included to appease the segment of the community that love those, but removing the endless array of $1,000 and $1,500 events that clutter the schedule and ensure the watering down of the WSOP bracelet must happen. If the WSOP wants to continue to be the most illustrious and biggest tournament series on the planet, it has to do something to bring the prestige back to winning a bracelet.
What did you think about this year's WSOP? What were the biggest stories and surprises in your eyes? Let us know in the comments and on social media!