Event #12: $1,500 Dealer's Choice 6-Handed
Level Info
| | |
| --- | --- |
| Level | 30 |
| Limits | 80,000 / 160,000 |
| Ante | 0 |
Players Info
| | |
| --- | --- |
| Players Left | |
| Entries | 406 |
| Prize Pool | $548,100 |
Event #12: $1,500 Dealer's Choice 6-Handed
Day 3 Completed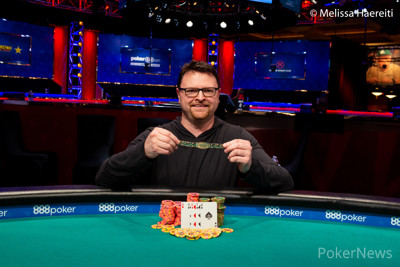 "I basically gave up on the dream of ever winning bracelet last year," said Jeremy Harkin who has been coming to play the World Series of Poker every year since 2003. Today, his lost dream came true as he came out on top in Event #12: $1,500 Dealer's Choice event. Harkin took home the coveted gold bracelet along with $129,882.
"Everything seemed to click for the last few days," Harkin said. His way to victory led through an incredibly tough field of 406 entries. Some of the world's most respected mixed games players ran deep and battled against Harkin on the final three, and then two tables.
Harkin, however, took it as a learning experience. He didn't stress out and fought bravely. Amassing chips while sharing the boards and draws with the likes of John Hennigan, Mike Leah, Chris Klodnicki and Jeff Lisandro would be a tough task for anyone in the game but Harkin did extremely well.
"This is a chance to play and see how I stack up against these guys. I just kinda visualized it. I thought I was playing well. If it didn't work out, it didn't work out."
Final table results:
| Place | Player | Country | Prize |
| --- | --- | --- | --- |
| 1 | Jeremy Harkin | United States | $129,882 |
| 2 | Frankie O'Dell | United States | $80,256 |
| 3 | George Trigeorgis | United States | $52,130 |
| 4 | Anthony Arvidson | United States | $34,700 |
| 5 | James Woods | United States | $23,686 |
| 6 | Scott Abrams | United States | $16,589 |
Harkin took down a giant pot against Klodnicki at the end of day 2 to claim the chip lead and eventually closed it out. And while it was an extremely long and tough way to reach the pinnacle, Harkin remained composed through the day, focused on making the correct decisions at any given time.
Harkin guarded a solid chip-stack for most of the day and that certainly helped his mindset, but he also had a plan that he utilized to perfection.
"I didn't think anybody had an advantage over me in pot-limit hi-lo or Big O," Harkin said.
Big O was the game that Harkin picked the most, but he changed his strategy when he made it to the heads-up against two-time WSOP bracelet winner Frankie O'Dell. He started selecting various games, trying to see where he could find O'Dell's leaks.
"I wanted to see if I can put a lot of pressure on him in pot-limit games."
The heads-up match lasted for well over two hours, with the lead switching back and forth. The stacks were getting shallow and it seemed that one cooler would be the decider. But there was another key moment that helped Harkin get closer to the victory. O'Dell, who was selecting stud-8, suddenly shifted to Omaha-8, a game in which he's won his two bracelets. However, Harkin is also strong in Omaha and revealed that the change of game was to his benefit.
"Honestly, I was glad when Frank changed from playing stud games, cause I'm not used to playing those games short-handed or even in the tournaments," Harkin admitted.
Harkin tackled O'Dell down to crumbs and finished him off in a hand of Big O. "He's a great player," Harkin complimented his final opponent.
O'Dell made a terrific comeback when three-handed, first doubling in 2-7 and then winning a massive pot against George Trigeorgis in Big O when they got all-in on a flop with O'Dell having hit a middle set and Trigeorgis holding a huge draw. Trigeorgis got there on the turn but the board paired on the river and the pot swung O'Dell's way.
Trigeorgis was down to peanuts and never recovered, falling shy of winning his first bracelet for the second time in three days as he finished fifth in the Mixed Triple Draw on Monday.
Fourth-place finisher Anthony Arvidson improved his last year's fifth-place finish, outlasting movie star James Woods who was eliminated in fifth. Woods has been playing at the Series for over a decade and made his first final table in 2016 when he took seventh in the $3k Shootout.
The official final table also featured Scott Abrams who busted in sixth while former Poker Players Championship winner Hennigan walked away in seventh place.
Fans of the Dealer's Choice tournaments should tune back to PokerNews tomorrow (June 7th) as the $10,000 Championship event kicks off at 3pm PST. So come back for the live updates as the 2018 WSOP grind is in full swing.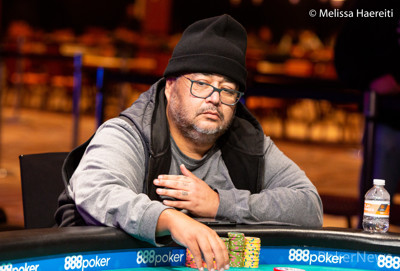 Big O
Jeremy Harkin raised to 110,000 and Frankie O'Dell called in the big blind.
The flop fell
and O'Dell shoved his last 144,000. Harkin called after giving it some thought.
Frankie O'Dell:

Jeremy Harkin:
Harkin had a pair of aces against O'Dell's queens and his hand held on the
and
turnout as he made two pair. O'Dell was rewarded $80,256 for his finish while Harkin becomes first-time WSOP champion for $129,882. End of day wrap to follow shortly.
Omaha Hi-Lo
From the button, Jeremy Harkin raised to 160,000 and Frankie O'Dell called.
The flop landed
and O'Dell checked to Harkin who bet 80,000. O'Dell called, and then check-called 160,000 when the turn landed the
.
The river fell the
, and both players checked.
Harkin tabled his
, and he scooped the pot against O'Dell's two pair.
Omaha Hi-Lo
After significant betting action preflop and on the flop of
, the turn landed the
and Frankie O'Dell bet out 160,000.
Jeremy Harkin called, and the river landed the
.
O'Dell bet, Harkin raised, and O'Dell quickly folded.
Level: 30
Limit Flop / Draw: 40,000/80,000
Stud Games: 20,000-ante, 20,000 bring-in, 80,000 completion
No-Limit & Pot-Limit: 20,000/40,000/10,000-ante
Omaha Hi-Lo
Jeremy Harkin limped in from the button and Frankie O'Dell raised in the big blind.
Harkin called, and then called a bet on the
flop.
The turn landed the
, and O'Dell bet out 120,000, and Harkin folded.
Omaha Hi-Lo
Jeremy Harkin raised, Frankie O'Dell called and they looked at the
flop. O'Dell check-called and the
landed on the turn.
O'Dell led out and Harkin called.
The river was the
and O'Dell checked to Harkin who fired. O'Dell sighed but then threw in the calling chips.
"Wheel," Harkin said, rolling over
. O'Dell showed
and mucked the rest of his hand, losing the pot to his rival.
Big O
Jeremy Harkin raised to 75,000 and Frankie O'Dell called in the big blind.
The flop landed
and O'Dell checked to Harkin who bet 100,000. O'Dell called, and then the
and
were checked down.
O'Dell tabled his
for a pair of aces and a live deuce, and Harkin mucked.
Omaha Hi-Lo
Frankie O'Dell raised, Jeremy Harkin called and led on the
flop. O'Dell raised and Harkin called.
The
turn saw Harkin check-fold and O'Dell raked in the pot.
The next hand brought another victory for O'Dell as he called Harkin's raise and then led himself on the
flop. Harkin called.
O'Dell checked the
turn and Harkin fired. O'Dell called and then led again after the
hit the river. Harkin called.
"Straight," O'Dell said, turning up
.
Harkin only flashed the
but he ended up scooped.