Event #8: $2,500 Mixed Triple Draw Lowball
Day: 3
Event #8: $2,500 Mixed Triple Draw Lowball
Day 3 Completed
Level 29 : 60,000/120,000, 0 ante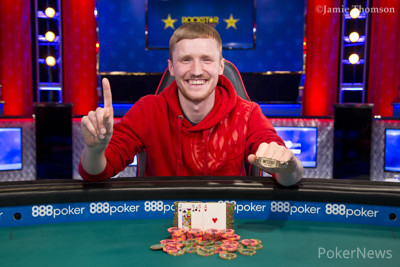 Johannes Becker busted the $100,000 High Roller at the 2018 World Series of Poker and found himself a little down in the dumps. As a mixed-game cash player whose favorite games are 2-7 triple draw and badugi — two of the games in Event #8: $2,500 Mixed Triple Draw Lowball — it seemed only natural he would hop in, but playing poker in a negative mindset is rarely a good idea.
"I was kind of wondering whether I should play or not," he said. "But given that I've been looking forward to this specific tournament and it's kind of my mix, I decided to give it a shot anyway."
So, the German registered late and gave it a go. Two days later, he emerged atop a 321-player field for his first WSOP bracelet and $180,455 in prize money.
Official Final Table Results
| Position | Name | Country | Payout |
| --- | --- | --- | --- |
| 1 | Johannes Becker | Germany | $180,455 |
| 2 | Scott Seiver | United States | $111,516 |
| 3 | Jesse Hampton | United States | $71,547 |
| 4 | Chris Vitch | United States | $47,166 |
| 5 | George Trigeorgis | United States | $31,873 |
| 6 | Luis Velador | Mexico | $22,304 |
Becker came into the final day with the second-shortest stack out of 12 remaining players. He figured any headway he made was gravy given his chip position.
"I didn't expect to win," he said. "I started catching cards and that worked out great."
Becker's initial good run allowed him to maneuver past bracelet-winning competition like Mike Leah, Bryce Yockey and Frank Kassela en route to the final table. Limit crusher Chris Vitch and Scott Seiver, who had built up a monster stack of twice the next player, still stood in his way, though.
Vitch surged into the lead early, and as a former winner of this event, he seemed the favorite. However, Becker had shown off his mixed-game chops as well here at the WSOP, taking second in the $50,000 Poker Players Championship last year.
While he was unknown to most at that point due to a light history of live cashes, he had been a big player in mixed online cash. PPC champ Elior Sion hinted as much when he told PokerNews that he and Becker had history battling online. Becker confirmed he has long been a regular at stakes as high as $200/$400.
"Whenever I'm home I sit down at the tables online and wait for anyone to join," he said. "Quite often, there're slow days and nobody is playing me at all."
Given that fierce reputation, it's little surprise that Becker got past even the tough grinders he had to face at the final table. Luis Velador fell early on, and while short stack George Trigeorgis hung on for awhile, he eventually found an all-in pot he couldn't win.
Seiver eventually reversed Vitch's takeover, topping him in a number of pots. Vitch slid into fourth place, where he went bust to fall just short of a third bracelet.
Becker at one point had the shortest stack three-handed, and Seiver controlled nearly three-quarters of the chips. However, Becker took over from that point and just couldn't be stopped. He bested Seiver in a number of pots and crushed first Jesse Hampton and then Seiver.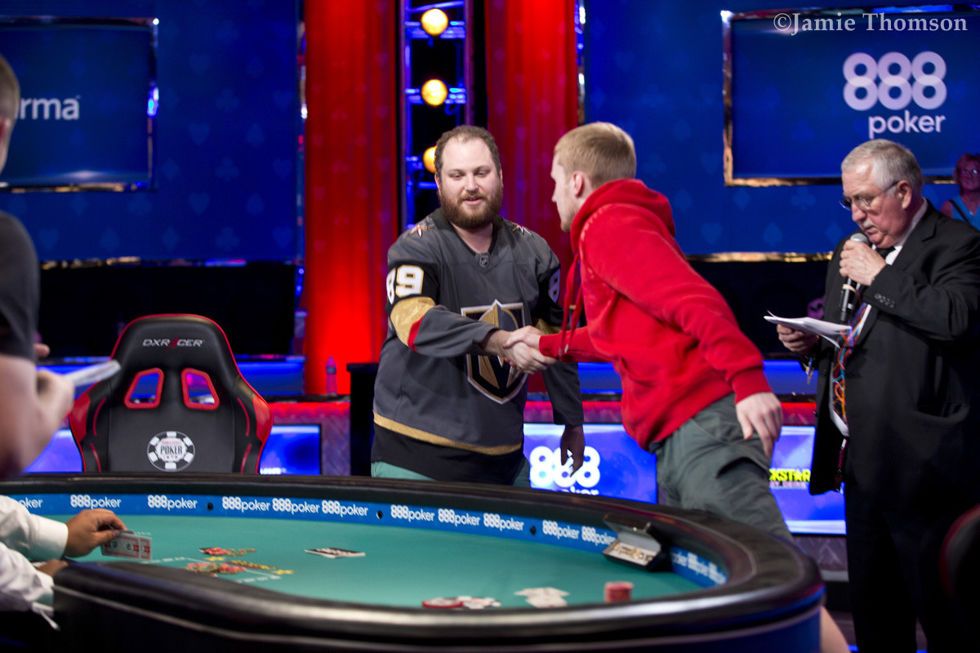 Becker said he was happy to win his first bracelet, but it still doesn't compare to his run in the PPC, since that field was so elite and the event so prestigious. He'll be back in there this year along with a number of other "fun events" like the Heads-Up Championship and the two 2-7 triple draw events.
A couple of other pressing matters may pull Becker away from other events. For one thing, he's got to leap over the last hurdle on the way to his economics degree by finishing up his thesis. For another, he's going to be looking to fire in plenty of big cash games.
This particular event could have easily been one he skipped, but luckily for him, he didn't let the $100K bustout blues keep him down.
"It was a good decision," he said.

Level 29 : 60,000/120,000, 0 ante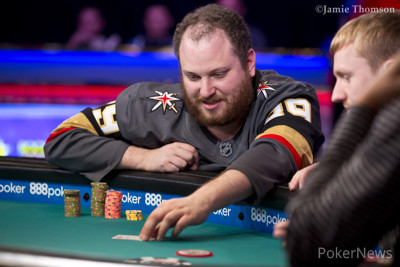 Badugi
Scott Seiver defended his big against a raise and both players took two. Johannes Becker fired another bet in position and Seiver raised all-in for 110,000 total. Becker called.
Seiver drew one while Becker was ready for the showdown, patting. Seiver used the final draw to change one again and Becker opened
.
Seiver looked at Becker's cards, then back at his own and said that it was a flip. He peeled his last card and said: "No, you got it." He couldn't make a four-card badugi and his
went into the muck.
Seiver picked up $111,516 for his second-place finish while Johannes Becker becomes the newest WSOP champion, taking home the $180,455 top-prize.
Level 29 : 60,000/120,000, 0 ante
Badugi
Scott Seiver raised and Johannes Becker called. Both pulled two and Becker came out betting. Seiver raised and Becker called. Becker took a card and Seiver was pat. Becker check-raised and Seiver folded.
"Bluff?" Seiver asked.
"It doesn't matter to you," Becker said with a smile, referencing an earlier comment from Seiver that whether an opponent bluffed or not didn't really matter to him.
Level: 29
Limits: 60,000/120,000
Ante: 0

Level 28 : 50,000/100,000, 0 ante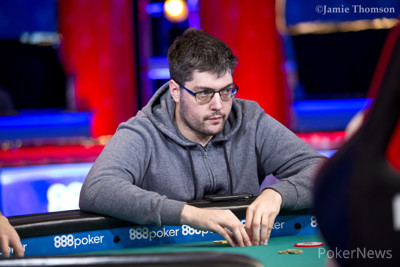 2-7 Triple Draw
Jesse Hampton went to the battle with Johannes Becker who raised. Hampton defended his big.
Becker discarded one on the first draw. Hampton took two and called a bet.
Then they changed one apiece and Becker kept pushing. Hampton called the big bet, leaving himself with just 10,000 in shrapnel.
Becker patted his made hand and Hampton pitched one. Then he called for the rest, finishing his tournament appearance as Becker announced "Number Two," confirming it by showing
.
Hampton mucked and shook hands with the two remaining players and headed away from the feature table area. He claimed $71,547 for the bronze.
Becker and Scott Seiver agreed to take a short break.
Level 28 : 50,000/100,000, 0 ante
2-7 Triple Draw
Scott Seiver opened for a raise in the small blind and Johannes Becker defended big blind. Seiver took one and Becker three. Seiver bet and Becker called. Seiver patted and Becker took one. Seiver checked and Becker bet. Seiver called. This time, Seiver took a card and Becker patted. Seiver bet the end and Becker quickly raised. Seiver called but Becker had
.
It sounded like Seiver said he made an eight-perfect.

Level 28 : 50,000/100,000, 0 ante
Badugi
Scott Seiver raised and Johannes Becker re-raised. Seiver called and then called bets on each of the following streets. He drew two in the first round and one on the next two draws while Becker initially changed three and then twice discarded one.
Seiver's calldown failed as Becker made a nine-perfect with
, adding another big chunk to his chip-leading stack.
Level 28 : 50,000/100,000, 0 ante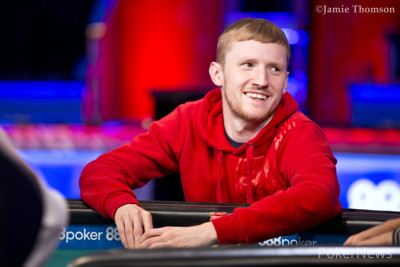 Badugi
Scott Seiver opened button and called a three-bet from Johannes Becker. Becker was pat and Seiver took one. Becker bet and called a raise and both players patted. Becker check-called and they patted again. Check-check on the end and Becker's
was good.
"So close," Seiver said with a shake of the head.
The next hand, Becker opened button and Seiver called. Both drew two and Seiver check-called. Behind in the draw now, he took two and Becker one. Seiver check-folded to a bet.

Level 28 : 50,000/100,000, 0 ante
Badugi
As seen after the first draw, Johannes Becker bet in position and both Jesse Hampton and Scott Seiver called. All of them changed one card and Becker then fired once again. Hampton called but Seiver opted for a check-raise, provoking a three-bet from Becker. Hampton released his hand but Seiver matched the price.
He drew one and Becker stood pat. Seiver checked and decided that he had to call the last bet, even though he didn't look particularly happy about it. Becker turned up
and raked in a decent pot.