Event #15: $1,500 H.O.R.S.E.
Day: 3
Event #15: $1,500 H.O.R.S.E.
Day 3 Completed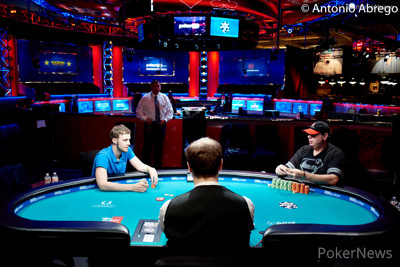 After a sweltering 14 hours in the heat of the Amazon Room, the tournament staff has called it quits on the heads-up match between Andrey Zhigalov and Timothy Frazin. The winner of Event #15: $1,500 H.O.R.S.E. will be decided on Saturday, June 9, when play resumes at 12:00 p.m.
When play ended for the night, it was Zhigalov with a slight chip lead, bagging 3,080,000 to Frazin's 2,510,000. The indecision of what to do at the end of the night pretty much summed up their heads-up match. The two players could not agree on playing one more level or bagging up, therefore tournament staff pulled out the bags for them.
Zhigalov and Frazin battled heads-up for over three hours with each player holding a distinct chip advantage at one point. Frazin started off heads-up play with the lead and continued to grow it throughout the next couple of levels. At one point, Zhigalov was all-in and hit a five-outer on the turn to score a key double up. From then, the Russian went on to roll over Frazin and built his stack up to over 4,000,000. Eventually, Frazin crawled back before the day was ended.
Final Table Results
| Place | Player | Country | Prize (USD) |
| --- | --- | --- | --- |
| 1st | - | - | $202,787 |
| 2nd | - | - | $125,336 |
| 3rd | Bradley Smith | Canada | $87,769 |
| 4th | Matt Woodward | United States | $62,379 |
| 5th | Nicholas Derke | United States | $45,006 |
| 6th | Sandeep Vasudevan | United States | $32,971 |
| 7th | Scott Clements | United States | $24,531 |
| 8th | JW Smith | United States | $18,541 |
The day began with a full three tables of 24 players and it didn't take long for the short stacks to start flying out the door. It was a relatively quick pace, considering the limit format of the tournament. Brian Hastings was looking to capture his fourth WSOP gold bracelet but fell short, bowing out in 15th place for $7,120.
Another poker pro, Ismael Bojang, was in search of his first WSOP title to add to his already substantial resume and was poised to do so after a good start. However, Bojang went card dead after the first couple of levels and would see his tournament end in ninth place, taking home $14,240. That set the stage for the official final table of eight.
Frazin, Bradley Smith, and Matt Woodward were all fighting for the chip lead when the final table began and feasted on the short stacks. The blinds got the best of JW Smith, as he was unable to get anything going all day, but still managed to ladder his way onto the final table. He eventually succumbed to the red-hot Woodward in the game of Razz. Smith made a seven-low but Woodward held a bike to eliminate Smith in eighth place.
That left Scott Clements on the short stack who managed to find a triple up at one point, but it still wasn't enough to help him build up a stack. Clements was the last remaining player to have won a WSOP bracelet but he was unable to add to his collection. In Omaha Hi-Lo, Clements turned two pair but was rivered by the trips of Zhigalov, finishing in seventh place.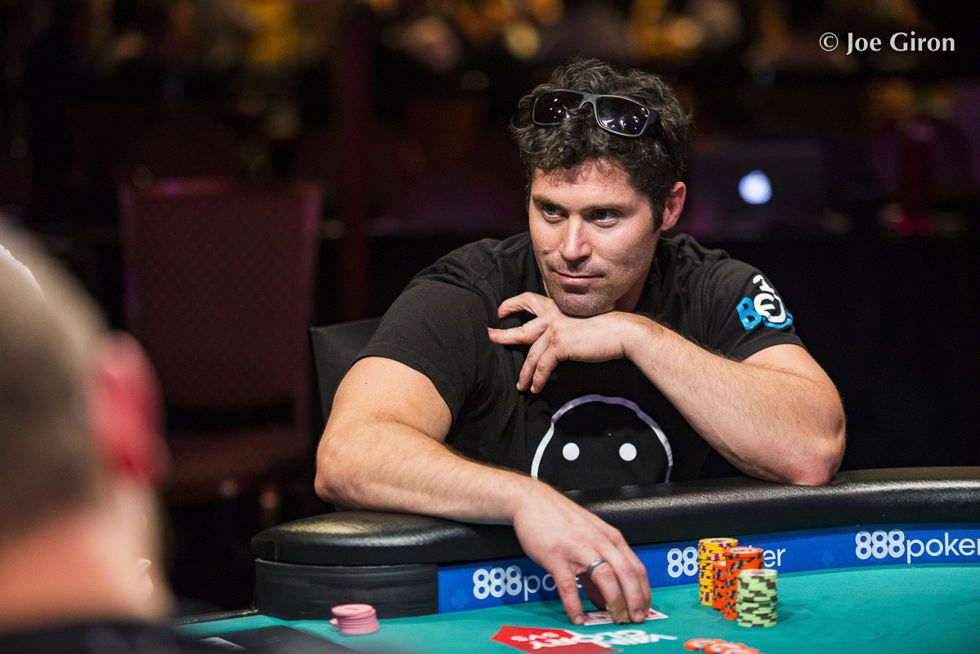 The shorter stacks continued to drop off and the big stacks continued to get larger. Next up on the totem pole was Sandeep Vasudevan who ran out a pair of kings against Nicholas Derke's trip jacks in the game of Stud. Just moments after the dinner break, Derke was the next to fall after running into a couple of big hands, including Bradley Smith's full house in Omaha Hi-Lo.
Zhigalov entered four-handed play on the short stack and it seemed inevitable that he would be the next to leave the tournament area. However, after getting all of his chips in the middle with the worst hand heading to the river twice, he managed to spike a key card to earn two double ups.
Meanwhile, Woodward's stack was getting smaller as the blinds kept increasing. After losing a big Razz hand, Woodward was all in on third street in Stud against two players. It would be Smith to score another knockout when he rivered two pair, leaving just three players remaining.
During four-handed play, Frazin built himself a massive chip lead, holding around 3,000,000 chips at one point with each of his opponents still in the six-figure numbers. He continued to hold a large lead in three-handed action but it was Zhigalov who started to turn the tables. He built his stack to nearly 2,000,000 chips before putting Smith to the test for his remaining 280,000 in Stud Hi-Lo. Zhigalov made two pair, tens and deuces, while Smith could only muster sevens and sixes, leaving just two players to fight for the title.
Continue to follow along with the PokerNews live reporting team as we will return tomorrow for live coverage of the heads-up match until a winner is crowned.
Level 32
At the end of level 32, Andrey Zhigalov and Timothy Frazin have bagged up their chips and will be returning on Saturday, June 9, at noon local time. A Day 3 recap will be posted momentarily.
Level 32
Stud
Timothy Frazin:
/
/

Andrey Zhigalov:
/
/
Andrey Zhigalov bet third and then check-raised fourth. Timothy Frazin stuck around and then Zhigalov bet fifth and Frazin stayed again. Both players then checked the rest of the way to showdown and Zhigalov said,"Your King High is Good" as he mucked his hand.
Omaha Hi-Lo
Andrey Zhigalov raised it up on the button and Timothy Frazin called in the big blind. The flop came
and Frazin checked to Zhigalov who tossed in a continuation bet. Frazin check-raised and Zhigalov called.
The turn brought the
and Frazin led out only to have Zhigalov raise him. Frazin called and the
completed the board on the river. Frazin checked this time and Zhigalov quickly moved in a bet. Frazin tossed his cards to the muck, saying his low got counterfeit on the river.
Level 32
Hold'em
Timothy Frazin opened on the button and Andrey Zhigalov made the call. The flop came down
and Zighalov check-raised Frazin who called. The turn came the
and Zhigalov bet, Frazin called.
The river came the
and Zhighalov bet again. Frazin called and Zhigalov tabled
for a pair of jacks. Frazin mucked and Zhigalov added to his lead.
Stud Hi-Lo
Timothy Frazin:
/
/
Andrey Zhigalov:
/
/ (folds on sixth)
Andrey Zhigalov completed with a queen showing and Timothy Frazin called. Zhigalov led out on fourth and Frazin called.
On fifth, Frazin picked up the betting lead and led out. Zhigalov called and Frazin tossed in another bet on sixth. Zhigalov decided now was the time to fold and Frazin raked in the pot.
Level 32
Omaha Hi-Lo
Andrey Zhigalov opened and Timothy Frazin called. The flop came
and Frazin led. Zhigalov called and the turn came the
. Zhigalov now bet and Frazin then called.
The river came the
and Frazin check-called a bet from Zhigalov who then tabled
for a rivered wheel. Frazin mucked his cards and Zhigalov is now the chipleader.
Level: 32
Hold'em / O8 - 60,000/120,000 120,000/240,000
Razz/Stud/Stud 8 - 30,000 BI 30,000 120,000 120,000-240,000
Hold'em
Timothy Frazin raised it up on the button and Andrey Zhigalov defended from the big blind. The flop came
and both players checked to the
on the turn.
Zhigalov led out and Frazin instantly raised. Zhigalov called and the
landed on the river. Zhigalov check-called another bet from Frazin to reach showdown. Frazin announced king-high and Zhigalov tabled
to win the pot.