Rosario Survives with Buried Kings

Level 14 : 2,000/4,000, 500 ante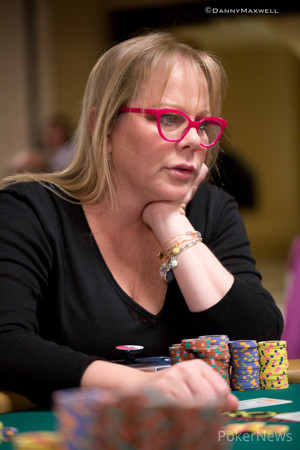 Shirley Rosario:
/
/

Paul Sexton:
/
/

Pete Chen:
/
- fold
Michael Moore:
/
- fold
Shirley Rosario was all in pre and three other players joined her to fourth street in a raised pot. Paul Sexton bet into the side pot, getting folds from Michael Moore and Pete Chen. Rosario remained heads-up with a chance to more than quadruple up.
She was ahead as she peeled kings while Sexton trailed with a pair of tens. Rosario immediately spiked a three to make two pair. Sexton had several chances how to eliminate Rosario, but he couldn't hit a straight nor make higher two pair or trips. Rosario survived and continued with 13,300.
Meanwhile, William Munley and Frank Athey were eliminated on other tables and the tournament is now on a stone bubble with 48 players left.