In the end, it was a dominating performance heads-up that sealed a victory for Yaniv Birman in the $10,000 Seven Card Stud Championship. Coming into the day as the clear chip leader, he navigated his way past eight other players to secure the $236,238 in prize money and his first WSOP gold bracelet.
And there was plenty of competition at the final table, with four former bracelet winners, including eventual runner-up Jesse Martin who fell just short of adding a third bracelet to his collection.
Official Final Table Results
| Position | Player | Country | Payout (USD) |
| --- | --- | --- | --- |
| 1 | Yaniv Birman | United States | $236,238 |
| 2 | Jesse Martin | United States | $146,006 |
| 3 | Ben Yu | United States | $99,340 |
| 4 | Lee Salem | United States | $69,928 |
| 5 | Matt Grapenthien | United States | $50,669 |
| 6 | James Obst | Australia | $37,904 |
| 7 | Joseph Cappello | United States | $29,306 |
| 8 | Lars Gronning | United States | $23,443 |
"The cards were just running my way," said Birman. "I was just leaning on [Jesse Martin] all the time and the cards did all the work for me all day."
"I play aggressively; if they're going to play back at me it is what it is. I'm probably going to fold. But I'd rather two or three-bet it and see where I'm at. I feel more comfortable that way, but everybody here's a good player - there were no soft spots.
Birman said that one of the most important hands at the final table was a hand against Ben Yu. Three-handed he called down Yu in a pot, and then called a check-raise on seventh street with just a pair of fours - and was good!
"I put him on a straight," said Birman. "I called his hand. I put him on Jack-King or King-Nine. I called right away and I won with a pair of fours. It was a huge pot; if I lose I'm at a million instead of two and a half."
"I barely ever play tournaments so it's fun. I play once or twice a year. I got here Monday, and this was the first tournament I signed up for. The truth is I don't play much poker anymore. Stud is my favourite game - all types of Stud. I play a lot of high-limit games in L.A.
"I'm predominantly a businessman, and I just play poker for fun. [Winning a bracelet] is just a great feeling."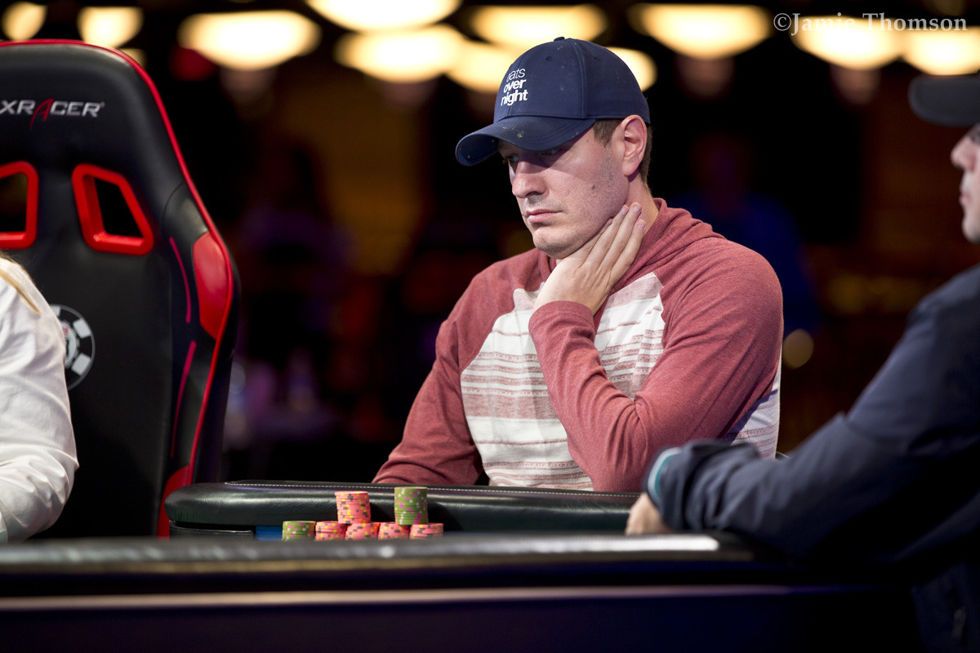 Final Day Recap
Birman took his aggressive style of play into the final table and his style was polar opposites to that of Lars Gronning, whose tight hand selection resulted in him getting his dwindling stack in once to triple, and again to become the first elimination at the hands of Joseph Cappello.
Such was the pace of eliminations during the early goings, that another player was eliminated almost straight away. Ben Yu made two pair on seventh street and James Obst failed to improve and was sent to the rail.
By the second break of the day, Birman was still topping the remaining six players with twice as many chips as Yu in second place. Birman would surge after making jacks-full against Matt Grapenthien, and Grapenthien would be the next elimination, again at the hands of Yu when Yu's buried fours held against the combo draw of Grapenthien.
Just like with the first two eliminations of the day, one elimination lead to another and Lee Salem soon found himself heading to the exit in fourth. Jesse Martin had made trips by sixth street, and Salem failed to improve and was eliminated.
Astonishingly, Birman had retained hold of his chip lead throughout the day without even eliminating a player. That would change three-handed as Birman pushed home his chip lead, with Birman going perfect-perfect to send Yu to the rail.
Such was the head of steam Birman had built up, heads-up play seemed to be an inevitability. Raise after raise, Birman won all the key pots, showing down two pair and a flush and being awarded the pot.
Although Martin did double through Birman, at the second time of asking he closed it out to take home his first WSOP bracelet and over $200,000 in prize money.
That concludes the PokerNews coverage of Event #38: $10,000 Seven Card Stud Championship, with Yaniv Birman following in the footsteps of last year's winner Mike Wattel.