After the field of 911 entries in the 2018 World Series of Poker Event #4: $1,500 Omaha Hi-Lo 8 or Better had been cut down to 296 hopefuls in the first 10 levels of the tournament, the second day narrowed down the contenders for the top prize of $239,771 and the elusive gold bracelet to just 36.
All Day 2 survivors have $5,605 locked up for their efforts and Brandon Ageloff secured the top spot with a stack of 555,000. The American already has one WSOP final table appearance to his name after finishing third in Event #52: $ 1,500 No Limit Hold'em at the 2017 WSOP for a career-best score of $161,844. Matt Woodward is the only other player with more than half a million in chips and will return for Day 3 with 505,000.
Four former WSOP bracelet winners are still in contention for another shot at glory at the Rio All-Suites Hotel & Casino in Las Vegas: Chris Bjorin (488,000), Mike Wattel (262,000), Mike Leah (99,000) and Jason Lester (95,000) navigated through the minefield of money day, which left more than half of the returning field without anything to show for all their hard work.
Other notables through to Day 3 include Chad Eveslage (364,000), Jeff Shulman (291,000), Daniel Buzgon (173,000), Kate Hoang (167,000), Julien Martini (140,000), James Chen (110,000), Danny Wong (76,000) and 2016 WSOP Main Event 8th place finisher Jerry "HumLun" Wong (48,000).
Action of the Day:
Plenty of notables had made it through the day but failed to reach the money such as Layne Flack, Matt Waxman, Jeff Madsen, Sebastian Langrock, Frank Kassela, Ashton Griffin, Jeremy Ausmus, Justin Liberto, Mike Matusow, Christopher Vitch, Chris Klodnicki and Scott Clements.
Just before the money bubble, Monty Dennis busted despite getting it in with a better two pair, a flush draw and the nut low draw as Pamela McPeak's inferior two pair improved to an unlikely full house. Not even five minutes later, several other players had busted and no hand-for-hand was required. The last player to leave empty-handed was Benjamin Scholl, who held two pair and saw his low draw get counterfeited against the better two pair of Denny Axel.
The floodgates were opened right there and many notables soon headed to the rail such as Ryan Laplante, Chris Tryba, David "Bakes" Baker, Daniel Weinman, Mark Gregorich, Robert Mizrachi and John Racener. Day 1 chip leader Dao Bac had to settle for 81st place and Allen Kessler also received $2,823 for his 75th place finish.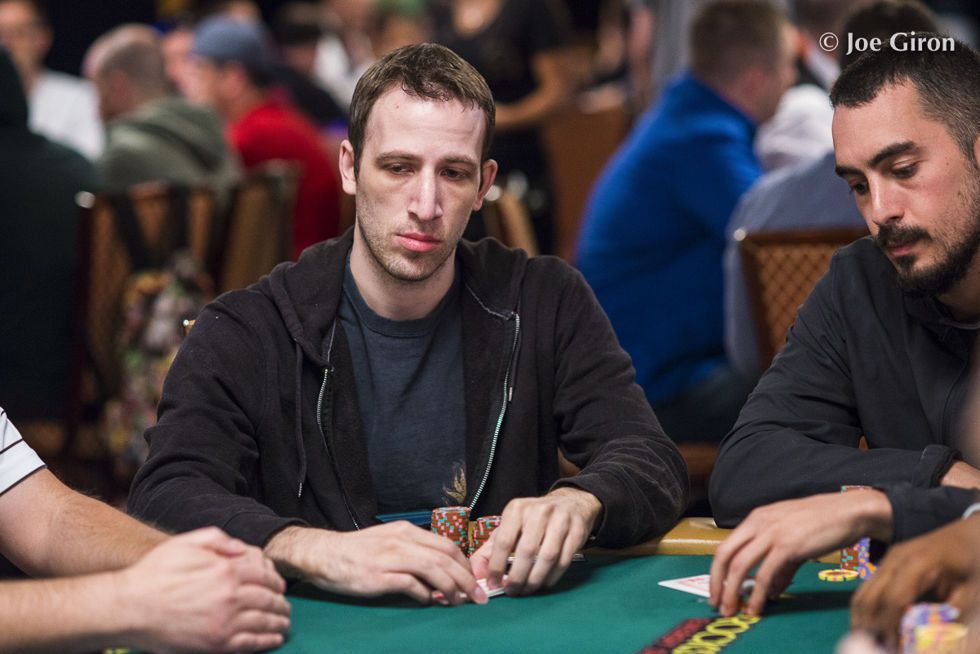 John Monnette ran out of chips in a three-way pot against Perry Friedman and Victor Ramdin, while 3-time WSOP bracelet winner and the 2016 champion of this very event, Benny Glaser, followed soon after. Glaser was left short in a battle with Shaun Deeb and got it in with a set only for Rylen Sanehisa to river a wheel and scoop the entire pot. Friedman (54th place) and Deeb (44th place) were among the late victims before a rush at the end of the night also saw Peter Eichhardt and Ramdin depart.
The action will resume at 2 p.m. local time on Saturday, June 2nd, 2018, with level 21 and blinds of 5,000/10,000. With the big bet at 10,000, the action is expected to escalate early on, whether or not the tournament will play down to a champion on Day 3 or requires an additional day remains to be seen. The final table is set to be streamed on the Twitch Channel of PokerGo.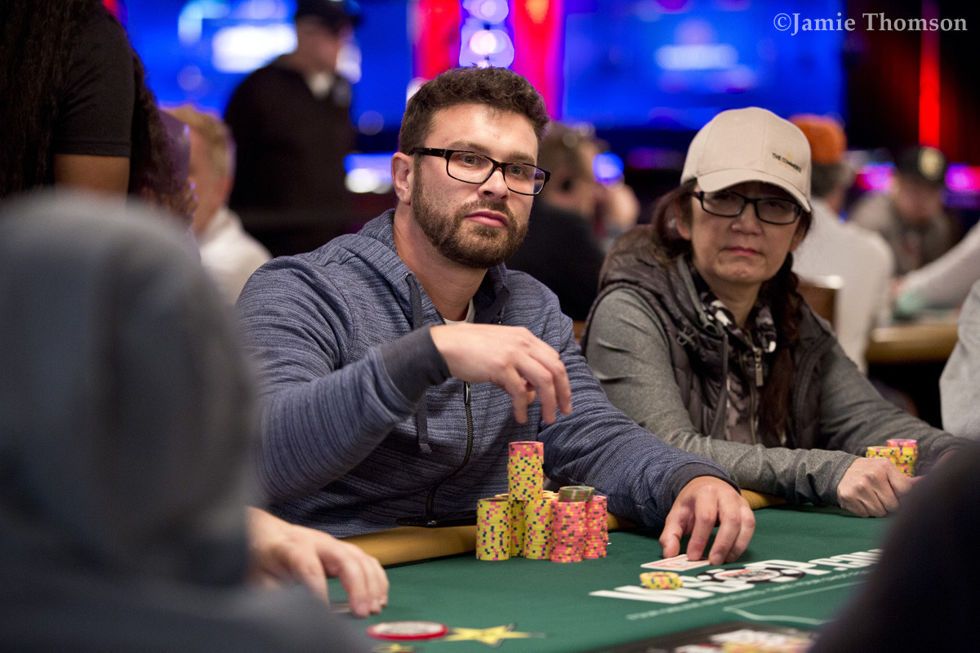 Event #4: $1,500 Omaha Hi-Lo 8 or Better Day 3 Seat Draw
| Table | Seat | Player | Country | Chip Count | Big Bets |
| --- | --- | --- | --- | --- | --- |
| 511 | 1 | Denny Axel | United States | 140,000 | 14 |
| 511 | 3 | Jeff Shulman | United States | 291,000 | 29 |
| 511 | 4 | Frank Muir | United States | 40,000 | 4 |
| 511 | 5 | Tamir Ilcafass | United States | 246,000 | 25 |
| 511 | 7 | William Kopp | United States | 170,000 | 17 |
| 511 | 8 | Mike Leah | Canada | 99,000 | 10 |
| 511 | 9 | Danny Wong | United States | 76,000 | 8 |
| | | | | | |
| 518 | 2 | Jason Lester | United States | 95,000 | 10 |
| 518 | 3 | James Chen | Taiwan | 110,000 | 11 |
| 518 | 5 | Daniel Buzgon | United States | 173,000 | 17 |
| 518 | 6 | Chad Eveslage | United States | 364,000 | 36 |
| 518 | 7 | Brian Haack | United States | 308,000 | 31 |
| 518 | 8 | Kate Hoang | United States | 167,000 | 17 |
| 518 | 9 | Rylen Sanehisa | United States | 165,000 | 17 |
| | | | | | |
| 519 | 1 | James Pursley | United States | 295,000 | 30 |
| 519 | 2 | Anthony Frederick | United States | 27,000 | 3 |
| 519 | 3 | Robert Coates | United States | 56,000 | 6 |
| 519 | 5 | Jermaine Reid | United States | 107,000 | 11 |
| 519 | 6 | Tuvya Felt | United States | 84,000 | 8 |
| 519 | 7 | Scott Fitzhugh | United States | 79,000 | 8 |
| 519 | 8 | Julien Martini | France | 140,000 | 14 |
| | | | | | |
| 525 | 1 | John Reiss | United States | 95,000 | 10 |
| 525 | 2 | John Jenkins | United States | 299,000 | 30 |
| 525 | 3 | Errol Massey | United States | 235,000 | 24 |
| 525 | 4 | Jerry Wong | United States | 48,000 | 5 |
| 525 | 5 | Mike Wattel | United States | 262,000 | 26 |
| 525 | 6 | Chris Bjorin | Sweden | 488,000 | 49 |
| 525 | 7 | Mack Lee | United States | 120,000 | 12 |
| 525 | 9 | Itsuko Yoroi | Japan | 56,000 | 6 |
| | | | | | |
| 526 | 1 | Christopher Roth | United States | 106,000 | 11 |
| 526 | 2 | Jesse Simonelli | United States | 175,000 | 18 |
| 526 | 3 | Gregory Dinkin | United States | 77,000 | 8 |
| 526 | 4 | Brandon Ageloff | United States | 555,000 | 56 |
| 526 | 5 | Matt Woodward | United States | 505,000 | 51 |
| 526 | 6 | Rafael Concepcion | United States | 435,000 | 44 |
| 526 | 7 | Robert Campbell | United States | 134,000 | 13 |