Scott Seiver has done about all there is to do in poker. He's conquered online poker, crushing in both tournament and cash games. He's become a regular player in live high-stakes cash games and won a WSOP bracelet among $23 million in live tournament earnings.
But he admitted winning a piece of WSOP gold still matters, and that's exactly what he did when he won his second bracelet, defeating a field of 114 in Event #52: $10,000 Limit Hold'em Championship.
"I'll be honest," he said. "It matters a lot to me. It really does. I feel that I've really accomplished most things that I've set out to do in poker so far and honestly, even more than that."
| Place | Name | Country | Prize (USD) |
| --- | --- | --- | --- |
| 1 | Scott Seiver | United States | $296,222 |
| 2 | Matt Szymaszek | United States | $183,081 |
| 3 | Anthony Zinno | United States | $129,186 |
| 4 | Christopher Chung | United States | $93,009 |
| 5 | Matt Glantz | United States | $68,352 |
| 6 | Philip Cordano | United States | $51,296 |
| 7 | Dan Zack | United States | $39,329 |
| 8 | Michael Moore | United States | $30,821 |
| 9 | Ken Deng | United States | $24,700 |
Seiver's motivation to grind at the Rio All-Suite Hotel & Casino has appeared to wane in recent years, something he admitted has been the case as lucrative summer cash games have drawn his attention. He went for a mere $3 in the $25K fantasy draft after insisting to peers he'd be scarce at the Rio for the fourth or fifth consecutive year, planning to play only four or five events.
However, in a lull in the Stanley Cup finals — Seiver counts himself an avid hockey fan and said he attended all of the Las Vegas Golden Knights home games — Seiver squeezed in a shot in $2,500 Mixed Triple Draw Lowball. He got second to Johannes Becker, a result that didn't set well.
"I was so upset that I didn't get a bracelet," Seiver said. "If I either won that tournament or didn't cash, I probably wouldn't have played another tournament all summer."
So, Seiver has been a regular presence once again, and he made a run despite last-minute registering the Limit Hold'em Championship. Upon making Day 3, he decided he'd like to don something special if he made the final table to celebrate the upset victory of Alexandria Ocasio-Cortez in a New York Democratic primary.
"I believe she'd be the first-ever active registered socialist to make it to U.S. Congress," said Seiver, who actively shares his political thoughts and opinions on Twitter. "I've been a really big fan of her and her message."
So, he called up Alan Sass 30 minutes before play. Less than an hour later, a courier arrived bearing a T-shirt emblazoned with the prospective Congresswoman's face. A surprised Seiver admitted he was impressed by the amazing speed of the delivery and he stored it away in case he made the final table.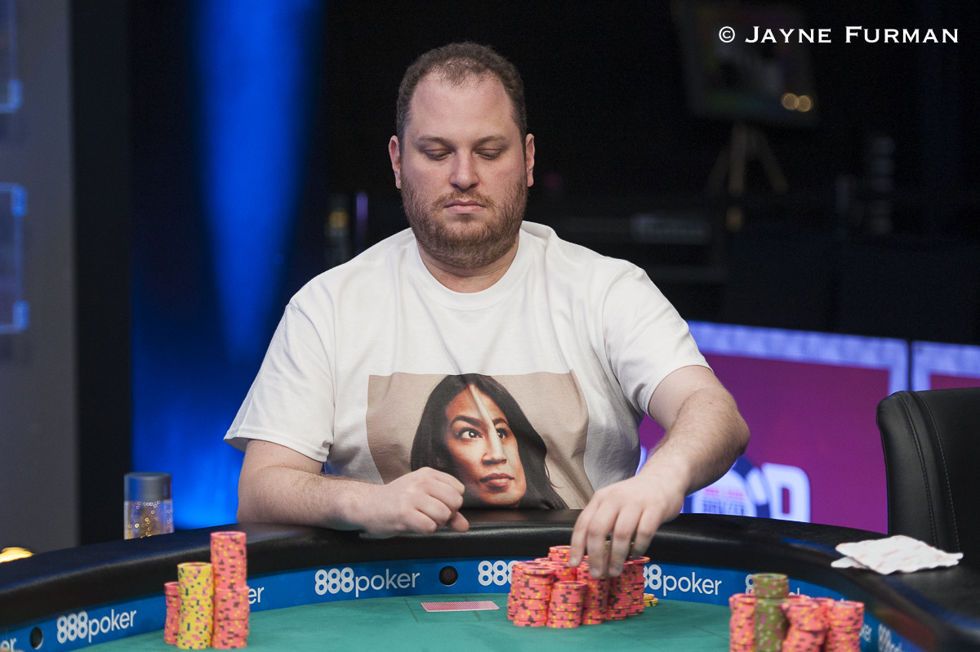 Seiver challenged for the chip lead early but by the time play was five-handed, he found himself at the bottom of the counts with Matt Glantz. Seiver said ICM implications slowed him down at that point.
"Honestly, I got somewhat lucky that he went out somewhat soon-ish and I was able to play more for the win at that point," Seiver said. "I made a couple big hands which is really what you need in this game and it helped catapult me up out of the danger zone."
Seiver leaned on his skill and experience playing big-limit cash poker — he's a participant in many of the biggest games in Vegas — and climbed up into the lead. He hit a three-outer to bust fellow bracelet winner Anthony Zinno, who led for most of the day. That left Seiver heads up with Matt Szymaszek.
Though the match was short, it proved very swingy. Seiver started off down 2-1 in chips but went on a dominant rush and had Szymaszek down to a couple of bets. Down nearly 10-1, Szymaszek erased that deficit and moved back into the lead.
"My heart was going about a thousand miles a second," said Seiver, who certainly turned serious for heads-up play after laughing and joking for much of the final table.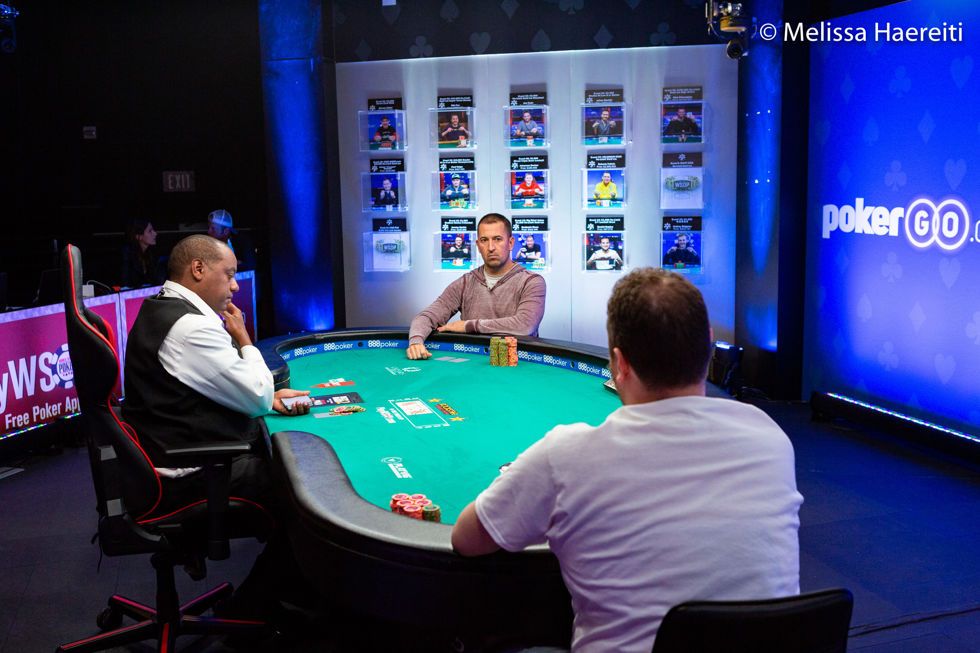 Seiver picked off a big bluff and then won another pot with jacks up. With limits so big — less than 30 big bets remained on the table — that was all it took to take another big lead and finish off Szymaszek.
While limit hold'em is generally considered to be an old-school game, Seiver's win continues an embrace of limit poker that began in his post-Black Friday years when he moved to Las Vegas to more fully explore the live poker scene.
"I really became enchanted with the mixed games," he said. "Honestly, it's exciting to learn new games and try new things. I think it's a natural progression for almost every single poker player.
"I really enjoy all the different aspects of the different games. I like the feel of a limit table better. It's more friendly, it's more camaraderie. There's a lot of laughing and joking throughout the day. I really just enjoy limit more and I've done well and I'm happy with that."
The WSOP schedule, of course, remains populated with limit and mixed events. And with Seiver's ever-increasing skill in those formats, it seems it's only up to him whether he will add to his bracelet count. As long as he can find time to step away from the cash games, he'll be a favorite in just about anything he enters — starting with the $10,000 Razz Championship, which he said he plans to register after sleeping off the win.
And to hear Seiver tell it, the motivation to grind for bracelets is back for the moment.
"I feel I like to be judged by what my peers think of me more than my actual results," he said. "But, the World Series still has a certain panache that you don't find in other situations. So, this is very special to get this bracelet and I hope to get many more in the future."