Event #60: $10,000 Pot-Limit Omaha Hi-Lo 8 or Better Championship
Day: 3
Event #60: $10,000 Pot-Limit Omaha Hi-Lo 8 or Better Championship
Day 3 Completed
Level 30 : 80,000/160,000, 0 ante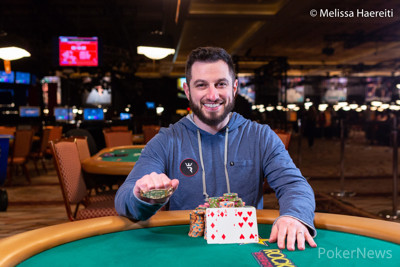 Between high-stakes cash games, getting ready to launch an online poker site and preparing for a new addition to his family, Phil Galfond finds himself a very busy man these days.
However, he did find enough time to sneak into Event #60: $10,000 Pot-Limit Omaha Hi-Lo Championship, where he claimed his third bracelet in as many games, along with a $567,788 first-place prize for topping a field of 237.
"There's nothing like the first one, so that stands ahead," Galfond said when asked where this one ranks. "It still feels really good, on par with the second.
"I just ran really hot at the right time. I ran bad all summer, so I was saving it up for now. Now, it's even."
Final Table Results
| Position | Name | Country | Payout (USD) |
| --- | --- | --- | --- |
| 1 | Phil Galfond | United States | $567,788 |
| 2 | Michael McKenna | United States | $350,922 |
| 3 | Ali Abduljabbar | United States | $240,497 |
| 4 | Chad Power | United States | $168,275 |
| 5 | Chris Lee | United States | $120,263 |
| 6 | Marco Johnson | United States | $87,830 |
| 7 | David "ODB" Baker | United States | $65,579 |
| 8 | Chase Steely | United States | $50,086 |
Galfond called the win "unexpected." Part of that comes from PLO8 simply being a game in which he has less experience. Most famous for his online cash game prowess in no-limit hold'em and PLO — Galfond has banked some $8 million in profit according to HighStakesDB — Galfond said he's never played a hand of PLO8 online. His only reps have come as part of a 12-game mix he's been playing in for the past two-plus years.
"Honestly, I don't think it helped me very much because all of that experience is 200 big blinds deep," Galfond said. "It's just a completely different world than being short-stacked in a tournament. I was figuring out as I went. I think I definitely ended the tournament a better PLO8 tournament player than I started."
Another part is that Galfond has simply been playing hardly any poker at all for the past year. He's been focused on the impending launch of Run It Once Poker, with Galfond himself slowly leaking details to the public via series of blog posts.
"I enjoyed it in a different way, but I definitely miss poker," he said.
When the nosebleed cash legend had managed to make time for some grinding this summer, he had expected to play more tournaments but found himself immersed in the cash game scene once again. Some mixed games that Galfond termed "good" ran, so he fired away in those.
Galfond decided to register at the last minute for the PLO8 Championship and advanced along with 23 others to Day 3. As he said himself, he ran quite well throughout the final day in a number of spots.
He got it in behind against Assani Fisher for his tournament life but binked a straight to survive. Later, he twice found himself all in and one card from elimination at the final table. Both times, he chopped on the river. He was also dealt aces a number of times, which his tablemates took notice of and ribbed him about. Galfond wasn't above acknowledging his good fortune.
"As long as I keep getting dealt aces more than the other players combined, I have a good feeling about this one," he wrote on Twitter when he made it to three-handed, outlasting the likes of David "ODB" Baker, Marco Johnson and fellow former online superstar Chris "Genius28" Lee.
Under the watchful eye of a Run It Once videographer, Galfond switched up his strategy and began limping in frequently on the button.
"Three-handed, this game is a game that lends itself to limping more than PLO high," he explained. "You have a lot of hands that are very flop-dependent one way or the other. It's a great low hand or its a great high hand and you'd like to get in there without spending too much to see the flop."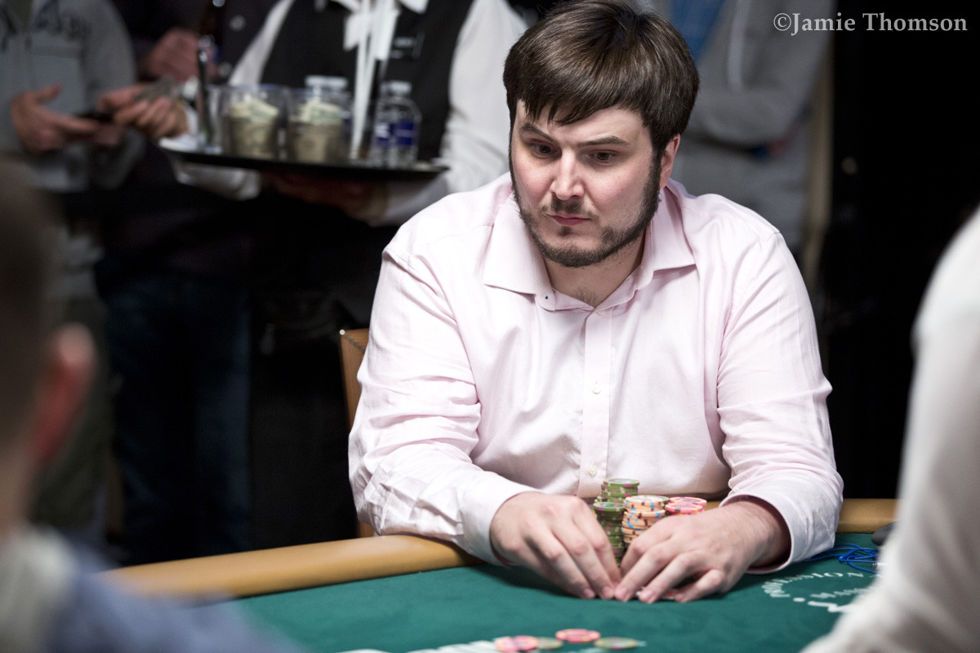 Michael McKenna came into the day as chip leader and continued his domination for most of Day 3. He took a 2-1 lead into heads-up play with Galfond but the two-time bracelet winner continued his small-ball strategy and turned things around.
"Heads up, I didn't raise any hands until the last one," he said. "I just wanted to see a lot of flops. Since I wanted to see flops with my bad hands, I have to limp my good hands because he'd just attack me in that situation."
In the key hand, Galfond made a nine-high straight with four to an eight-high straight on the board, along with the nut low. McKenna paid off a pot-sized river bet of just under 3 million. With only a little under 12 million in play at 80,000/160,000, that meant Galfond moved into a big lead. Within half an hour, he finished off McKenna, who booked his second top finish inside of a week after coming fourth in $1,500 Razz.
So, Galfond added a third bracelet to his trophy case. He's inching closer to launching the project of his dreams after years of effort, which could mean a lessened workload.
Is Phil Galfond, poker pro, ready to return to the felt full time, to the likely chagrin of his opponents, competing for bracelets and crushing cash games once again?
Don't count on it.
"It feels like we're almost there and finally I'll be free," Galfond said. "But, I can only imagine there's going to be more work once we launch the poker site. I'd like to find a way to play more poker because I really miss it. But, Run it Once poker is going to be the first priority."
A talent like Galfond can make even his cameo appearances into star turns, though, as he proved once again in securing his third piece of WSOP gold.
Level 30 : 80,000/160,000, 0 ante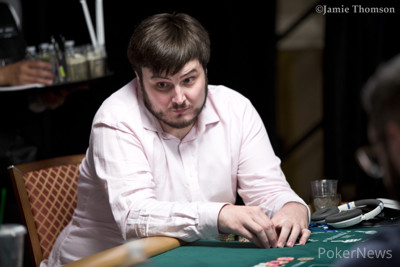 Phil Galfond potted on the button.
"All right," Michael McKenna said. "Let's go."
He stuck in his 800,000 or so and they showed down.
Phil Galfond:

Michael McKenna:
The
flop helped neither player but Galfond paired up on the
river. The
kept him best with a two-way hand while McKenna totally bricked to finish runner-up.
Phil Galfond limped and Michael McKenna checked.
The pair checked the
flop and the turn was the
. McKenna bet 160,000 and Galfond called.
The pair checked the
river.
"Fours," said McKenna. Galfond showed
for a pair of fives and the low and took down the pot.
Level 30 : 80,000/160,000, 0 ante
Michael McKenna raised to 320,000 and called a pot-sized raise to 960,000 from Phil Galfond. The flop came
and Galfond piled, with McKenna quickly calling with
. Galfond had
and turned a flush when the
hit. However, McKenna made a low with the
river.
"I scoop?" he asked.
Galfond indicated his flush.
"I thought I scooped, actually," Galfond said with a smile.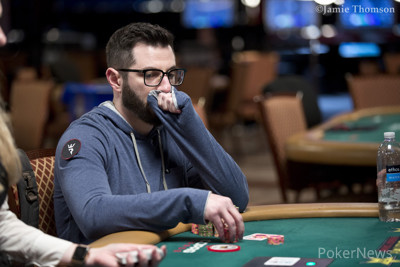 Michael McKenna raised to 260,000 and Phil Galfond called.
Both players checked the
flop. Galfond checked the
turn and McKenna bet 300,000. Galfond check-raised to 1,200,000 and McKenna called.
The river was the
. Galfond bet pot for 2,920,000 and McKenna called.
"I have ace-deuce and a straight," said Galfond, showing
.
"How big is your straight?" said McKenna, peering down towards the end of the table. "F*ck," he said before counting out the chips for his opponent.
Level: 30
Blinds: 80,000/160,000
Ante: 0
Level 29 : 60,000/120,000, 0 ante
Phil Galfond and Michael McKenna saw a
flop for the minimum. Galfond check-called 125,000. He check-called 300,000 on the
and 700,000 on the
.
"Queens and a low," McKenna announced, showing
.
Galfond announced something we didn't hear but it must have undersold his hand as he apologized after revealing
for a straight and a slightly better low. He scooped the pot.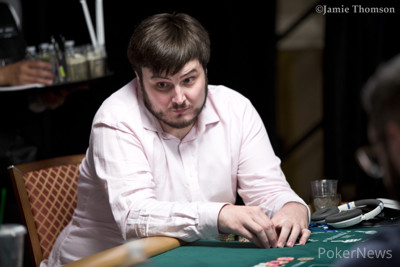 Both players put in 320,000 pre-flop. On a
flop, Michael McKenna bet 300,000 and Phil Galfond called.
The turn was the
and McKenna bet 750,000. Galfond called again.
The river was the
. McKenna announced pot, and bet 2,740,000. Galfond took just over a minute with his decision before folding.
Phil Galfond limped and Michael McKenna raised to 240,000. Galfond announced pot to 720,000. McKenna called.
The flop came
and McKenna check-folded to a bet of 1,000,000.