Galen Hall Wins $888 Crazy Eights No-Limit Hold'em for $888,888!

Level 41 : 500,000/1,000,000, 150,000 ante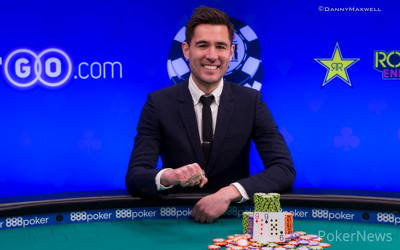 He might have had to wait two more days for it than he liked, but in the end, there was no stopping Galen Hall in Event #62: $888 Crazy Eights No-Limit Hold'em 8-Handed. Hall, who held the chip lead after both Day 2 and Day 3 continued where he left off, never relinquishing his stronghold over the competition at any point
Hall won his first career WSOP bracelet as well as the appropriate first place prize of $888,888, following in Alex Papazian's footsteps as the winner of this special event. With the win, the American moved up to over 5M in lifetime winnings. Hall was supported by his girlfriend as well as his mom and dad, who drove in this morning to watch their son play the final stretch of this four-day tournament.
Runner-up was Eduards Kudrjavcevs of Latvia, who received $476,888 for his accomplishment to break his own 1M lifetime winnings mark. Third place went to Niels Herregodts ($355,888) of Belgium, who got married here in Las Vegas just five days ago.
Official Final Table Result
| Position | Player | Country | Prize |
| --- | --- | --- | --- |
| 1 | Galen Hall | United States | $888,888 |
| 2 | Eduards Kudrjavcevs | Latvia | $476,888 |
| 3 | Niels Herregodts | Belgium | $355,888 |
| 4 | Andrey Zaichenko | Russia | $266,888 |
| 5 | Alexander Kuzmin | Russia | $201,888 |
| 6 | Jeremiah Miesen | United States | $153,888 |
| 7 | Martin Stausholm | Denmark | $117,888 |
| 8 | Philip Tom | United States | $90,888 |
The tournament got paused on Tuesday night after the level cap for the day was reached. Three players returned for the showdown on Thursday, after Wednesday was scheduled off to accommodate for the Main Event. Hall admitted he rather would've played on on Tuesday night.
"Tuesday, you know there's just certain things after like a whole long day of playing, it's harder for people to switch things up, people are a little tired so I felt like I had a good beat of what was going on. And today, I had to scale it back for the first 30 minutes or so to sort of see. You know, a lot of players can get coaching, or they get rest, they change their style a little bit if there's time off. But luckily I ran hot so it didn't matter.''
Despite the inconvenience — at least in Hall's opinion — the game plan wasn't going to change.
''I thought both of the other players were a little on the tighter side and I had the chip lead. ICM was a little less than normal with small third to second pay jumps, but I thought it probably still mattered to them a reasonable amount, so I was hoping if one of them got short I could apply a lot of pressure to the other one and I thought I would get a lot of chips from that and I just generally came in planning to be aggressive."
The aggressiveness paid off: Hall was able to collect more than his fair share of pots as well as extracting value with his good hands. While holding the big lead, two important coin flips fell Hall's way to win the coveted price: ace-king against the pocket fours of Herregodts, followed up by holding with pocket nines against Kudrjavcevs' jack-ten to win two hours after the day started.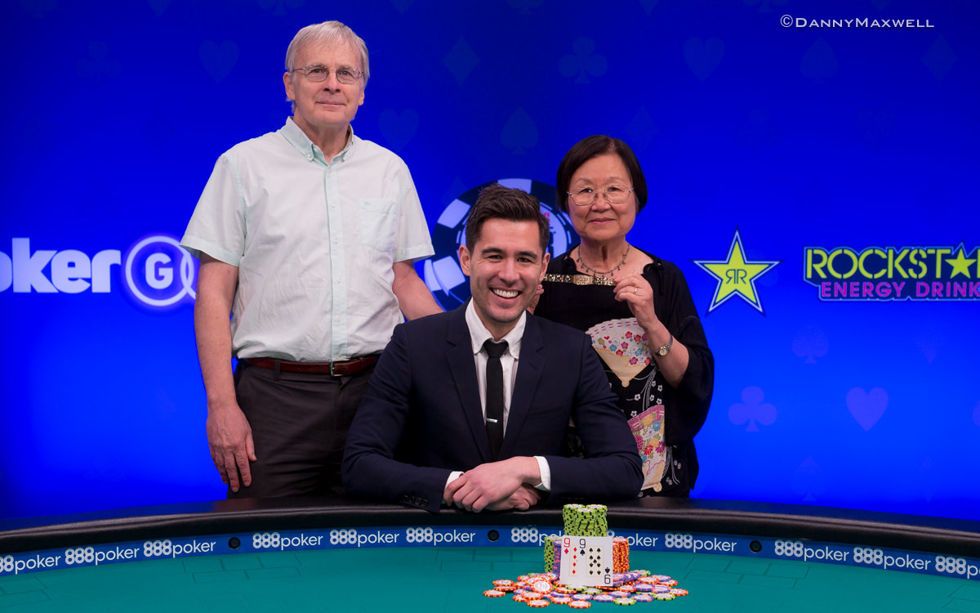 Final Day Action
Shortly after the clock struck 2 p.m., the three remaining players returned to decide who would win their first career bracelet as well as the gigantic $888,888 first place prize that awaited the winner. Hall started as the chipleader and would never relinquish it as the three played down to the winner in 55 hands.
Kudrjavcevs started the day as the short stack and didn't need long to put his chips at work. A few of his shoves got through but chip wise, the stacks remained stable in the first dozen of hands.
It took until hand #178, the 40th hand of the day before one of Kudrjavcevs' all-ins got called. After raising, Herregodts called the shove with pocket deuces but Kudrjavcevs got there with king-queen when a queen hit the turn.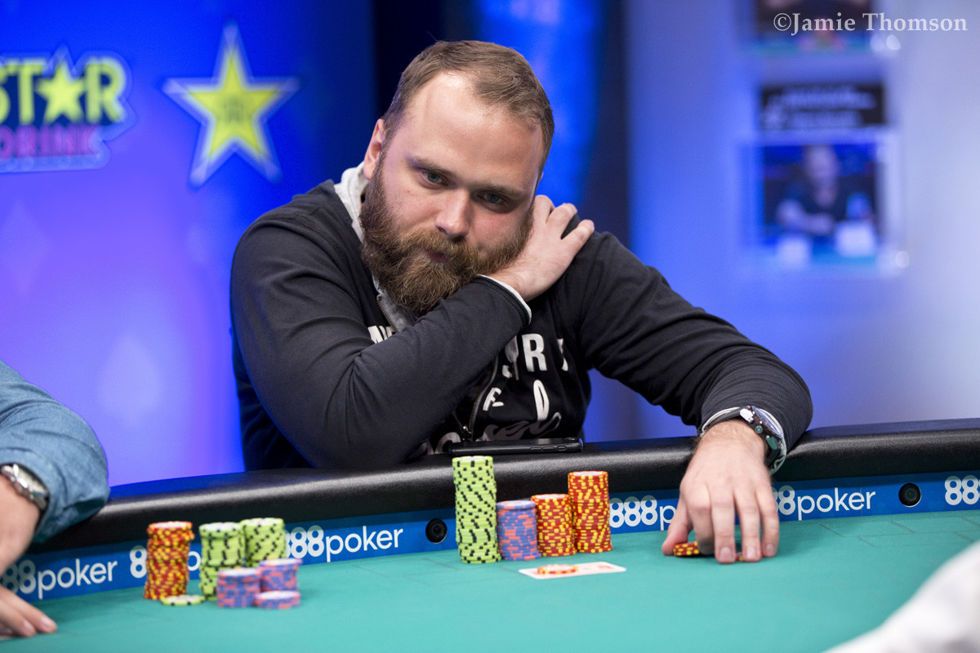 Kudrjavcevs' comeback was short-lived, as Hall was able to extract value from the Latvian in a sizable hand with king-queen. Kudrjavcevs called off a big river bet, mucked his hand, and was left with eight big blinds.
However, it would be Herregodts that would bow out first. Holding pocket fours, the Belgian raised on the button and four-bet shoved around 34 big blinds when Hall three-bet him in the big blind. Hall snap-called with ace-king and hit an ace on the flop to send Herregodts home in third ($355,888). Hall and Kudrjavcevs played a few more hands before going on break.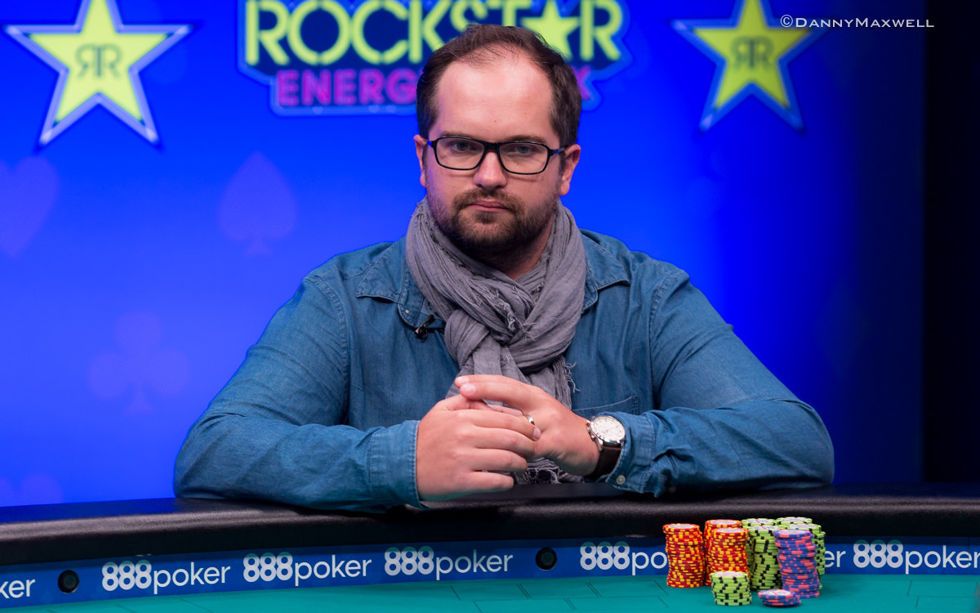 After the break and subsequent blind-up, Kudrjavcevs had exactly eleven big blinds left and shoved those with jack-ten. Hall snap-called with pocket nines and scored his first career bracelet after the board ran out eight-six-five-seven-king. Kudrjavcevs received $476,888 for his second-place finish and went over the 1M mark in lifetime winnings.
With his mom, dad and girlfriend on the rail, Hall celebrated the victory and followed in Alex Papazian's footsteps as the new $888 Crazy Eights champion! This concludes the PokerNews coverage of this event. Keep following along as the action at the 2018 World Series of Poker is heating up.