Event #25: $600 Pot-Limit Omaha Deepstack
Day: 3
Event #25: $600 Pot-Limit Omaha Deepstack
Day 3 Completed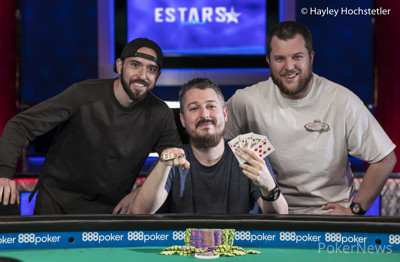 An extra day was needed to finish the huge Event #25: $600 Pot-Limit Omaha Deepstack. The brand new event at the 2019 World Series of Poker attracted 2,577 entries and created a prize pool of $1,352,925 with a first-place prize of $205,605. Andrew Donabedian took home the grand prize and his first WSOP gold bracelet by beating Todd Dreyer heads-up who had to settle for $126,948.
When asked about the bracelet he just won Donabedian said: ''I play a lot of the circuits and I have a lot of seconds and thirds. Been saving the win for the bracelet I guess. It's pretty awesome.''
Donabedian mostly plays Omaha tournaments at the circuit events and he was surprised by the turnout in this event.
''PLO seems to be getting a lot more popular every year, I think it's great! It's a lot more fun than hold'em.''
Final Table Results
| Place | Player | Country | Prize (USD) |
| --- | --- | --- | --- |
| 1 | Andrew Donabedian | United States | $205,605 |
| 2 | Todd Dreyer | United States | $126,948 |
| 3 | Robert Valden | United States | $92,672 |
| 4 | Corey Wright | United States | $68,258 |
| 5 | Mihai Niste | Romania | $50,732 |
| 6 | Alexandru Ivan | United States | $38,051 |
| 7 | Tom Franklin | United States | $28,803 |
| 8 | Florian Fuchs | Austria | $22,006 |
| 9 | Alexander Condon | United States | $16,971 |
Final Day Action
The day started with twelve players left in the tournament. The player at the top of the leaderboard was Corey Wright, who ended Day 1 of the tournament as chip leader as well as Day 2. He had a great start of the day but the same can not be said about Cheli Lin. Lin busted in the first level of the day and had to settle for 12th place and $13,212. Others that started Day 3 but didn't make the final table include Eric Sain (11th - $13,212) and Michael Bartov (10th - $13,212).
Another player that missed the final table was Alexander Condon. Despite finishing in ninth and cashing for $16,971 he missed the final table as he busted in the same hand as Bartov, albeit on the other table.
The final table started with a lot of players doubling up their stacks. It took a little over two levels for the first player to be eliminated and that was Austria's Florian Fuchs. He started the final table second in chips but was eliminated in eighth for $22,006.
Others that didn't make it to the top three included WSOP bracelet winner "Captain" Tom Franklin. He won his first and only bracelet 20 years ago and has to wait a little longer to add a second bracelet to his prize cabinet. He finished in seventh for $28,803. Alexandru Ivan (6th - $38,051), Mihai Niste (5th - $50,732), and Wright (4th - $68,258) also didn't make it to the podium.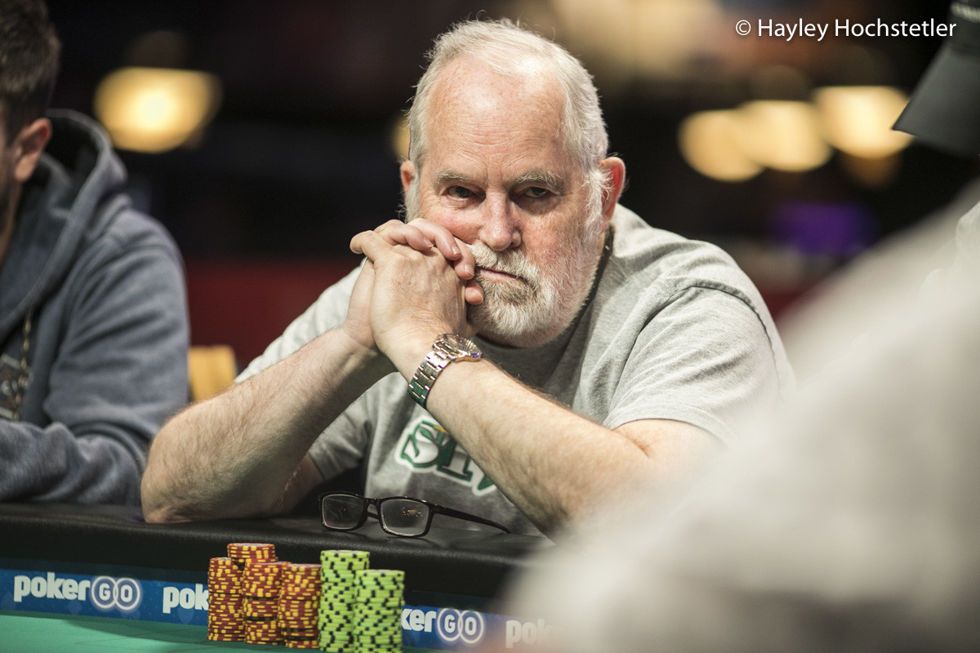 Todd Dreyer had an opportunity to end the tournament by eliminating both Donabedian and Robert Valden in one hand but he folded on a queen-high two-club flop with a club-flush draw. Donabedian would end up winning the hand with what turned out to be a smaller flush and Valden busted a couple of hands later in third for $92,672.
The heads-up was pulled in Donabedian's favor within a couple of minutes. The pots were kept small but Dreyer's stack kept dwindling down until he got his chips in the middle with a worse draw to an already made straight by Donabedian. The runout didn't change anything and Donabedian took down the tournament. He won the first-place prize of $205,605 and the WSOP gold bracelet. Dreyer had to settle for second and $126,948.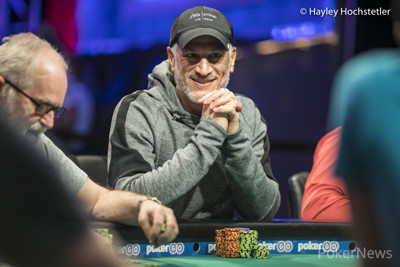 Todd Dreyer limped from the small blind/button and big blind Andrew Donabedian raised to 5,400,000. The call was made by Dryer and they went to the flop.
The flop fell
and Donabedian continued with a bet of 3,000,000 and Dryer put it all in the middle. Donabedian opened
and Dreyer sighed with the words ''you got me''. Dreyer showed
and the runout with the
turn and
river didn't save him.
Dreyer has to settle for $126,948 and second place while Donabedian takes home the first-place prize of $205,605 and the coveted WSOP gold bracelet.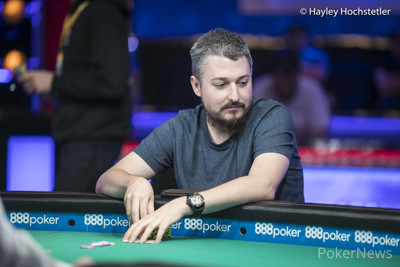 Andrew Donabedian made it 5,200,000 on the button and Todd Dreyer defended. The
board got checked down to the river, where Dreyer was the first to move with a bet of 4,000,000.
Donabedian responded with a min-raise to 8,000,000 and Dreyer winged his cards in the muck.
Level: 43
Blinds: 1,200,000/2,400,000
Ante: 0
The two remaining players have taken a short break before level 43 commences. All the levels on the tournament clock have now been completed, and a manual extra level of 1,200,000/2,400,000 has been added.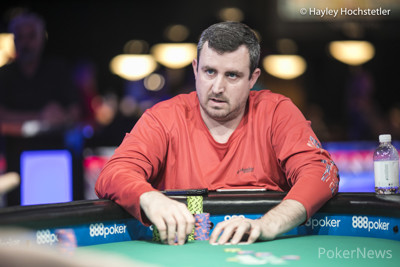 Robert Valden had about 6,000,000 left after he had doubled up to three big blinds and he got those chips in the middle with
against the
of Andrew Donabedian.
The board ran out
and Valden thought for a second he won the hand with his three-of-a-kind nines but he then realized that Donabedian had a full house with treys and deuces.
Valden was chipleader for quite a while but he busted out in third place cashing for $92,672.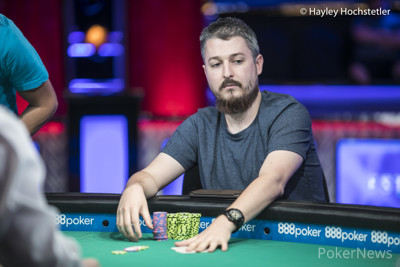 Todd Dreyer made it 5,000,000 on the button, Robert Valden called from the small blind and Andrew Donadebian called from the big blind. The
saw two lightning-quick shoved from Valden — 15,000,000 --, and from Donabedian for 11,100,000.
Dreyer took minutes to assess the situation and held his hand on his hands. If he'd overcall all in, there was a chance he'd win the bracelet on the spot. Eventually, he opted to lay it down to leave it to the other two.
Andrew Donabedian:

Robert Valden:
"You both had draws?! I had a higher flush draw," Dreyer said upon seeing both wraps. It became even worse for him as the board ran out
, which would've given him the winner. Instead, it was Donabedian who tripled up with his flush and Valden was left short.
Player
Chips
Progress

Andrew Donabedian

37,200,000

21,200,000

Todd Dreyer

35,900,000

-11,500,000

Robert Valden

3,900,000

-32,100,000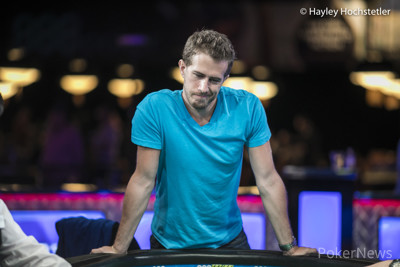 Corey Wright potted to 7,000,000 on the button, leaving himself with 8,500,000 behind. After some thought, Todd Dreyer elected to call from the big blind.
The flop was
and Dreyer shoved all in. Wright took around ten seconds before calling it off.
Corey Wright:

Todd Dreyer:
Wright was in a deep hole against Dreyer's set and neither the
turn nor
river provided a miracle escape. The start-of-the-day chip leader finished in fourth place for a payday of $68,258.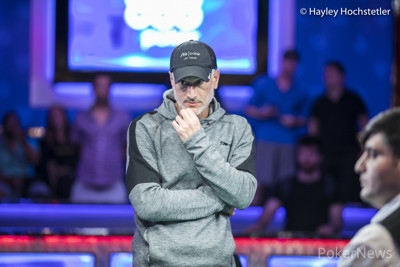 Todd Dreyer has been playing the waiting game for most of the final table. He tripled up moments ago and he just won a nice pot that put him in the second position.
Andrew Donabedian raised from the small blind to 6,000,000 and big blind Dreyer called. The flop fell
and Dreyer called another 2,500,000 bet from Donabedian.
The turn was the
and Donabedian checked to Dreyer this time. He announced all in but Donabedian quickly folded his hand.
Player
Chips
Progress

Robert Valden

36,000,000

10,000,000

Todd Dreyer

24,000,000

6,100,000

Andrew Donabedian

16,000,000

1,000,000

Corey Wright

12,500,000

800,000