Hands #105-109: Bognanni With a Back-Raise
Level 39 : 500,000/1,000,000, 1,000,000 ante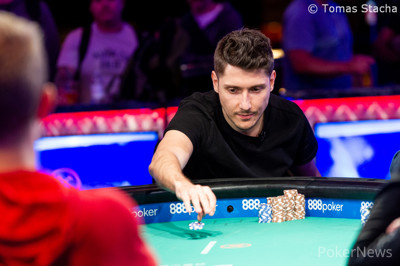 Hand #105: Marco Bognanni calls from the button and Robert Mitchell checked his blind. Both players checked to the turn on a board of
, Mitchell then check-called a 1 million chip bet from Bognanni. Both players then checked the
river, Mitchell tabled
and raked in the pot.
Hand #106: Hallay called from the button, and then folded after Mitchell raised it to 4.5 million from his small blind.
Hand #107: After both Mitchell and Bognanni limped preflop, Hallay raised it up to 4.5 million and Mitchell made the call. Bognanni then three-bet shoved for 24.9 million, which got an instant fold from Hallay, but Mitchell asked for a count. He then went into the tank for about a minute before he decided the amount was too much too call and he mucked his cards.
Hand #108: Hallay called in the small blind and after Mitchell checked his option, both players saw a flop of
. Hallay bet 1 million and got called by Mitchell. After both players checked the
turn, and Hallay again checked on the
river, Mitchell decided to take a shot at the pot with a bet of 2 million, which was enough because Hallay folded.
Hand #109: After Mitchell raised it to 3.5 million and Bognanni made the call, both players checked to the river on a board of
. Mitchell then bet out 2 million, only to be check-raised to 15.2 million by Bognanni, which got a quick fold from Mitchell.