Event #42: $600 Mixed No-Limit Hold'em / Pot-Limit Omaha Deepstack
Day: 3
Event #42: $600 Mixed No-Limit Hold'em / Pot-Limit Omaha Deepstack
Day 3 Completed
Level 40 : 600,000/1,200,000, 1,200,000 ante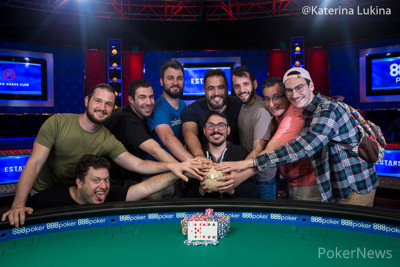 Aristeidis Moschonas has pulled off a chip-and-a-chair comeback worthy of the history books, rebuilding a stack from a low point of less than one big blind to claim his first World Series of Poker gold bracelet and $194,759 in prize money. Rapturous Greek shouting met his 2019 WSOP victory over last year's $10,000 Stud champion Dan Matsuzuki, his final opponent out of a total field of 2,403 runners.
Moschonas, clutching a melon, gave a brief, self-deprecating summary of the period of struggle that preceded his dominant final phase.
"I was down to half a big blind after the first four levels," he said. "I doubled up four times, and that's it."
As for the melon, he explained, "When I play online and lose some pots, I call my opponents 'melons' (pepónia in Greek). So that's why I brought the melons."
"If I get a bad beat, I will give it to someone," he chuckled.
Final Table Results
| Place | Player | Country | Prize |
| --- | --- | --- | --- |
| 1 | Aristeidis Moschonas | Greece | $194,759 |
| 2 | Dan Matsuzuki | United States | $120,374 |
| 3 | Raghav Bansal | India | $88,410 |
| 4 | Rainer Kempe | Germany | $65,482 |
| 5 | Ashish Ahuja | India | $48,914 |
| 6 | Stephen Ma | United States | $36,852 |
| 7 | Adam Lamphere | United States | $28,006 |
| 8 | Daniel Moravec | United States | $21,469 |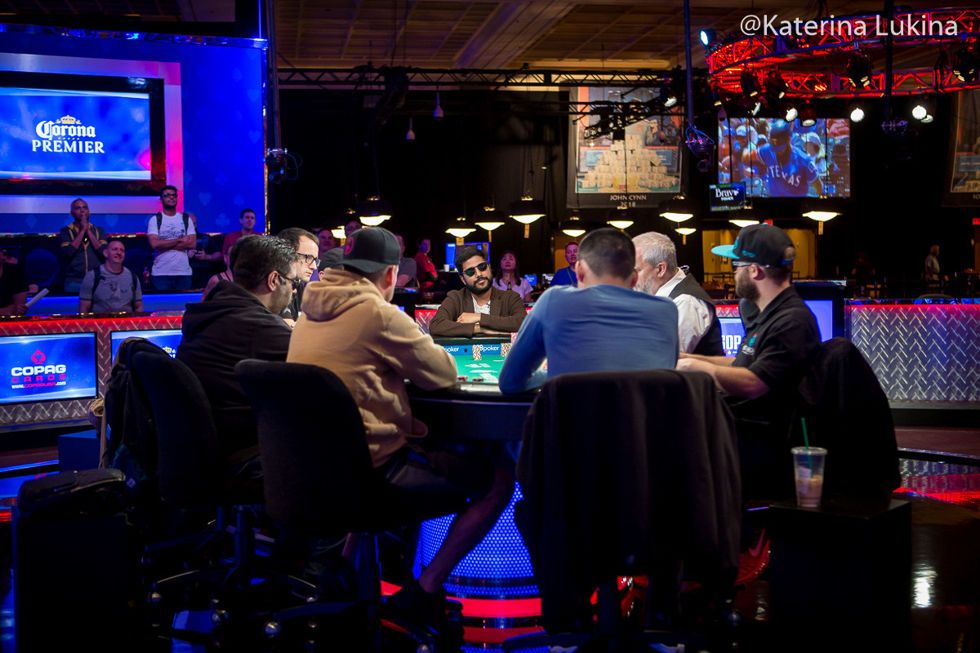 There was a lot more to navigating the final table than four all-in pots, however. Returning with a middling stack, Moschonas faced serious obstacles in the form of seemingly permanent chip leader Adam Lamphere. who'd grabbed the lead on the first day of play and rarely relinquished it, and the experienced Matsuzuki, both with double the chips of the next-highest stack.
At first, Daniel Moravec, the returning short stack, looked as if he would be the one whose comeback story could make headlines. He tripled up on Hand #3 and stayed clear of the early aggression shown by the chip leaders. However, his comeback was shortlived and he busted in eighth place in an early PLO round to Matsuzuki, taking home $21,469.
Following him to the rail was, unexpectedly, Lamphere. With the stratospheric blind levels of the final table, the loss of a few big hands --- notably to Raghav Bansal — were enough to pull Lamphere's stack down to the point where Rainer Kempe covered him and sent him to the rail in another PLO hand.
Stephen Ma was next to bust, outlasting Lamphere by the merest slick of chips on felt; his final hand was for less than a quarter of a big blind, but the pay jump gave him $36,852 for his sixth-place finish. Ma was followed to the rail by Ashish Ahuja in a big PLO-hand against Matsuzaki, where his double-suited ace-king nearly got there against Matsuzaki's aces. By the turn, Ahuja had plenty of two pair and flush outs but bricked the river to finish in fifth.
Returning from the break, the eventual winner had his work cut out for him four-handed. Matsuzuki and Kempe held over 20 million each, while Moschonis was down to not even one full big blind. While it didn't hurt his initial doubler Bansal much to part with a single million, by the time he doubled against Kempe — the fourth time — in quick succession, he had enough chips to knock the German high-stakes pro down to a bustable stack. Kempe was, in fact, next to be eliminated, losing king-ten against ace-queen in hold'em, and was prevented from adding a WSOP bracelet to his bulging trophy cabinet.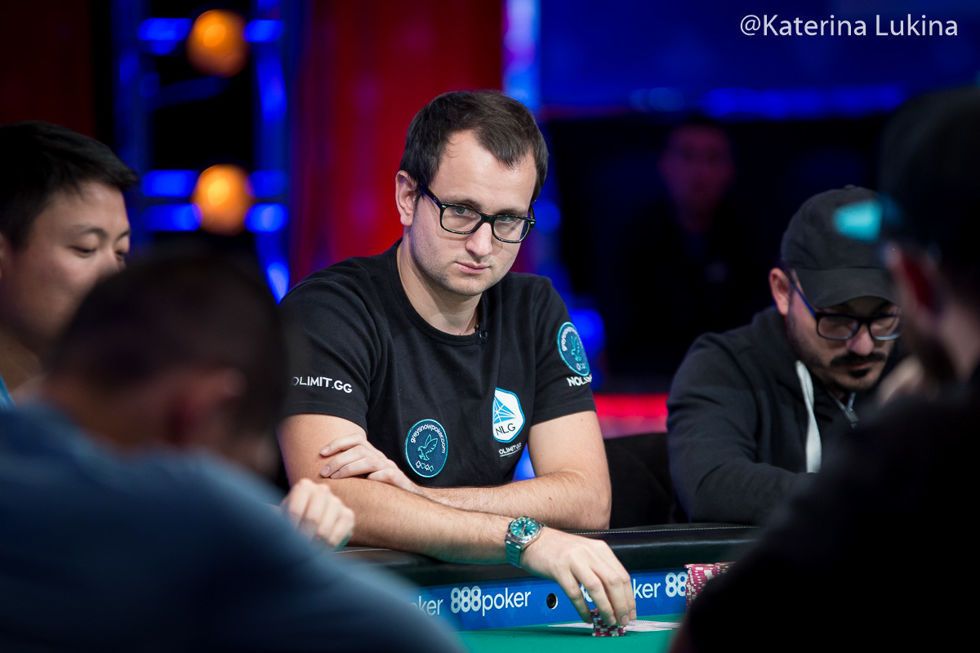 Three-handed, Moschonas again dropped into last place chip-wise, with Bansal and Matsuzuki trading the lead until a huge three-way all in hold'em hand turned the tables once again, propelling Moschonis to a lead none would suspect even fifteen minutes before. When Bansal, an accomplished tournament player with over $1 million in live winnings to his name already, busted in third place, Moschonas' rail could taste zero-to-hero victory and cheered along with every pot won by their friend.
Not to be outdone, Matsuzuki's supporters cheered back as he aimed to claim a second bracelet. It was not to be, however. Heads-up play lasted a matter of hands, and Matsuzuki had to settle for second place and the not inconsiderable sum of $120,374.
The final hand had all the chips flying in on a nine-five-four flop with two spades. Matsuzuki found himself in a deep hole with ace-queen-nine-eight, way behind Moschonas' ace-nine-four-four for bottom set. The seven on the turn left only a gutshot to save Matsuzuki's changes of winning a bracelet in back-to-back years, but the trey on the river sealed it for the Greek instead.
Moschonas, victorious, attributed his success to his experience in both formats: "My main game is PLO. I'm a PLO cash game player online, and I also play no-limit hold'em tournaments. So it's like the perfect format for me, because I have an edge against hold'em players that don't know how to play PLO, as well as the opposite."
The future holds one definite for Moschonas – the upcoming $10,000 Pot-Limit Omaha Championship. "I actually wanted to play the $25k that's running now but I went too deep in this one, but it's okay I guess."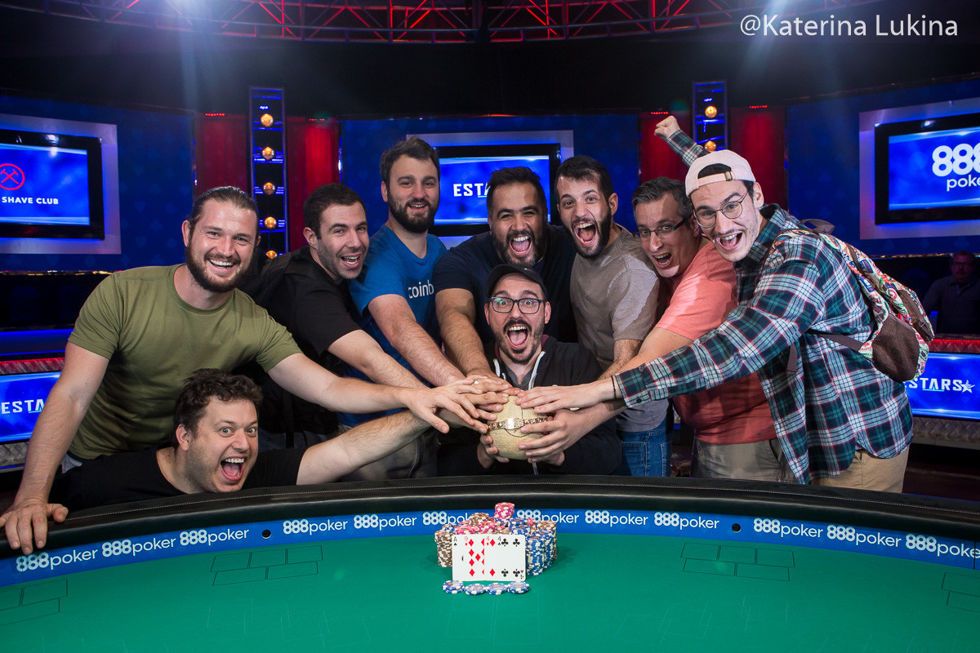 Level 40 : 600,000/1,200,000, 1,200,000 ante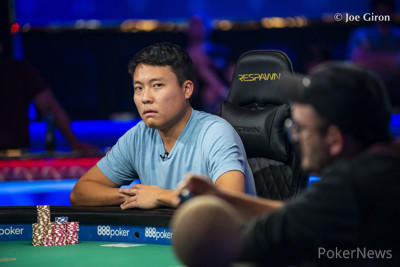 Pot-Limit Omaha
Aris Moschonas limped the button; Dan Matsuzuki potted from the big blind and took down the pot, keeping his stack afloat with over 13 big blinds. He then raised pot himself from the button (3,600,000), this time picking up Moschonas as a caller.
On the
flop, Moschonas checked, Matsuzuki bet 7,000,000 and was swiftly three-bet to 12,500,000; it was all-in and called in under two seconds.
Moschonas:
for a flopped set of fours.
Matsuzuki:
The turn, dealt to a rousing drumroll courtesy of Moschonas' friends hammering the rail, was the
. Matsuzuki's friends were equally impassioned in their call for a six, but the river was the
, ending last year's $10,000 Stud bracelet winner's hope of another piece of WSOP jewellery.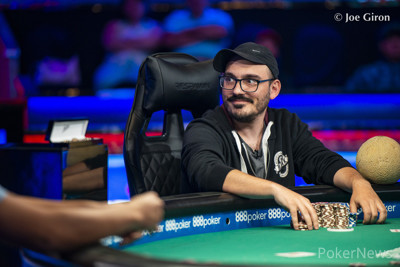 Pot-Limit Omaha
With four instead of two hole cards again, Dan Matsuzuki raised to 2,400,000 on the button and Aris Moschonas defended. On a
flop, Moschonas checked, Matsuzuki bet 1,800,000, and Moschonas called. The turn was the
and Matsuzuki's second barrel of 3,200,000 did the trick.
Moschonas took the next one when he raised to 2,600,000. Matsuzuki called but folded the
flop to a bet of 2,200,000.
In the third hand of PLO, Matsuzuki limped in, Moschonas raised to 3,200,000 and Matsuzuki called. The flop came
where Moschonis bet 2,600,000 and Matsuzuki called.
The turn was the
and Moschonas bet the pot. Matsuzuki leaned in and studied the board, then leaned back and pondered for a bit. He took over a minute before settling on a fold. Moschonas fanned out
.
Level 40 : 600,000/1,200,000, 1,200,000 ante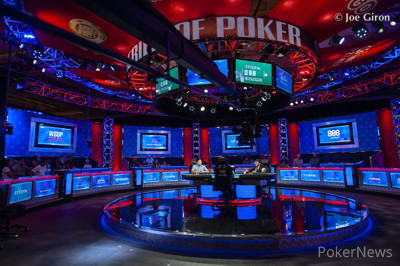 No-Limit Hold'em
Moschonas took the first hand of heads up play with a button raise to 2,600,000. Matsuzuki took the next moving all in on his button. Moschonas changed it up, limping his button; check. Matsuzuki check-called 1,600,000 on the
flop, and 3,300,000 on the
turn. The river was the
; check-check. The pot ended up chopped as both players had paired the jack.
Level 40 : 600,000/1,200,000, 1,200,000 ante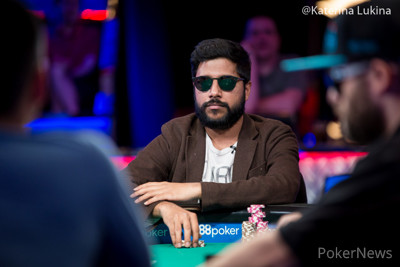 No-Limit Hold'em
After the three-way all-in point of high drama came an expectedly active period for the recently-ascended chip leader. Blind on blind, Matsuzuki limped in but snap-folded when Aris Moschonas set him in.
This set the scene for the next hand, as Matsuzuki raised on the button to 3,600,000 and Moschonas promptly set him in again. Big blind Bansal, however, was the caller for 4,780,000, while Matsuzuki let go of his hand.
Moschonas:

Bansal:
The rail called for different cards preflop depending on which side you were standing; once the
came on the flop, a lot of Greek interspersed with, "Hold!" and, "Pair the board!" poured forth in a torrent of support for Moschonas. The turn and river
sealed Bansal's fate, and action is now heads up for the WSOP bracelet and $194,759 top prize.
Level: 40
Blinds: 600,000/1,200,000
Ante: 1,200,000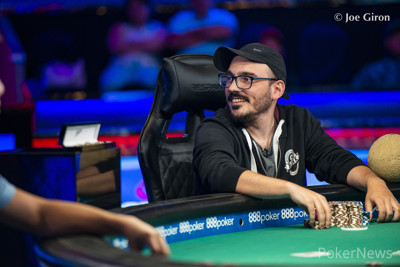 No-Limit Hold'em
Before the big hand took place, Dan Matsuzuki completed the small blind and Aris Moschonas checked the big blind. Matsuzuki bet 1,100,000 on the flop to take it. Matsuzuki then made it 2,200,000 on the button and Raghav Bansal called the big blind. The flop was
and Bansal checked. Matsuzuki checked behind. The turn brought the
and Bansal bet 3,800,000. Fold from Matsuzuki.
Following up on the previous hand, it was now Moschonas' turn to make it 2,200,000 on the button. Bansal three-bet shoved 26,400,000 from the small blind, Dan Matsuzuki went deep in the tank in the big blind and eventually called the all in for the majority of his stack. Moschonas snap over-called, making it a three-way showdown for possibly all the marbles.
Aris Moschonas:

Dan Matsusuzki:

Raghav Bansal:
The flop
kept Moschonas in the lead with his jacks, but Bansal picked up the nine to go with his queens to end the tournament on the spot. The turn was the
and the supporters of Matsuzuki ("Ace! Ace!") as well as Bansal ("Queen! Queen!") screamed on the top of their lungs.
However, it would be the Greek rail that would have the last laugh as the river fell a
. Moschonas tripled up, while Matsuzuki dragged the still substantial side-pot from Bansal. The latter was left short after the hand.
Player
Chips
Progress

Aristeidis Moschonas

40,300,000

26,700,000

Dan Matsuzuki

24,600,000

-4,000,000

Raghav Bansal

7,200,000

-22,700,000
Level 39 : 500,000/1,000,000, 1,000,000 ante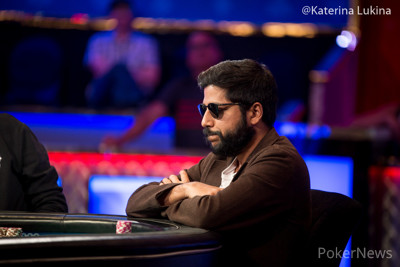 Pot-Limit Omaha
Bansal raised to 2,700,000 on the button, called by big blind Aris Moschonas. On the flop of
Moschonas checked, Bansal fired 2,500,000 and picked up the pot. He also took the next one by default, getting a rare walk.
Bansal called 500,000 to make up the big blind, Matsuzuki checked and the checking didn't stop until a full board of
was on show. Bansal took the pot with
. The game switched back to No-Limit Hold'em.
Player
Chips
Progress

Raghav Bansal

29,900,000

4,200,000

Dan Matsuzuki

28,600,000

-500,000

Aristeidis Moschonas

13,600,000

-3,700,000
Pot-Limit Omaha
Dan Matsuzuki raised to 2,200,000 on the button and won the hand. The next hand, Raghav Bansal completed the small blind, Matsuzuki potted to 3,000,000 in the big blind, and Bansal called. The flop was
and Bansal check-folded to a bet of 2,500,000.
Matsuzuki then called the small blind and Aris Moschonas checked. The flop was
and Moschonas won it with a bet of 1,000,000. Matsuzuki took it back with a 2,000,000 raise on the button the next hand.
Player
Chips
Progress

Dan Matsuzuki

29,100,000

5,000,000

Raghav Bansal

25,700,000

-5,000,000

Aristeidis Moschonas

17,300,000

500,000