Event #6: $2,500 Limit Mixed Triple Draw
Day: 3
Event #6: $2,500 Limit Mixed Triple Draw
Day 3 Completed

Level 27 : 40,000/80,000, 0 ante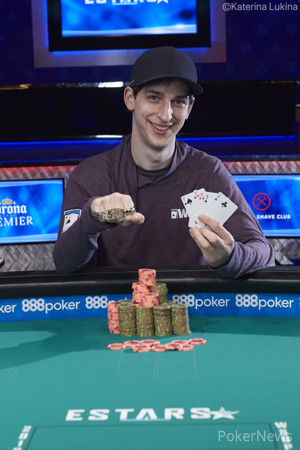 He may have been to numerous WSOP final tables, but Dan Zack had never found his way to the podium. That changed today as the American mixed games crusher prevailed in Event #6: $2,500 Limit Mixed Triple Draw, outlasting the 296-entry contest. Zack earned $160,447 for his efforts and, more importantly, the prestigious hardware he'd been chasing for years. Zack's first win at the World Series was emphasized by his wild run in the tournament: he maneuvered virtually no chips for two and a half days.
"This whole tournament, I was not above average until I literally came to the final table with seven left," the champion revealed. Zack claimed that he kept sending updates to his brother on each break and it was monotonous. "It has been 'yeah, I'm in dead last'. Just over and over again."
While he looked to be one foot out of the door straight from the start, Zack managed to grind his short stack to the final day, coming back tenth out of 13 in chips.
However, nothing seemed to have changed when the remaining players returned to the felt. Zack soon found himself on a nub, possessing fewer than two big bets not at one, but at two points. Yet nobody was able to finish him off, and the pendulum would soon rapidly swing.
Final table results:
| Place | Player | Country | Prize |
| --- | --- | --- | --- |
| 1 | Dan Zack | United States | $160,447 |
| 2 | Sumir Mathur | United States | $99,153 |
| 3 | Brayden Gazlay | United States | $65,217 |
| 4 | Jon Turner | United States | $43,984 |
| 5 | Jesse Hampton | United States | $30,437 |
| 6 | Jake Schwartz | United States | $21,625 |
Zack's comeback started on the final two tables in a hand of badugi in which he was all in predraw, facing two opponents including David Gee with a patted badugi. Zack managed to outdraw him to kick off an outstanding surge back into contention. Everything started to click for the triple draw specialist.
Zack hit a massive heater, making strong hands and climbing through the standings. His triumph, however, was hardly only about the made hands. Zack pulled off a brilliant bluff-catch against Jake Schwartz, picking him off with a pair of deuces versus patted threes. That hand cemented Zack as a favorite to take down the bracelet.
"That felt like a big shift in itself and a confidence boost."
The following stretch felt heavily lopsided. Zack kept increasing his piles, running away from the remaining competition. It was mostly about how he'd cope with the pressure built over the years of frustrations at final tables. Despite having that in mind, Zack never lost composure and focused on his performance.
"I've played a ton of short-handed triple draw and badugi online," he said, adding that the mixed triple draw event was tailor-made for his abilities.
With three players left, Zack was guarding nearly 80 percent of all chips in play. He knew probably better than anyone else that his job was far from over, but that's not how his friends felt. Zack admitted that he started receiving congratulations during the dinner break, and that's when he had to deal with nervosity. Fortunately for him, it didn't take him long to finish first Brayden Gazlay (3rd for $65,217) and then Sumir Mathur (2nd for $99,153). Mathur's performance was particularly impressive as he had no reported live cashes to his name coming into the tournament.
The glory, however, belonged to Zack who was able to erase a WSOP stigma. "This is a relief. I was starting to question if I was doing something terrible at every final table that I made," Zack revealed. It had become a running joke that Zack had had the second-most WSOP final table appearances without making top three, "trailing" only Tony Cousineau.
Now that he's off the hook, he can focus on a goal that he set three years ago. "I always came in for the first week or so with the plan to do that and that if I didn't do anything in the first week I'd usually end up in cash games," he said. With a bracelet on his wrist and the series still in early stages, Zack is now left with a wide-open playbook, considering his versatility.
He claimed that he will push hard for the Player of the Year honors, and while he'll miss five days of the grind when his girlfriend will be in town, he is in good shape to stay among top-ranked players on the leaderboard.
Zack made it through to Day 3 in the record-breaking Big 50 event, so he's likely to boost his POY points in the next few days. Continue to follow PokerNews live updates from the World Series to find out what the future weeks have in store for Zack and others as there are dozens of bracelets waiting for their owners.
Level 27 : 40,000/80,000, 0 ante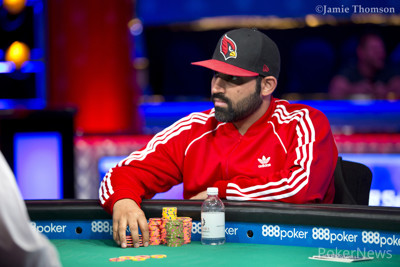 A-5 Triple Draw
Sumir Mathur raised and Dan Zack called. Zack pitched three and Mathur one. Zack check-called a bet and each player drew a card. Zack bet out and Mathur raised his last 75,000. Zack called and patted. Mathur tanked about 30 seconds and patted behind.
"Seven-five," Zack said, fanning a wheel in the other five-card game.
Mathur simply spun his cards into the muck and shook Zack's hand.

Level 27 : 40,000/80,000, 0 ante
A-5 Triple Draw
After a bunch of walks and raise-and-takes, the heads-up players finally tangled in a pot that went through all streets. Dan Zack raised, Sumir Mathur three-bet and Zack called on the button.
Mathur took one on each draw while Zack went from three to two to one. Zack called bets after the first two draws but Mathur checked the river. Zack fired and Mathur folded, leaving himself with just over three big bets.
Level 27 : 40,000/80,000, 0 ante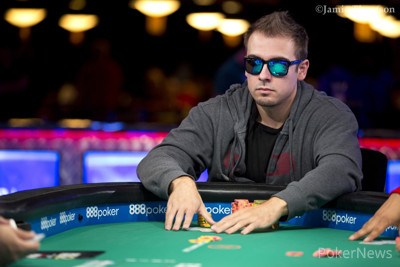 Badugi
Dan Zack raised on the button and Brayden Gazlay reraised in the small blind, all in for 90,000. Zack called, Gazlay tossed one and Zack two, then they repeated those draw. On the final pull, each needed one.
Gazlay showed
but Zack had the nut three-card with
.
"You got it," Gazlay said, peeling the
.

Level 27 : 40,000/80,000, 0 ante
A-5 Triple Draw
Brayden Gazlay was in the big blind with 75,000 total and Dan Zack put him to the test after confirming the size of his stack. Gazlay had not much of an option and they went to the draws.
Zack took three, Gazlay two, and Zack took three on the second draw again. Gazlay changed only one. Zack took one on the final draw with Gazlay patting. Zack eventually made
but it wasn't enough to beat Gazlay's seven-five. Gazlay doubled but he still has a mountain to climb.
Level 27 : 40,000/80,000, 0 ante
A-5 Triple Draw
Brayden Gazlay raised in the small blind and Sumir Mathur reraised. Gazlay called and each player drew one. Gazlay check-called and drew but Mathur was pat. Gazlay checked dark, Mathur bet and Gazlay called. Gazlay patted and Mathur didn't break.
Gazlay checked and immediately folded what he said was a seven.
Mathur flashed him a wheel.
Level: 27
Limits: 40,000/80,000
Ante: 0

Level 26 : 30,000/60,000, 0 ante
The remaining three players are taking a full 60-minute dinner break. Come back at 10 p.m. PDT for more live updates from the final stretch of the tournament with the bracelet and $160,447 on the line.

Level 26 : 30,000/60,000, 0 ante
Badugi
Brayden Gazlay raised on the button and big blind Dan Zack scanned Gazlay's stack before three-betting. Gazlay called.
Every draw saw Zack change one while Gazlay stood pat all the way. Gazlay bet after the first and second draws before both players checked the river. Gazlay turned up
and Zack nodded, admitting his defeat.