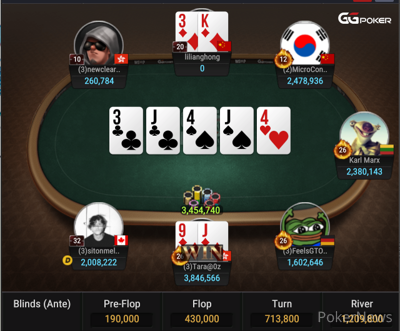 Anson "Tara@Oz" Tsang has soared to the top spot after winning two huge pots in quick succession.
Vishal "bhishm" Tulsyan battled with Tsang as the chips went in throughout each street on the
board and Tsang haad the best of it with
for a full house, Tulsyan only tabled the
for trips aces.
Then, Tsang min-raised the cutoff and was called by Lianghong "lilianghong" Li, in the big blind. Li check-called 114,900 on the
flop and did so again for 248,000 on the
turn. Li then jammed the
river for 1,122,470 and Tsang snap-called.
Li was caught bluffing with the
as Tsang's
for a full house won the pot.
Player
Chips
Progress

Anson "Tara@0z" Tsang

7,350,000

7,350,000

Vishal "bhishm" Tulsyan

Busted

Lianghong "lilianghong" Li

Busted