Day 4 of the Millionaire Maker Features Michael Gathy, Four Time Bracelet Winner; 20 Vying For Top Prize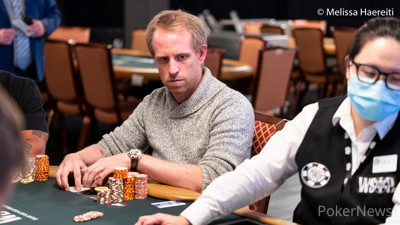 It is time for a scintillating day of World Series of Poker action in a vital Day 4 of Event #17: $1,500 Millionaire Maker, as a remaining field of 20 will play for ten more levels to cut the field down to 5 players.
Today will be one of those watershed days in big tournament poker where many hopefuls will go from simply having a dream, to having a legitimate shot by the end of the night, and could be a day that many will remember for a long time.
Starting the day as chip leader is Philip Verel who bagged 12,665,000 chips last night. His spin-up to the leader was quite the story as he was he is an unknown with no recorded WSOP cashes. With less than 15 big blinds he ran it up yesterday is now in position for a deep run.
Daniel Lazrus (11,795,000) and Adam Sherman (10,875,000) are the other players who bring in over 10 million in chips to Day 4.
Among the big stacks is Michael Gathy, who is fourth in chips with 9,800,000. He will be looking to make a big run on Day 4 to set himself in a good position for his potential fifth bracelet.
Some of the other notable players remaining who will be vying to turn Day 4 into a big one are; Stephen Song (7,650,000) who was the Day 1B chip leader and sits in eighth. Day 2 chip leader Darryl Ronconi, who has some work to do with 4,800,000 and bracelet winner Luis Zedan with 5,835,000 in chips.
Day 4 starts at 12 p.m. local time on October 11 in the Amazon Room of the Rio All-Suite Hotel & Casino. The tournament resumes at level 32 with blinds of 120,000/240,000/240,000. There will be a 15-minute break every two levels and a 60-minute dinner break around 7:00 p.m. local time.
Keep it locked on PokerNews for all the updates for today's Millionaire Maker action.
Day 3 Seat Draw
| Room | Table | Seat | Player | Country | Chip Count | Big Blinds |
| --- | --- | --- | --- | --- | --- | --- |
| Amazon | 406 | 3 | Philip Verel | United States | 12,665,000 | 63 |
| Amazon | 406 | 4 | Darryl Ronconi | United States | 4,800,000 | 24 |
| Amazon | 406 | 5 | Adam Sherman | United States | 10,875,000 | 54 |
| Amazon | 406 | 6 | Dien Le | United States | 5,655,000 | 28 |
| Amazon | 406 | 7 | Daniel Lazrus | United States | 11,850,000 | 59 |
| Amazon | 406 | 8 | Peter Cross | United States | 4,275,000 | 21 |
| Amazon | 406 | 9 | Ignacio Moron | Mexico | 9,585,000 | 48 |
| | | | | | | |
| Amazon | 414 | 1 | Jeffrey Gencarelli | United States | 8,980,000 | 45 |
| Amazon | 414 | 3 | Stephen Song | United States | 7,650,000 | 38 |
| Amazon | 414 | 6 | Nabil Cardoso | Spain | 3,475,000 | 17 |
| Amazon | 414 | 7 | Li Zhou | United States | 2,240,000 | 11 |
| Amazon | 414 | 8 | Todd Saffron | United States | 6,410,000 | 32 |
| Amazon | 414 | 9 | Michael Gathy | United States | 9,800,000 | 49 |
| | | | | | | |
| Amazon | 421 | 2 | Luis Zedan | United States | 5,835,000 | 29 |
| Amazon | 421 | 3 | Ryan Jones | United States | 5,160,000 | 26 |
| Amazon | 421 | 4 | Francois Pirault | France | 4,955,000 | 25 |
| Amazon | 421 | 5 | Richard Gress | United States | 3,015,000 | 15 |
| Amazon | 421 | 6 | Arie Kliper | Israel | 9,580,000 | 48 |
| Amazon | 421 | 7 | Sertac Turker | Turkey | 3,120,000 | 16 |
| Amazon | 421 | 9 | Kevin Palmer | United States | 4,110,000 | 21 |