Shanmukha Meruga Eliminated in 5th Place ($23,670)

Level 25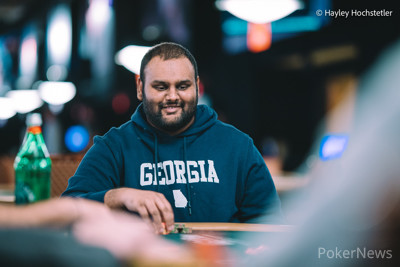 Pot-Limit Omaha 8 or Better
Shanmukha Meruga was all-in for 60,000, exactly enough to cover the big blind and the ante. Richard Bai came along from the next seat over while Pearce Arnold and Denis Strebkov called from the button and small blind, respectively.
The flop came
and Strebkov bet 45,000. Bai called and Arnold folded.
The turn was
and Strebkov checked. Bai bet 100,000 and Strebkov folded to leave Bai alone with Meruga.
Meruga turned over
for a pair of kings, but Bai had
for tens full of nines. The river was
and no help to keep Meruga from being eliminated in fifth place for $23,670.