Kassela Won't Be Here in 2040

Level 18 : 12,000/24,000, 0 ante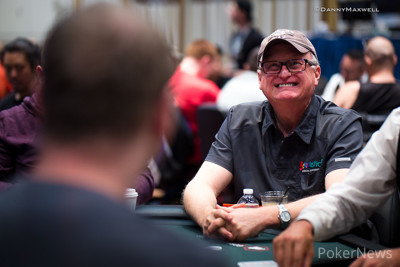 A-5 Triple Draw
If you stand near tables at the WSOP, you're likely to hear the players' impressions of the brand new venue, and as the Series nears the two-week mark, those impressions are overwhelmingly positive.
"Get comfortable because I don't think we will be moving again until 2040," said Brandon Cantu as the dealer made his way around the table for a hand of A-5 Triple Draw.
"We don't want to," another player said.
"I won't be playing in 2040," said Frank Kassela, prompting a laugh from the rest of the table.
"I call," responded Daniel Strelitz, doubtful that Kassela will find a reason to retire.
The table discussed how old they will be in 2040, and a few players made plans for the Seniors Event. Others were less optimistic about the geopolitical realities of a 2040 WSOP.
"We'll be playing for water rations and bullet casings," predicted Galen Hall.
Philip Eisman raised from under the gun and Jeff Lennon called from the next seat over. Kassela three-bet from the big blind and both players tossed in chips to call.
Kassela stood pat, Eisman drew two, and Lennon took one. Kassela bet and both players called.
After Kassela stood pat once again, both Eisman and Lennon took one. Kassell bet and both players called again.
On the final draw, Kassela remained pat and the other two players asked for one card. All three checked the final draw and Kassela turned over
. The two losing hands went into the muck and Kassela picked up the pot as Day 2 enters the final turn.
Player
Chips
Progress

Philip Eisman

460,000

-145,000

Brandon Cantu

370,000

125,000

Daniel Strelitz

340,000

-70,000

Galen Hall

340,000

173,000

Frank Kassela

335,000

11,000

Jeff Lennon

247,000

77,000