Event #4: $1,500 Dealer's Choice 6-Handed
Day: 3
Event #4: $1,500 Dealer's Choice 6-Handed
Day 3 Completed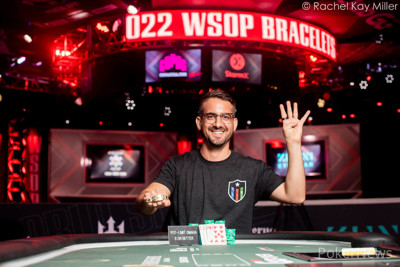 Brad Ruben has won his fourth World Series of Poker (WSOP) gold bracelet and a $126,288 first-place prize in the 2022 WSOP Event #4: $1,500 Dealer's Choice after defeating the defending champion, Jaswinder Lally, in heads-up play.
But, it was neither the money nor the trophy on his mind when playing at the final table.
Ruben proudly wore the shirt of a charitable organization named Shields & Stripes, an organization aiming to help veterans. Even after defeating defending champion Lally to win his fourth WSOP bracelet — he became the third player through four events to capture their fourth bracelet alongside David Peters and Scott Seiver -- Ruben's focus was still on those the charity supports.
"This one is very, very special. I kind of feel like this one is a little bigger than me," Ruben said following his victory. "I wore this shirt. It's a charity called Shields & Stripes. They help vets. They help first responders and police officers who have injuries that aren't really seen. I honestly feel like this is bigger than me. I'm very proud to be representing them this World Series. June is PTSD awareness month so it's the perfect time to shine some light on such an amazing organization that helps those isolated and in pain so they don't get left behind and can return to being heroes of their communities. I also hope to inspire other poker players to donate a portion of their winnings to a charitable cause."
Ruben was introduced to the organization by one of his coaches when he asked about charities to support with his poker winnings. Poker is a solitary game, played by one player against a host of opponents, and Ruben was trying to find a way to get beyond the selfish nature of the game.
"I feel like when I play for a cause, I'm more fulfilled. It's like a more wholesome way to play the game. The game can sometimes feel like it's a little bit selfish, so this makes me feel more fulfilled," he said.
2022 WSOP Event #4: $1,500 Dealer's Choice Final Table Results
| Place | Player | Country | Prize |
| --- | --- | --- | --- |
| 1 | Brad Ruben | United States | $126,288 |
| 2 | Jaswinder Lally | Canada | $78,048 |
| 3 | Naoya Kihara | Japan | $52,282 |
| 4 | Ben Yu | United States | $35,793 |
| 5 | Jorge Walker | United States | $25,056 |
| 6 | Charles Bransford | United States | $17,944 |
| 7 | Alfred Atamian | United States | $13,153 |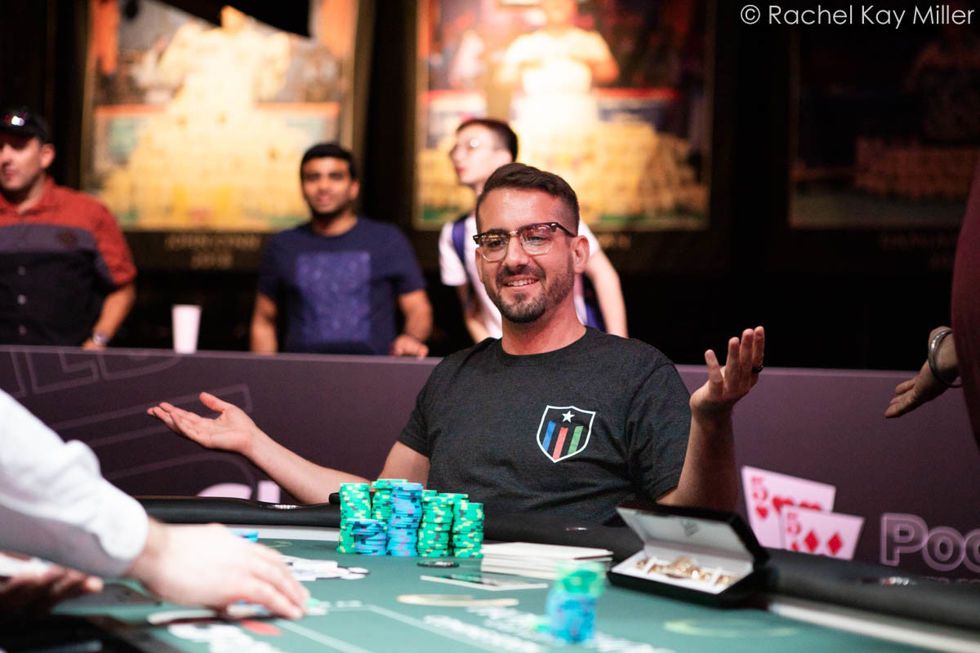 Final Day Action
Ruben came into the final day as the chip leader and watched as players like Norman Chad (13th), Brian Rast (12th), and Marco Johnson (8th) came up short of the final table. He was third in chips at the start of the final table and eliminated Charles Bransford in sixth place with a straight in Stud 8.
He also knocked out another four-time bracelet winner, Ben Yu, by making two pair in another Stud Hi-Lo hand. It was yet another Stud hand that propelled Ruben on his way to victory. He showed down a full house against Naoya Kihara which catapulted him into a massive chip lead with three players remaining.
After Kihara's elimination, Ruben and Lally engaged in a friendly, cordial heads-up match that ended in a hand of Omaha 8 or Better. Lally raised all in with two queens and Ruben called with
. He paired his ace on the
flop and improved to a flush on the
turn. The river provided no help to Lally, who celebrated with Ruben with a toast after the match.
Lally's attempt to win the event for a second consecutive year came up just one spot short, but Ruben had nothing but praise for his opponent.
"It was great. He's very friendly. He's the defending champ and a very good player. So I'm blessed I was able to beat him. I got the cards in the end," he said.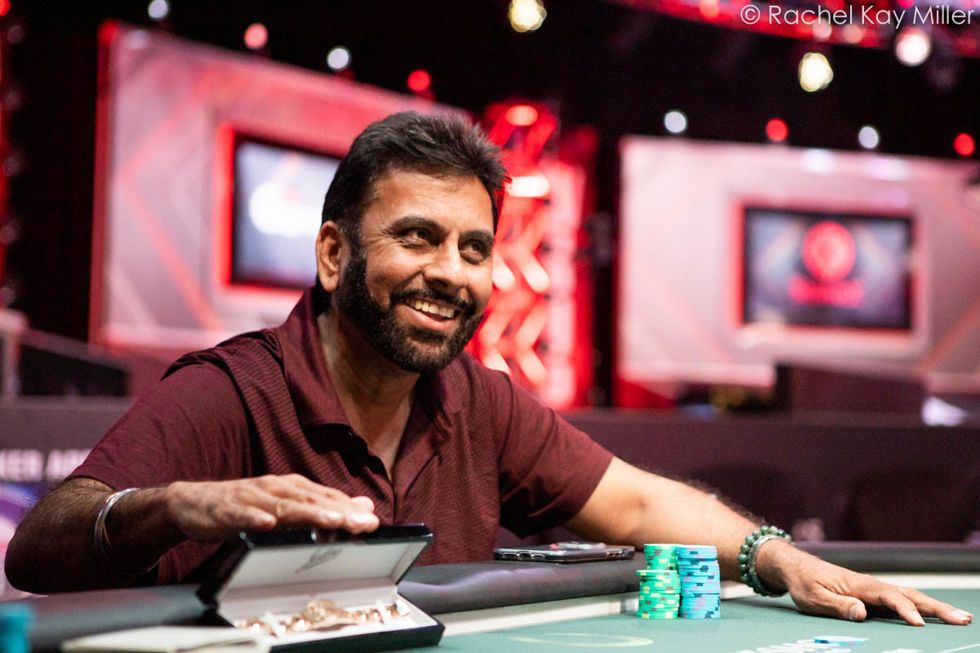 Four Bracelets in Three Years
Ruben has WSOP cashes going back to 2013, but, not even two years ago, he had still yet to win a bracelet. He then won two events in the WSOP Online and after that he won the $1,500 Razz event at last year's series. His four bracelets in the last two years have come in three different formats, both live and online. It's the culmination of an effort he made years ago to adapt in order to survive in the game.
"I can kind of see how five, six, seven, eight years ago, hold'em, it was really tough to beat and players were getting better. So I really felt that I needed to get good at all the other games to kind of maintain my edge," he said.
And he's not done. Ruben plans to stick around for the entire series. The quest for bracelet No. 5 begins right away: "I'm going to play a lot. Hopefully, win my fifth. Gonna keep going and maybe even go for the Player of the Year."
He added: "Why not? I had a good start, so why not."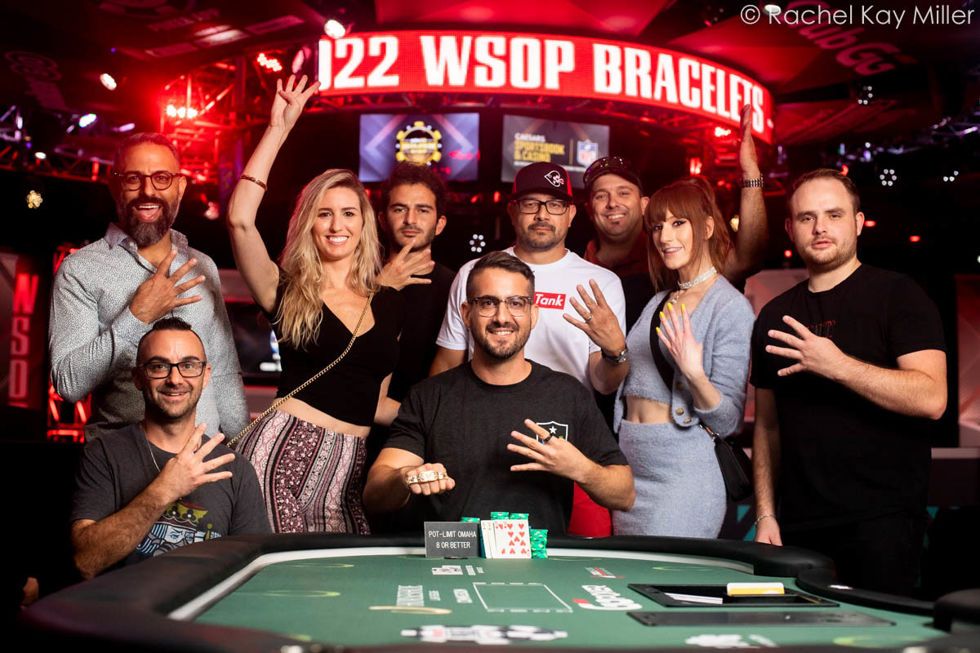 That concludes coverage of the $1,500 Dealer's Choice event. Keep following PokerNews for live updates from the 2022 WSOP in its new home at Bally's and Paris Las Vegas.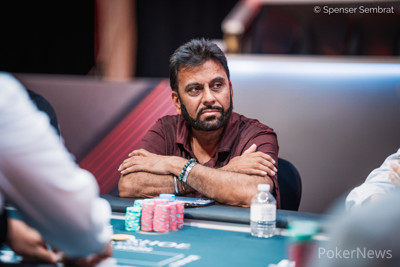 Omaha Hi-Lo 8 or Better
Brad Ruben raised from the button and called when Jaswinder Lally moved all in for his last 1,100,000.
Jaswinder Lally:

Brad Ruben:
Ruben flopped an ace on the
flop. "I have hearts, too," he said as the
came on the turn to give him a flush.
Lally needed to complete a low to split the pot but instead paired his seven on the
river as his quest to repeat as Dealer's Choice champion came up one spot short.
The two players shared a celebratory toast and took one more shot before the now four-time WSOP bracelet winner ran to his rail.
Stay tuned for a full recap of today's action.

Level 34
No-Limit Hold'em
Brad Ruben went all in from the button for about 14 big blinds effective. Jaswinder Lally took a deep breath, looked at the rail, and put all his chips in the middle. The crowd cheered for the action, then the hands were revealed.
Jaswinder Lally:

Brad Ruben:
"Black!" yelled Ruben and his rail. "Red!" shouted Lally and his.
The board had two clubs on it, but the turn was red and players chopped up the pot.
Play continues heads-up with both players trading chips, and shots of tequila with the crowd.
Limit 2-7 Triple Draw
Brad Ruben raised before the draw and Jaswinder Lally called. Both players drew two and Ruben bet.
Lally came back with a raise and Ruben called. The defending champion stood pat and bet again. Ruben gave up his hand this time.
"Why is everyone so quiet," Lally asked the rail who erupted in cheers.
"Don't cheer for him," Ruben said to some laughs.
Level: 34
Limit Flop/Draw: 100,000-250,000, 250,000-500,000 Limits
Stud Games: 70,000-250,000, 250,000-500,000 Limits
No-Limit and Pot-Limit: 60,000-120,000, 120,000/180,000 ante
Big O
Brad Ruben and Jaswinder Lally just played two rounds of Big O without any pot advancing to the flop.
The two bracelet winners are being quite cordial with each other. Ruben bought a round of drinks for himself, Lally, and his supporters on the rail as they talk about their personal lives between hands
"Keeping it friendly," Ruben said.
"Friendly enough to double me up?" Lally asked.
"Not that friendly," Ruben replied.

Level 33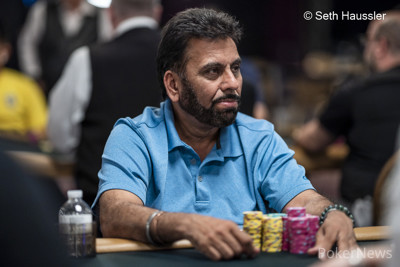 No Limit 2-7 Single Draw
Jaswinder Lally raised to 300,000 from the button and Brad Ruben made the call.
Ruben drew one, Lally drew two.
"You're only drawing one?" said Lally. "I didn't see the last one. Man, never draw two in this game."
But, he did, and Ruben took his shot by betting 475,000 post-draw. Lally called quickly.
"You got it," said Ruben. "Fours," saying he paired on the draw.
Lally showed,
for a great two-card draw to the ninety-seven.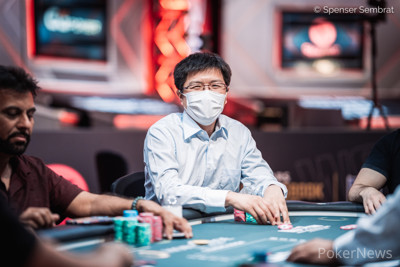 Five-Card Draw
Naoya Kihara was down to 800,000 after losing that massive pot to Brad Ruben and shoved all in. Ruben snap-called and showed
while drawing three.
Kihara had
and needed to improve. He slowly turned over the
and was looking to pair up on his last card, but he flipped over the
and was eliminated in third place.