Event #48: $1,500 Eight Game Mix 6-Handed
Day: 3
Event #48: $1,500 Eight Game Mix 6-Handed
Day 3 Completed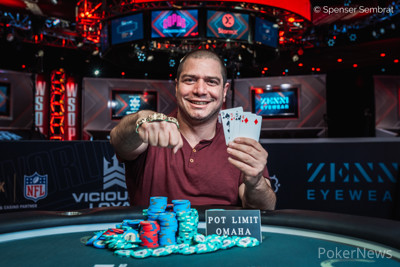 Menikos Panagiotou could feel it all start to slowly come back.
The Cyprus native hadn't played much poker in the last few years. He retired from being a professional poker player to open his own Mexican restaurant back home. Panagiotou only jumped back into the game in the last six months, with small No-Limit Hold'em tournaments in Cyprus. He hadn't played mixed games at all for four years.
But, as the hands went on in Event #48: $1,500 Eight Game Mix at the 2022 WSOP at Bally's and Paris Las Vegas, the levels came and went, and the days went by, Panagiotou started to remember everything he once knew. "I was playing every hour by hour, every orbit, it would start coming back to me," he explained. "It was like when you have 20 years on a bicycle. In the beginning, you're not sure enough to remember, I can drive without my hands on the wheel."
Now he's the first-ever bracelet winner from his island home country, prevailing over a starting field of 695 to win $180,783.
"It means a lot. Although we are a small country with a small population, we have a lot of poker players actually. So it means a lot," Panagiotou said after defeating Nick Yunis heads-up. "I can't wait to go back to see all my friends because they've already started sending me messages, congrats and everything. It's amazing."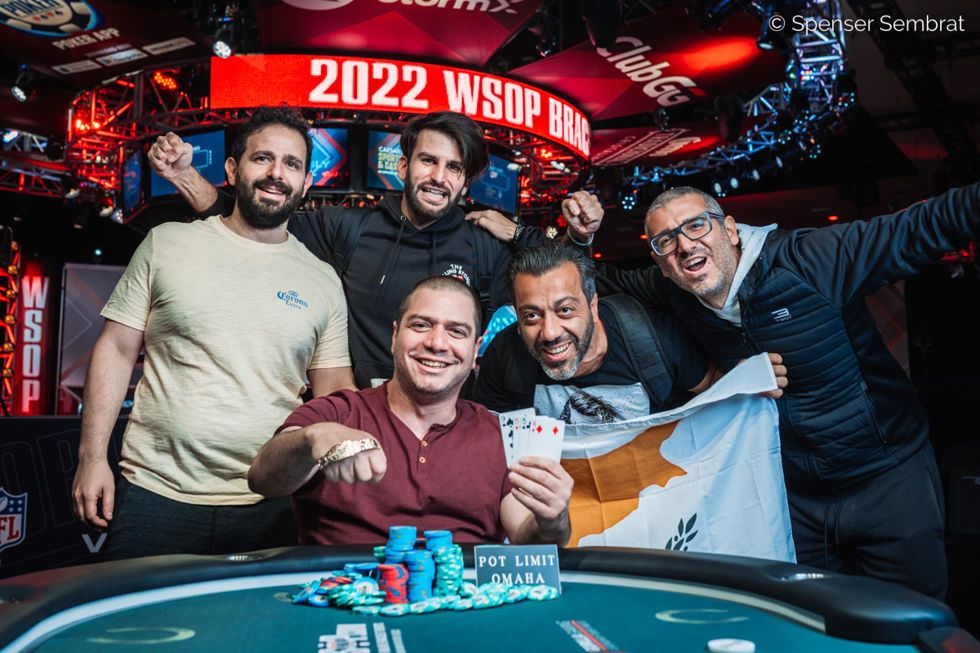 Day 3 Action
Panagiotou admits he didn't have much recent experience playing mixed games, but he came into the tournament on a sort of hot streak. He won a tournament just on Monday, a $250 H.O.R.S.E. Daily Deepstacks event. He entered Day 3 in the middle of the pack of the 16 returning players, but, as bracelet winners like Adam Friedman (10th) and Robert Campbell (9th) came up short, Panagiotou took the chip lead into the final table.
Jake Liebeskind would be the first to fall at the official six-handed final table, eliminated by Yunis in a hand of Razz. Jason Stockfish, with five WSOP final tables and four runner-up finishes including in this event back in 2016, came in fifth place after failing to outdraw the nine-eight-six of Eric Buchman in 2-7 Triple Draw.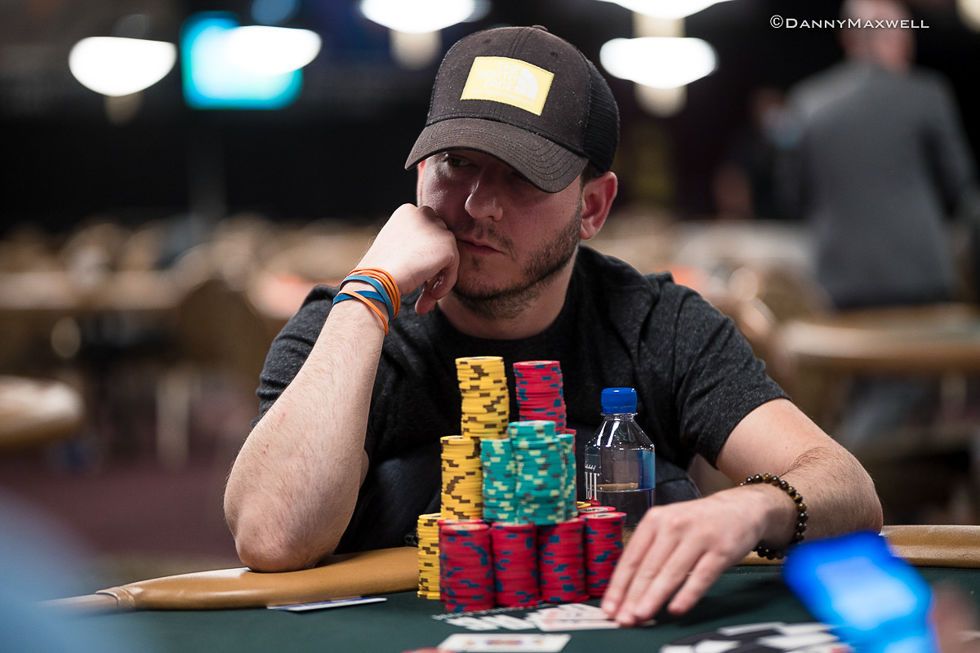 Panagiotou was at the bottom of the leaderboard as four players remained at the dinner break, but he would make a big leap up when he called a 1,000,000 bet from Yunis on a
board in Omaha with a straight to beat Yunis' two pair.
He and Yunis would exchange the chip lead over the next few levels as former November Niner Buchman would fall in fourth place. Panagiotou busted Joon Park in third with trip queens in a hand of Stud 8 or Better to take a narrow lead into heads-up.
Either Cyprus or Yunis' native Chile would have their first-ever bracelet winner, and for the first stages of heads-up play, it looked like the WSOP title wouldn't be making the trip across the Atlantic. Panagiotou fell down to just over 3,000,000 before two big hands of Stud 8 propelled him back up to 10,000,000.
He and Yunis would remain virtually tied until Panagiotou made a six-five to beat Yunis' seven-six in Razz. The end came in a hand of Omaha, with Yunis down to his last 160,000. Panagiotou called with
and flopped a wheel on the
board. Yunis was already drawing dead by the
turn.
Event #48: $1,500 Eight Game Mix Final Table Results
| | | | |
| --- | --- | --- | --- |
| Place | Player | Country | Earnings |
| 1 | Menikos Panagiotou | Cyprus | $180,783 |
| 2 | Nick Yunis | Chile | $111,724 |
| 3 | Joon Park | United States | $75,938 |
| 4 | Eric Buchman | United States | $52,621 |
| 5 | Jason Stockfish | United States | $37,188 |
| 6 | Jake Liebeskind | United States | $26,814 |
With the bracelet in hand, surrounded by supporters waving a large Cypriot flag, Panagiotou explained his plans for the money: invest in his restaurant. "With the money, I'm going to make it even bigger," he said. He's already planning a return trip to the WSOP next year to play more mixed games.
While he's not a poker pro anymore, Panagiotou does hope some good comes from his win back home. "I'm more glad if someone there wants to learn the games because they don't play too much mixed games in Cyprus," he said. "So now maybe it's time to start."
They have a perfect role model to follow.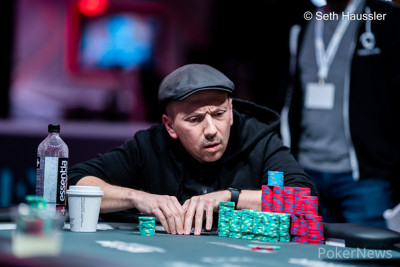 Pot-Limit Omaha
After losing yet another big Razz pot, Nick Yunis was then in the big blind in PLO and had to pay the big blind ante of 160,000 as well as the big blind for 160,000 to be left with 20,000 behind. "I am basically all-in", he said with a dry smile on the face. Menikos Panagiotou raised on the button and Yunis called it off.
Nick Yunis:

Menikos Panagiotou:
Yunis had found a premium hand for his potential chip and a chair miracle comeback as he held a double-suited ace with straight outs. However, the
flop instantly delivered the wheel to Panagiotou and it was all but over after the
turn as the Chilean only had two outs to a chop. However, the miracle never came and the
river ended the tournament.
Fewer than half an hour of run-bad in significant Razz pots had Yunis settle for the runner-up spot and he takes home $111,724.
Panagiotou has not only earned his first-ever personal WSOP bracelet along with the top prize of $180,783 but also the first one for his home country of Cyprus.
A recap of today's action and the winner quotes are to follow.
Razz
Menikos Panagiotou:
/
/

Nick Yunis:
/
/
Menikos Panagiotou completed and Nick Yunis called.
Yunis led out on fourth street and was called before Panagiotou bet on fifth.
Yunis asked to see what game was next before sticking in a call. Panagiotou put out another bet on sixth as he got up from his seat and started pacing around while Yunis went in the tank.
Yunis eventually called and Panagiotou bet again on seventh.
"I can't believe I have to call," Yunis said as he slid forward his chips.
Panagiotou showed
for 7-6-5-4-3 and Yunis mucked to drop down to less than 1,000,000.
Razz
Menikos Panagiotou:
/

Nick Yunis:
/
In a limped pot both players checked fourth street and Nick Yunis then bet fifth for Menikos Panagiotou to call. Panagiotou then bet his lead on sixth and seventh street as Yunis reluctantly called. His opponent tabled the
for a six-five and Yunis had a seven-six to take another hit to the stack.
Omaha 8 or Better
Nick Yunis raised the button and Menikos Panagiotou called. The flop came
and Panagiotou checked to Yunis, who put out a bet.
Panagiotou then raised and Yunis quickly called. Both players checked down the
turn and
river.
"Flush," Panagiotou announced, flashing
. Yunis mucked his hand.
Level: 35
Limits: 300,000/600,000
Ante: 0
Seven Card Stud
Menikos Panagiotou:
/

Nick Yunis:
/
folded on fifth
Menikos Panagiotou jokingly asked if there was a jackpot in case he would be the bring in during all six hands of Seven Card Stud and lost the streak on the final hand while no major action took place.
He then completed and Yunis called. Panagiotou bet his lead on fourth to receive a call and bet again on fifth as Yunis let go.
No-Limit Hold'em
Menikos Panagiotou raised to 360,000 and Nick Yunis defended.
Both players checked the
board and saw the
fall on the turn. Yunis led out for 500,000 and Panagiotou quickly called.
The
river was checked through and Yunis showed ace-high. Panagiotou, though, had
for ace-high, queen-kicker to take the pot.
Limit 2-7 Triple Draw
In the penultimate hand of the game variant, Menikos Panagiotou raised on the button and was called by Nick Yunis in the big blind. Both discarded two and Yunis check-called a bet.
Both then took one new card and Yunis check-called once more.
The final draw was patted by Panagiotou while Yunis took another card again.
Yunis checked and Panagiotou quickly bet, sending his opponent into the tank. The Chilean eventually called and Panagiotou first exposed the
before also rolling over the
. A relieved Yunis won the pot with a nine-eight and pulled back into a narrow lead.