Event #77: $1,500 Mixed No-Limit Hold'em/Pot Limit Omaha
Day: 3
Event #77: $1,500 Mixed No-Limit Hold'em/Pot Limit Omaha
Day 3 Completed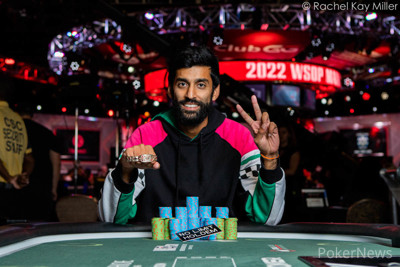 It was far from an easy path to victory for Sandeep Pulusani, though he was able to to push the right buttons at the right times to come out victorious in Event #77: $1,500 Mixed No-Limit Hold'em/Pot-Limit Omaha at the 2022 World Series of Poker at Bally's and Paris Las Vegas. Pulusani topped a field of 1,234 entrants who generated a prize pool of $1,647,390.
Pulusani took home the biggest piece of that pool, with the first place prize being $277,949 and the coveted WSOP gold bracelet and the second of his career, after defeating Esther Taylor in heads-up play. He previously won a bracelet at the 2013 World Series when he won Event #44 $3,000 No-Limit Hold'em, for which he took home the biggest cash of his career at $592,684. This win adds to an already impressive resume which includes over $1,600,000 in live career earnings before today's victory.
Event #77: $1,500 Mixed No-Limit Hold'em/Pot Limit Omaha Final Table Results
| Place | Player | Country | Prize |
| --- | --- | --- | --- |
| 1st | Sandeep Pulusani | United States | $277,949 |
| 2nd | Esther Taylor | United States | $171,787 |
| 3rd | Aden Salazar | United States | $124,864 |
| 4th | Vincent Lam | Canada | $91,800 |
| 5th | Richard Kellett | United Kingdom | $68,274 |
| 6th | Noah Bronstein | United States | $51,372 |
| 7th | Vegard Andreassen | Norway | $39,114 |
| 8th | William Leffingwell | United States | $30,129 |
Pulusani entered the final day with the third smallest stack (1,210,000) among the 11-player field. It wasn't always smooth sailing for him either, as at one point, his stack reached a low point of around 400,000 per his own estimate.
"It was a rollercoaster. Yesterday I also started short and ran it up until I made a bad play against Esther Taylor at the end of the night. And today has been a real grind because I was short the entire time and Aden Salazar had all the chips until we got three-handed," Pulusani told PokerNews about his journey to victory. He went on to describe what a second bracelet meant to him, "My first bracelet was in a 3k No-Limit Event nine years ago actually, so it's been a while! To win this one feels super special. It kind of proves my first bracelet wasn't a fluke, so it's really nice."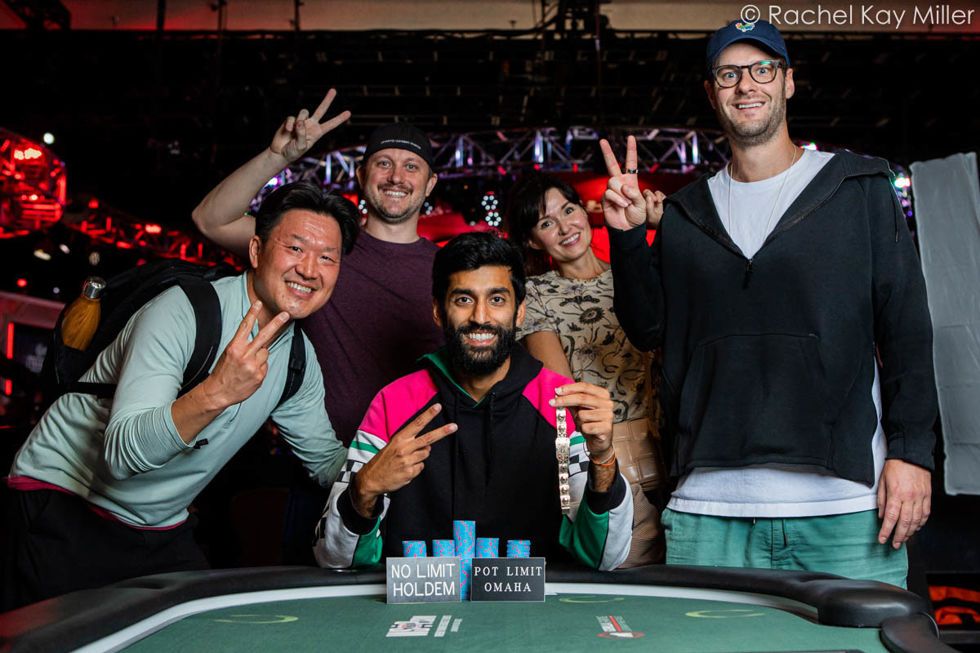 Pulusani had immense respect for his fellow competitors. He and Taylor shared an embrace after the last hand. He also had this to say about third place finisher Aden Salazar, "Salazar is only 21 years and already had many great results. You can tell he has a talent for the game and it's really cool to play against young rising stars and see how my skills match up and how to adjust."
Other notable deep runs included Daniel Negreanu (18th -$9,844), Scott Davies (45th - $5,863), and Jonathan Dokler (26th - $8,174).
Final Table Action
The first big action of the final table came courtesy of Richard Kellett. The Englishman earlier in the day had his stack reduced to just 45,000 after doubling up Pulusani. Kellett had managed to make the final table thanks to a triple up, double up, and another double up on three consecutive hands, followed by a third double up a few hands into the unofficial final table of nine players.
Kellett scored yet another double-up when he ran his ace-queen into the pocket threes of Salazar and the flop paired his ace. A bit later he also scored the first knockout of the final table when William Leffingwell ran his top pair into the nut flush of Kellet.
Roughly an hour later, the next elimination came as the Norwegian Vegard Andreassen fell in seventh place after moving all in against Pulusani, who went on to flop a set and turn a full house.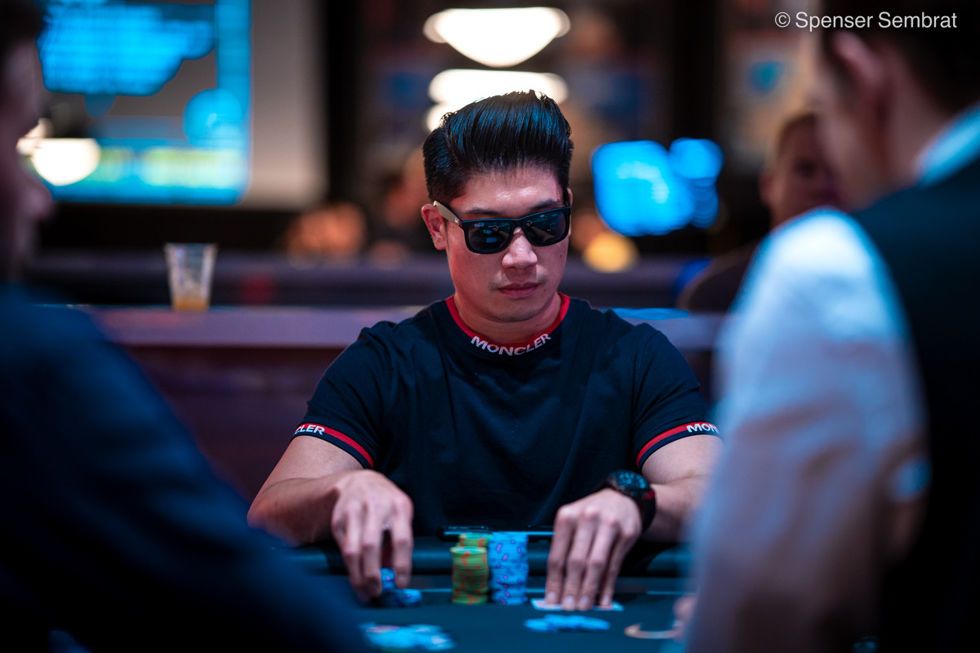 Just a bit later, Day 1 chip leader Vincent Lam scored a big double up against Salazar when he turned trip tens. Only 15 minutes later, it was Pulusani who scored a double-up through Salazar when he flopped a set of deuces to bust Salazar's aces.
The next to fall was Noah Bronstein in sixth place. Bronstein had shared that he had a wedding to attend the next day and had originally had a flight scheduled on Day 2 of this event, but obviously had to reschedule given his success. He ran into quite the cooler when he was all in with ace-ten of clubs against Lam's king-jack of hearts. The flop paired his ten, as well as putting two clubs on the board, but Lam paired his jack on the turn and Bronstein was unable to improve further.
Kellett was eliminated in fifth place, as his good fortune finally ran out. He found himself as the middle stack in a three-way all-in pot against Salazar and Pulusani. This proved to be one of the most crucial pots of the tournament, as Pulusani came out the big winner with the flopped nut flush, giving him a triple-up that put him in a position to go on the run that he ultimately did. Salazar managed to make a flush on the river to scoop the side pot and send Kellett out of the tournament.
With just four remaining players, the bracelet became more and more of a real possibility for the players with each passing pot. Taylor managed a big double-up against Lam when she made a full house, moving her ahead of the Day 1 chip leader.
Lam doubled up Taylor after she made a full house on the last hand before the dinner break. Then, shortly after returning from dinner, Lam met his end. He had enjoyed a large stack ever since he made a hero call on the last hand of the night on Day 1 to scoop a pot north of 1,000,000 chips, but he was eliminated by Salazar, who managed to river two pair to eliminate the Canadian.
Salazar reached his chip apex shortly into three-handed play when he reached 20,000,000, nearly two-thirds of all the chips in play. But soon he started bleeding chips. First, he doubled up Pulusani when he paired his ace against Salazar's pocket pair. After losing a series of smaller pots, Salazar failed to get a bluff through against Taylor and was knocked down to a more modest chip lead, with 12,000,000, while Pulusani and Taylor both had around 8,000,000.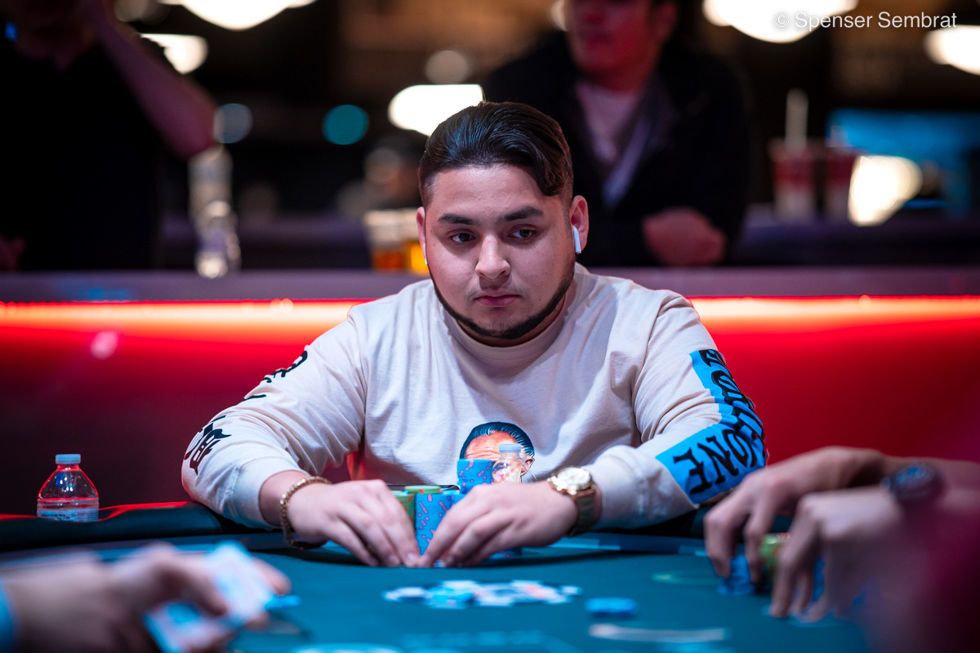 Just a bit later, Pulusani and Salazar played the biggest pot of the tournament. Salazar three-bet shoved on the flop, which Pulusani called. Pulusani had middle set, which held. This pot put Pulusani over 18,000,000 chips, a commanding chip lead while making Salazar the short stack for the first time all day with just over 4,000,000. A few minutes later, he was eliminated in third place when he ran into the double-suited aces of Taylor and was unable to improve.
Pulusani entered heads-up play with a chip lead of more than 2:1. That lead grew quickly as he made the better two pair just a few hands in, to reduce Taylor to fewer than 3,000,000. She managed to double up once but was eliminated a few minutes later. She ran queen-seven into pocket nines of Pulusani. She did manage to pair her queen on the river, but that queen completed a straight draw for Pulusani, giving him the pot, and the bracelet.
What does Pulusani have planned now, after his second bracelet win? "Actually I have a one-and-half-year-old at the house that I haven't seen for a couple of weeks so I'll probably head back home tomorrow to LA and celebrate with my wife and child!"
That's it for this event, but keep your browser on PokerNews for comprehensive coverage of the remainder of the 2022 WSOP!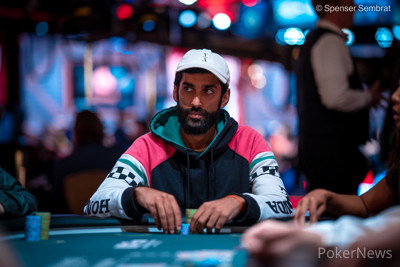 No-Limit Hold'em
Just one hand after doubling up Esther Taylor, Sandeep Pulusani found himself again playing a pot that if he won, would deliver him his second career WSOP bracelet. Taylor had moved all in from the small blind and Pulusani had made the call
Esther Taylor:

Sandeep Pulusani:
Pulusani was in good shape with his pocket pair and Taylor only having one over card. The
flop was a safe one. The
on the turn gave both players a straight draw, with Taylor needing a nine and Pulusani needing a queen. The
hit on the river. Taylor initially celebrated thinking her top pair was good, but Pulusani was quick to point out that he had made his straight. Pulusani had won the pot, the tournament, and the coveted WSOP bracelet.
A full recap of today's events will be available on PokerNews shortly.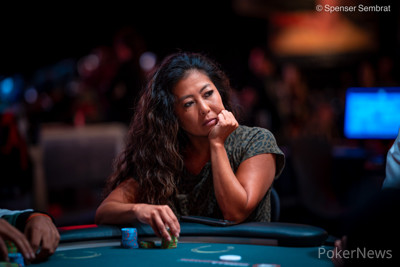 No-Limit Hold'em
Just one hand after gambling for it all and doubling up, Esther Taylor moved all in again. Sandeep Pulusani made the call and the two were racing.
Esther Taylor:

Sandeep Pulusani:
Pulusani was in good shape with his pocket pair and Taylor only having one over card. The
flop didn't change too much. The
on the turn gave both players a straight draw. Taylor needed a nine while Pulusani needed a queen. The
hit on the river. Taylor initially celebrated thinking her top pair was good, but Pulusani was quick to point out that he had made his straight. Taylor was eliminated as the runner up, while Pulusani took home the hardware.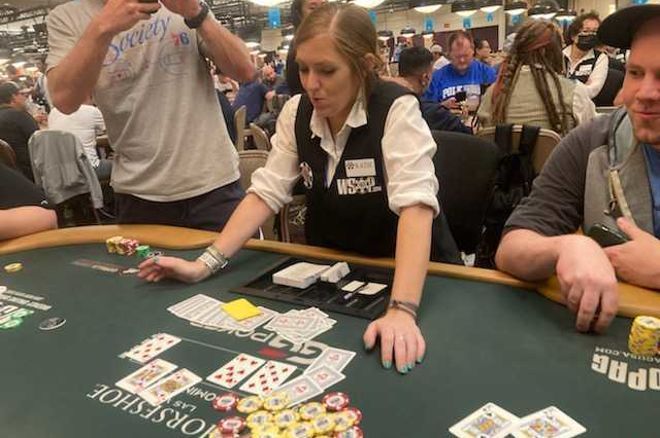 PokerNews is known throughout the world for our industry-leading live updates for both live and online events. In fact, right now we're offering various updates right here.
Over the years, we've captured memorable hands, many of which have become a part of poker history. In this column, we will bring you some of the biggest four-of-a-kind hands as reported in the PokerNews Live Updates from the 2022 World Series of Poker (WSOP).
Remember, if you're playing an event PokerNews is covering, you can get in the updates via the MyStack App. You can download the app for iPhone or Android now to get started. Then, create a new PokerNews account or update your current one to start updating your status immediately. Your followers can see all the live action that you're involved in.
Pot-Limit Omaha
Sandeep Pulusani raised to 1,200,000 and Esther Taylor opted to call.
The dealer showed a flop
and Taylor checked to Pulusani who continued for 1,000,000. Taylor raised it to 2,700,000 and Pulusani went deep into the tank before calling.
The
turn brought no betting action and a
hit the river. After some thinking, Taylor fired 3,000,000, putting Pulusani into a difficult decision.
After a few minutes, Pulusani eventually called and Taylor tabled
for two pair withe sixes. Pulusani showed
and took down the pot withe nines.
Pot-Limit Omaha
After a quick break, Sandeep Pulusani and Esther Taylor returned to begin heads-up play. On the first hand, Pulusani led out for 1,500,000. Taylor folded.
On the next hand, Taylor limped and Pulusani checked his option. The pair checked through the
flop to the
turn. Taylor fired for 700,000 and Pulusani quickly folded.
On the third hand, Pulusani led out for 1,200,000. Taylor called and the pair saw the
flop. Taylor checked to Pulusani, who continued for 1,500,000. Taylor picked up her hand, reordered her cards, before tossing her hand into the muck and giving Pulusani the pot.
Level: 34
Blinds: 200,000/400,000
Ante: 400,000
The players are now on a 15 minute break.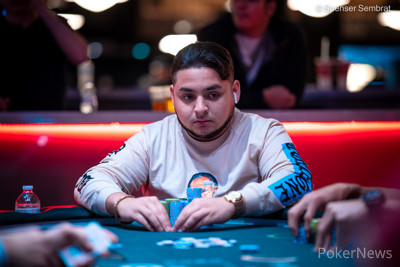 Pot-Limit Omaha
After Esther Taylor limped from the button, Aden Salazar potted from the small blind. After a fold from Sandeep Pulusani, Taylor repotted. Salazar made the call to go all in and the cards were on their backs.
Aden Salazar:

Esther Taylor:
Salazar was in poor shape, roughly a 2:1 dog to survive against Taylor's double suited aces. The
flop offered no help. The
turn brought about a bit of hope as he picked up a flush draw, but the
river locked up the pot for Taylor.
For Salazar, who is just 21 years old and attending his first WSOP, this was his second final table, and he will depart in third place for a six-figure score.