Zhu Scoops The Biggest Pot Of The Tournament

Level 12 : Limits 5,000/10,000, 1,000 ante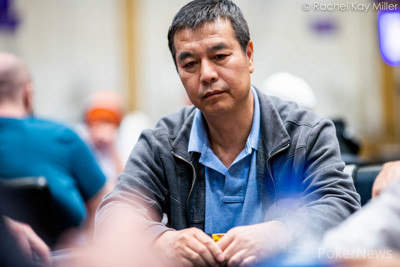 Action was picked up in a four-way pot between four players on sixth street when the pot was capped on fourth and two bets from each player went in on fifth street.
Yueqi Zhu:
/
/

Felipe Ramos:
/
/

Christopher Smith:
/
(Folded on sixth street)
Chris Moneymaker:
/
(Folded on sixth street)
On sixth street Zhu bet and Smith slammed the table and got up, analyzing everyone's boards. After some time he folded leaving himself just 4,500 behind and Moneymaker frustratingly tossed his cards into the muck as well. Ramos thought about it and then called.
Zhu bet on seventh street and Ramos called again and Zhu said "seven." Ramos responded "no way," but Zhu indeed had a seven-six as he turned over
for the winning hand and Zhu took the chip lead of the tournament.
Player
Chips
Progress

Yueqi Zhu

465,000

266,500

Felipe Ramos

161,000

-104,000

Team Brazil

Chris Moneymaker

42,000

-88,000

Christopher Smith

4,500

-95,000