Event #19: $2,500 No-Limit Hold'em Freezeout
Day: 3
Event #19: $2,500 No-Limit Hold'em Freezeout
Day 3 Completed

Level 35 : Blinds 250,000/500,000, 500,000 ante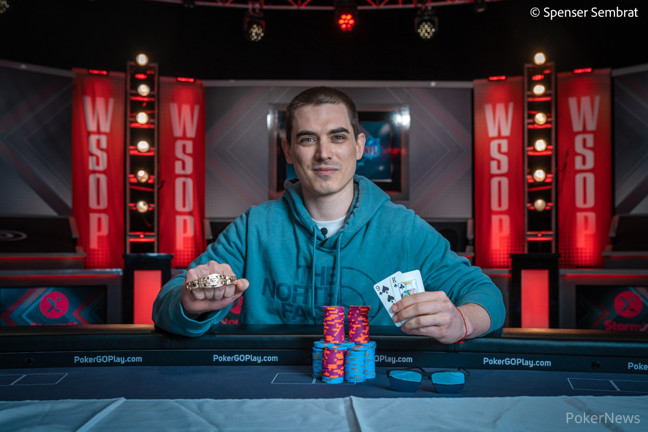 A total of 1,137 took their shot in Event #19: $2,500 No-Limit Hold'em Freezeout but after a grueling three days, the final moments came down to a previous WSOP bracelet winner and a player vying for his first piece of hardware battled in heads-up action at Horseshoe and Paris Las Vegas.
When the dust settled, it was Valentino Konakchiev who stood alone after he defeated Andres Korn in heads-up action to take home $435,924 along with his first career WSOP bracelet while Korn collected $269,438 as the runner-up.
Final Table Results
| Place | Winner | Country | Prize (in USD) |
| --- | --- | --- | --- |
| 1 | Valentino Konakchiev | Bulgaria | $435,924 |
| 2 | Andres Korn | Argentina | $269,438 |
| 3 | Alexandre Reard | France | $192,723 |
| 4 | Ruben Costa | United States | $139,671 |
| 5 | Girish Reknar | United States | $102,577 |
| 6 | Ankit Ahuja | India | $76,537 |
| 7 | Niall Farrell | United Kingdom | $57,620 |
| 8 | Adam Swan | United States | $44,087 |
| 9 | Qiang Xu | China | $34,210 |
Getting through Korn proved impressive enough, but it's further highlighted by Konakchiev journey to the win.
He outlasted a trio of WSOP bracelet winners at the final table, which boasted Korn, Alexandre Reard, who finished in third place for $192,723, and Niall Farrell, who finished in seventh place for $57,260.
Other notable bracelet winners to participate in the tournament were a trio of Poker Hall of Famers in Phil Hellmuth, Erik Seidel, and Kathy Liebert, anlong with Justin Bonomo, Jared Jaffee, Adrian Mateos, Mike Matusow, David Pham and Humberto Brenes, among others.
Konakchiev, however, stared down adversity and rose to the challenge throughout the three-day grind.
He displayed tenacity and aggression, such as a willingness to either check-raise with a gut-shot straight draw or outright bluff with air. Those attributes on Day 3 played a large role in carving his path to victory.
Winner's Reaction
Konakchiev, who hails from Sofia, Bulgaria, has visualized sitting alone at the table as a winner while soaking in a cheering rail for 16 years.
Now, the 31-year-old Konakchiev can cross off one item off his bucket list after winning his first WSOP bracelet.
"I've been dreaming about it since I've been watching poker when I was 15 on TV and I can't believe it actually happened," Konakchiev told PokerNews after winning the event.
Entering a large tournament field can cause anxious moment, but Konakchiev was relaxed. And it contributed to him making aggressive moves, all of which helped him reach the final table and the winner's circle.
"The beginning of the series, I could play a lot more freely until the end," Konakchiev said.
He also drew from his experience, which includes $549,442 career earnings, according to his Hendon Mob page, to apply against opponents during the three-day tournament.
"I got a feel for players, got some decent hands to bluff with," Konakchiev said. "So, I took them and tried to play for the win. And what happens, happens."
Did it ever.
Konakchiev admits he didn't know the final table boasted three WSOP bracelet winners, and he was responsible for knocking out two of them – Reard in third, and Korn in second – on his way to gaining his first. And the accomplishment against tough competition isn't lost on the WSOP newest bracelet winner.
"It feels really, really good," Konakchiev said with a wide smile. "They already have bracelets, so it was my time."
In the meantime, Konakchiev wants more after securing his first WSOP win. He plans on staying in Las Vegas to play more events and perhaps obtain more hardware.
"I'll play until pretty much the last tournaments, and stuff like that," he said. "Maybe get another one."
This concludes coverage of Event #19 of the 2023 WSOP, but make sure to continue to follow PokerNews for live updates of your favorite events throughout the summer.

Level 35 : Blinds 250,000/500,000, 500,000 ante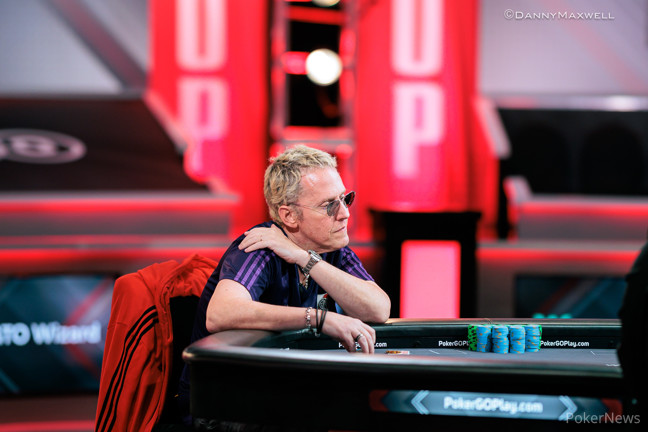 Andres Korn shoved the button and got a quick call from Valentino Konakchiev to take the two players to a run out in an attempt to close the match out with a victory.
Andres Korn: K♠3♥
Valentino Konakchiev: K♣9♠
Korn was behind and neededhelp from the board to extend the heads up battle but when the board ran out 5♦Q♣J♦2♥6♠, Konakchiev ended the match and secured the bracelet, sending Korn to the rail in second place for $269,438.

Level 35 : Blinds 250,000/500,000, 500,000 ante
Andres Korn shoved from the button and Valentino Konakchiev quickly called to put Korn at risk.
Andres Korn: A♠10♦
Valentino Konakchiev: A♥4♠
The board ran out 5♥10♣9♦7♥6♣ and Korn secured the double to move back over ten blinds.

Level 35 : Blinds 250,000/500,000, 500,000 ante
Valentino Konakchiev raised the button to 1,100,000 and watched as Andres Korn responded with a three-bet to 3,400,000.
Konakchiev decided to call and see a flop of 8♦3♥J♣.
Korn continued with a 1,700,000 bet and received a call from Konakchiev and the players watched as the 5♣ hit the turn.
Korn checked and Konakchiev slid forward a bet of 2,100,000. Korn responded by announcing all in to put Konakchiev at risk who called and with one card to come.
Valentino Konakchiev: Q♠J♠
Andres Korn: A♣K♦
Korn needed help going to the river to end this heads up match, but the 9♣ didn't provide any as Konakchiev secures a massive double up and takes control of this match.

Level 35 : Blinds 250,000/500,000, 500,000 ante
Valentino Konakchiev raised the button holding the A♥K♠ and Andres Korn came along in the big blind to a flop of 5♦9♣8♥.
Both players checked through to see the 9♦ peel off on the turn.
Korn opted to lead out with a bet and got a call from Konakchiev before watching as the 10♣ hit the river.
Both players checked through to showdown and Korn tabled his hand, prompting Konakchiev to toss his cards toward the muck.

Level 35 : Blinds 250,000/500,000, 500,000 ante
Andres Korn raised the button to 1,050,000 holdfing K♦9♥ and Valentino Konakchiev called with the 6♠5♣ to see a flop of 8♣8♦6♦.
Both players checked and headed to a turn of the J♥. The players again checked through and watched as the 4♦ hit the river.
Konakchiev bet out for the first time of the hand and Korn quickly called and watched Konakchiev turn over the winner before he tossed his cards toward the muck.

Level 35 : Blinds 250,000/500,000, 500,000 ante
Heads-up play is turning into a back-and-forth battle of double ups.
Valentino Konakchiev raised with K♣J♣ to 1,100,000 million, and then Andres Korn moved all in with A♦3♠ to put his tournament life on the line.
The dealer fanned 2♥9♠9♥ on the flop, and then A♥ on the turn had Konakchiev drawing dead to the river, where an inconsequential 6♣ appeared.
Korn secured the double up after earlier allowing Konakchiev to double up.
Level: 35
Blinds: 250,000/500,000
Ante: 500,000

Level 34 : Blinds 200,000/400,000, 400,000 ante
Andres Korn limped the button and saw Valentino Konakchiev raise to 1,750,000. Korn quickly shoved all and and got called by Konakchiev put himself at risk.
Valentino Konakchiev: 6♦6♠
Andres Korn: A♠7♠
The board ran out K♠8♣9♦3♥5♠, offering no help to Korn as Konakchiev's sixes held up to secure a full double up.