Event #20: $1,500 Badugi
Day: 4
Event #20: $1,500 Badugi
Day 4 Completed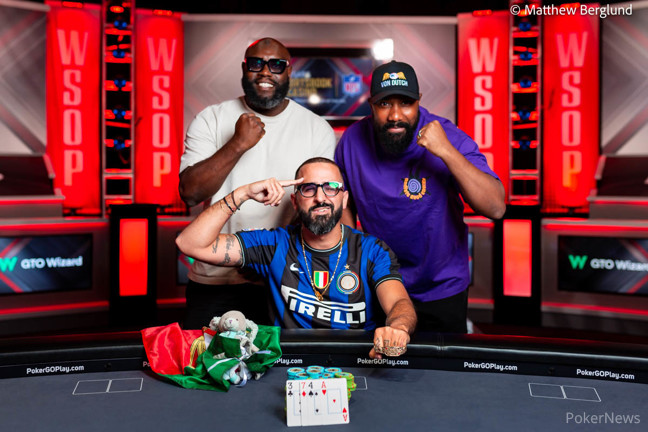 Event #20: $1,500 Badugi at the 2023 Word Series of Poker (WSOP) at the Horseshoe and Paris Las Vegas attracted an astounding 516 runners, generating a total prize pool of $688,860. On Saturday, June 10th, the last three players returned for an unscheduled fourth day, all vying for the $144,678 first place prize and coveted WSOP gold bracelet accompanying it.
After less than one hour of play, Michael Rodrigues of Portugal came out on top, defeating start of day chipleader Yingui Li in heads-up play to secure the largest live tournament cash of his career. A visibly emotional Rodrigues lifted his hands to the sky as the last, title clinching pot was shipped his direction.
For Rodrigues, the win was especially meaningful as it means he will go down in history as the person to win the first ever bracelet event dedicated entirely to badugi, so at least until next year, he can credibly claim to be the best badugi player in the world.
2023 WSOP Event #20: $1,500 Badugi Final Table Results
| Position | Name | Country | Prize |
| --- | --- | --- | --- |
| 1 | Michael Rodrigues | Portugal | $144,678 |
| 2 | Yingui Li | China | $89,415 |
| 3 | Serhii Popovych | United States | $59,879 |
| 4 | Matt Vengrin | United States | $40,996 |
| 5 | Danny Tang | Hong Kong | $28,270 |
| 6 | Owais Ahmed | United States | $20,557 |
Day 3 Final Table Action
Day 3 was originally slated to be the last day of the tournament and began with 13 players. It took several hours for the field to be cut down to the unofficial final table of seven. Shortly after, the official final table was set courtesy of Lee Horton's elimination in 7th place.
The first casualty of the final table was Owais Ahmed after he was unable to improve his three card hand against Rodrigues.
From that point, play continued five-handed for an incredible four hours before one-time tournament chipleader Danny Tang finally succumbed to eventual runner-up Li in fifth place.
Unlike many of the other players at the final table, Matt Vengrin never really established himself as a clear chipleader, instead finding various ways to stick around and outlast his competitors. His run did, however, come to an end in fourth place after getting his last few chips into the middle against Serhii Popovych prior to the first draw.
Momentum for each of the final three players ebbed and flowed over the course of the last few levels of the night before the tournament director chose to intervene, halting play at the end of Level 35 to set up a Day 4 showdown for the bracelet.
Final Day Action
Popovych entered Day 4 as the short stack and struggled to get much going, exiting in 3rd place after running into Li's better three card hand to setup a heads-up match between Li and Rodrigues.
Li came into heads-up play with a slight chip advantage but quickly relinquished his lead after Rodrigues picked off a bold bluff. From that point, everything seemed to go the Portuguese pro's way as he took down several pots to leave Li short. It did not take long for Rodrigues to finish the job, ultimately securing the win after being dealt seven badugi.
Although Li will undoubtedly be disappointed he was not able to clear the final hurdle, he can look for consolation in the form of the $89,415 runner-up prize to add to his $805,515 in career earnings.
Congratulation to Michael Rodrigues on winning Event #20: $1,500 Badugi! Be sure to keep it with PokerNews as its live reporting team continues to provide comprehensive coverage of all bracelet events at the 2023 World Series of Poker at the Horseshoe and Paris Las Vegas.

Level 36 : Blinds 150,000/300,000, 0 ante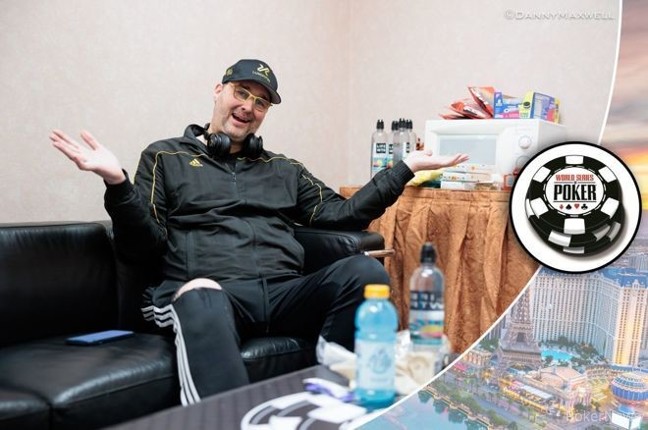 When you hold the record for the most World Series of Poker (WSOP) bracelets, there are perks.
For Phil Hellmuth, whose 16 bracelets (and counting) may never be touched, one of those perks is his own personal break room at Horseshoe Las Vegas. That's a nice benefit especially on 90-minute dinner breaks.
Hellmuth granted PokerNews access to his small but intimate break room, which is in an undisclosed location.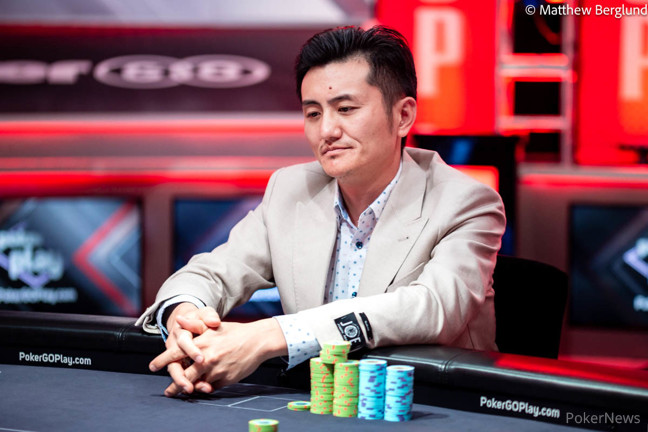 Yingui Li opened on the button before Michael Rodrigues three-bet out of the big blind. Li made the call.
Rodrigues stood pat on the first draw while Li took two after which Rodrigues bet and Li called, leaving himself just 150,000 behind.
As on the previous draw, Rodrigues stood pat but this time Li only took one. Rodrigues then bet and Li called off for his tournament life.
Rodrigues stood pat on the final draw and then showed down 7♦4♠3♣A♥. Li again took one, tabling 6♠5♣A♦ and needing to find a low heart to survive. After turning over the last card of the tournament, Li revealed the K♣, sending the pot and title of champion to Rodrigues while condemning Li to a nevertheless impressive 2nd place finish.
Stay tuned for a full tournament recap to follow.
Michael Rodrigues opened on the button and then called after Yingui Li three-bet out of the big blind.
Both players took one card on the initial draw after which Li bet and was called.
The second draw saw each player again draw one card. Li then pushed his remaining chips into the middle with Rodrigues calling to put his opponent at risk.
On the final draw the same drawing pattern was repeated. Li then tabled 5♦3♣A♥, ahead of Rodrigues' 10♣4♥2♠. Rodrigues failed to improve on his final card, handing Li a full double.
Michael Rodrigues opened on the button and Yingui Li called in the big blind.
Both players took two on the first draw with Li following that up with a bet. Rodrigues called to send action to the second draw.
Li stood pat on the second draw while Rodrigues took one after which Li bet and was once again called.
The final draw saw the same drawing pattern repeated. Li then fired off another bet. Rodrigues thought for a moment before committing calling chips. "Bluff" Li announced as Rodrigues tabled 9♣4♣3♥2♠ to grab the chiplead.
Michael Rodrigues began the heads-up battle with Yingui Li facing a roughly 2,000,000 chip deficit but through the first few hands has managed erase some of that difference.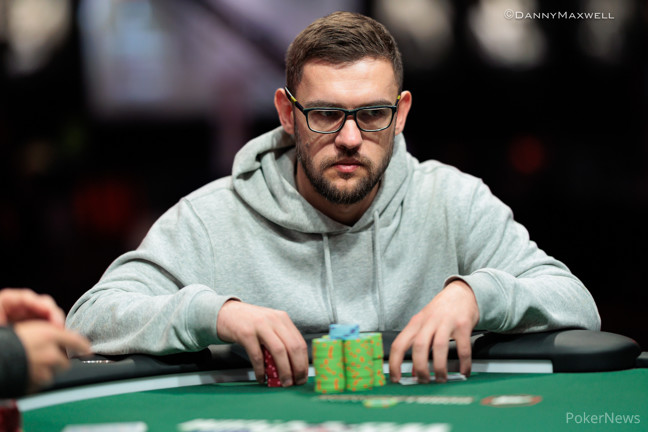 Serhii Popovych struggled to get much of anything going today and with the limits being so high, one could only afford to be card dead for so long. Popovych moved all in for his last 500,000 on the button and was called by Yingui Li in the big blind.
Li took one card on the first draw while Popovych opted to draw two.
The second and final draws saw both Li and Popovych draw one card with Li tabling 3♦2♣A♥, far ahead of the 7♥5♠4♣ of Popovych. Li's final card was the 5♣, leaving Popovych drawing live to a diamond. It was not be, however, as he peeled the 9♠ to bring his impressive run to an end in 3rd place.
Player
Chips
Progress

Yingui Li

7,250,000

2,350,000

Michael Rodrigues

5,650,000

1,050,000

Serhii Popovych

Busted
Play has been cagey to start the day with many small pots exchanged and none of the players willing to push the envelope.
Level: 36
Blinds: 150,000/300,000
Ante: 0