Event #19: THE GIANT - $365 No-Limit Hold'em
Days: 1a
Event #19: THE GIANT - $365 No-Limit Hold'em
Day 1a Completed
Level 18 : 6,000-12,000, 2,000 ante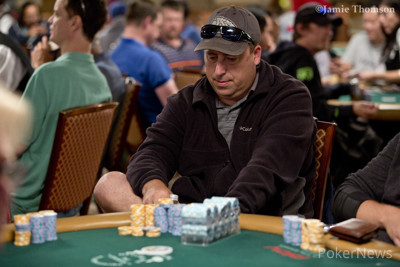 Day 1a of the inaugural Event #19: THE GIANT lived up to its name. The event drew 1,629 entries, creating a prize pool of $488,700 for just a $365 buy-in with a minimum payout of $557.
The money began to be paid out during Level 17 at 245 players. In the 30 minutes after the bubble, the tournament lost 120 players to end the day with 124 players out of 1,629.
In the massive field we did see a few familiar faces, some whom will be returning for Day 2 and some who will have to return to play another Day 1. Barry Greenstein (90,000), Dylan Wilkerson (258,000), William Vo (359,000), Asher Coniff (152,000), Jesse Yaginuma (163,000), and Bernard Lee (359,000) are some of the players advancing to Day 2. Natasha Barbour, David Baker, Dennis Phillips, Scott Montgomery, and Jeff Gross were all eliminated but have four more starting days to take a shot at.
Those who made Day 2 will return in nearly a month to play on July 8 at 2 p.m. when all five Day 1s combine.
Jeffrey Brin is the Day 1a chip leader with an impressive stack of 718,000. Close behind is Timothy Miles with 707,500.
There will be four more Day 1s if you want to take your shot at THE GIANT. Day 1 plays every Friday at 7 p.m. for the next four weeks (June 16, 23, 30, and July 7).
PokerNews will have all your updates from THE GIANT and the rest of the 2017 WSOP all summer.
Player
Chips
Progress

Jeffrey Brin

718,000

718,000

Timothy Miles

707,500

707,500

Richard Alsup

637,500

637,500

Southisak Seunsom

612,000

612,000

Matthias Eibinger

610,500

50,500

Ricardo Abundis

581,000

581,000

Joseph Biegler

565,000

565,000

Jennifer Fox

562,500

562,500

Konstantin Maslak

535,000

535,000

Clayton Maguire

530,000

530,000

Marcus Laffen

523,000

523,000

Nadim Shabou

511,500

511,500

Shaun Samudia

511,000

511,000

Bizhan Delgoshaei

509,000

509,000

Praise Ogwo

497,000

497,000

Ryan Buckholtz

489,000

489,000

Ricky Lee

465,000

465,000

Ari Levy

431,000

431,000

Zaed Shamoon

388,500

388,500

Javier Contreras Crespo

379,500

379,500

Brian Kearney

379,000

379,000

Gary Murphy

377,500

377,500

Jose Latorre

360,500

360,500

David Mzareulov

360,000

360,000

Bernard Lee

359,000

359,000

Level 18 : 6,000-12,000, 2,000 ante
The clock has been stopped and the floor has announced that there will be seven more hands to play before they bag and tag.

Level 18 : 6,000-12,000, 2,000 ante
With the remaining players guaranteed a minimum of $557 for their buy-in of $365, provided they didn't fire more than one bullet, the tension has flooded out of the Amazon room and with it the tide that bears a raft of players heading for the exit who have got the last of their chips in clinging to the hope of a double up but are now bust.
From a bubble number of 245 there are now kust 184 players with 15 minutes of the day to play.
Level: 18
Blinds: 6,000/12,000
Ante: 2,000

Level 17 : 5,000-10,000, 1,000 ante
Erle Mankin had been abusing the bubble, by turn grabbing some chips and doubling up some short stacks who were willing to risk it.
On the bubble Mankin moved all in from the button when it folded to him and Dave Plaskett wss the man in the big blind who called with his last 60,000 chips.
They had to wait before turning their cards over as the action was resolved at other tables but finally it was their turn and the cards were on their backs.
Erle Mankn:

Dave Plaskett:
The board ran our
.
The river gave Mankin the better pair to eliminate Plaskett.
Level 17 : 5,000-10,000, 1,000 ante
While playing hand-for-hand we had four all ins at once holding the deal. As we were waiting to start at one table, Bernard Lee called me to another table to tell me how aces were about to be cracked.
The button Matthias Eibinger, had been shoving every hand on the bubble; he blindly bet 250,000 and the big blind woke up with aces. The player in the big blind called for his last 115,500 and the players showed the table their hands.
Eibinger:

Opponent:
Everyone was laughing saying the aces would get cracked on the bubble. Well as the saying goes its all fun and games until someone loses an eye, or their chips.
The board ran out
and the table let out a huge roar. Eibinger cracked the aces and eliminated the player, bursting the bubble and stacking more chips.
Level: 17
Blinds: 5,000/10,000
Ante: 1,000
Level 16 : 4,000-8,000, 1,000 ante
We have 248 players remaining in the event and are currently playing hand-for-hand as we approach the money.
The money hits at 245 players with everyone guaranteed $557.