Juha Helppi Bags Day 1 Chip Lead in Event #53: $3,000 Limit Hold'em 6-Max

Level 10 : 1,200/2,400, 0 ante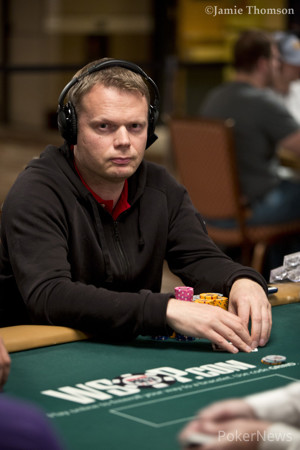 Juha Helppi (146,000) finished Day 1 on top of a stacked field in Event $53: $3,000 Limit Hold'em 6-Max. The field started small, but exceeded last year's field with 256 entrants compared to the 245 from last year.
Several of the World Series of Poker Player of the Year leaders came through the field, with Daniel Negreanu and Mike Leah entering but missing the Day 2 cut.
James Obst (78,100) and John Racener (30,700) are in the thick of things starting Day 2 on Wednesday with only 73 players returning. Another duo that might be destined to meet on Day 2 is newly-crowned $10,000 Stud Hi-Lo Champion Christopher Vitch (47,000) and runner-up Benny Glaser (28,600). Vitch captured his second bracelet early on the morning of Day 1 and was in the field for the 3 p.m. start.
A flood of players joined later in the day, including Jason Mercier (36,000), Jack Duong (10,400), and Jeff Lisandro. Duong and Mercier bagged, but Lisandro was eliminated by Roland Israelashvili.
The players return Wednesday at 2 p.m. and take one step closer to the WSOP gold bracelet. Follow all the Day 2 action on PokerNews.com.
| Room | Table | Seat | Player | Country | Chip Count | Big Blinds |
| --- | --- | --- | --- | --- | --- | --- |
| Brasilia | 704 | 1 | Ayaz Mahmood | United States | 111,300 | 37 |
| Brasilia | 704 | 2 | Jane Hitchcock | United States | 28,100 | 9 |
| Brasilia | 704 | 4 | Vincent Gironda | United States | 18,400 | 6 |
| Brasilia | 704 | 5 | Justin Thurlow | United States | 122,000 | 41 |
| Brasilia | 704 | 6 | Jack Duong | United States | 10,400 | 3 |
| | | | | | | |
| Brasilia | 705 | 1 | Michael Baxter | United States | 31,600 | 11 |
| Brasilia | 705 | 2 | John Hoppmann | United States | 85,400 | 28 |
| Brasilia | 705 | 3 | Bryce Landier | United States | 27,200 | 9 |
| Brasilia | 705 | 4 | Scott Mayfield | United States | 62,500 | 21 |
| Brasilia | 705 | 5 | Steve Chanthabouasy | United States | 110,000 | 37 |
| Brasilia | 705 | 6 | Nicholas Seiken | United States | 36,500 | 12 |
| | | | | | | |
| Brasilia | 706 | 1 | Jeremy Heartberg | United States | 40,200 | 13 |
| Brasilia | 706 | 2 | Carmen Fung | Canada | 9,800 | 3 |
| Brasilia | 706 | 3 | Peter Morris | United States | 72,400 | 24 |
| Brasilia | 706 | 4 | Joe McKeehen | United States | 23,200 | 8 |
| Brasilia | 706 | 5 | Kyle Ray | United States | 85,200 | 28 |
| Brasilia | 706 | 6 | Timothy Ferko | United States | 62,100 | 21 |
| | | | | | | |
| Brasilia | 707 | 1 | Frank Kassela | United States | 96,200 | 32 |
| Brasilia | 707 | 2 | David Goldberg | United States | 26,600 | 9 |
| Brasilia | 707 | 4 | Todd Witteles | United States | 31,500 | 11 |
| Brasilia | 707 | 5 | Jason Papastavrou | United States | 36,100 | 12 |
| Brasilia | 707 | 6 | Max Silver | United Kingdom | 69,800 | 23 |
| | | | | | | |
| Brasilia | 708 | 1 | Georgii Belianin | Russia | 72,300 | 24 |
| Brasilia | 708 | 2 | Andrew Kelsall | United States | 18,400 | 6 |
| Brasilia | 708 | 3 | Yudong Yang | United States | 24,000 | 8 |
| Brasilia | 708 | 4 | Mark Radoja | Canada | 17,800 | 6 |
| Brasilia | 708 | 5 | Philip Rhee | United States | 28,100 | 9 |
| Brasilia | 708 | 6 | David Bach | United States | 67,500 | 23 |
| | | | | | | |
| Brasilia | 709 | 1 | Paul Schumer | United States | 10,500 | 4 |
| Brasilia | 709 | 2 | Benny Glaser | United Kingdom | 28,600 | 10 |
| Brasilia | 709 | 3 | Ronald Carmona | Ukraine | 49,800 | 17 |
| Brasilia | 709 | 4 | Mike Schneider (MN) | United States | 26,600 | 9 |
| Brasilia | 709 | 5 | Christopher Vitch | United States | 47,000 | 16 |
| Brasilia | 709 | 6 | Lena Wang | United States | 51,700 | 17 |
| | | | | | | |
| Brasilia | 710 | 1 | Ayman Qutami | United States | 89,900 | 30 |
| Brasilia | 710 | 2 | James Obst | Australia | 78,100 | 26 |
| Brasilia | 710 | 3 | Joseph Couden | United States | 72,000 | 24 |
| Brasilia | 710 | 4 | Frank Yakubson | United States | 54,600 | 18 |
| Brasilia | 710 | 5 | Davin Anderson | United States | 81,600 | 27 |
| Brasilia | 710 | 6 | Stuart Rutter | United Kingdom | 18,600 | 6 |
| | | | | | | |
| Brasilia | 711 | 1 | David Olson | United States | 57,700 | 19 |
| Brasilia | 711 | 2 | Kenny Hsiung | United States | 46,400 | 15 |
| Brasilia | 711 | 3 | Jonathan Ulrich | United States | 11,000 | 4 |
| Brasilia | 711 | 4 | Georgios Kapalas | ATHENS, , GR | 86,100 | 29 |
| Brasilia | 711 | 5 | Alex Torry | United States | 60,400 | 20 |
| Brasilia | 711 | 6 | Amir Shayesteh | United States | 44,300 | 15 |
| | | | | | | |
| Brasilia | 712 | 1 | Guowei Zhang | United States | 44,700 | 15 |
| Brasilia | 712 | 2 | Andrey Zhigalov | Russia | 80,800 | 27 |
| Brasilia | 712 | 3 | Andre Akkari | Brazil | 42,200 | 14 |
| Brasilia | 712 | 5 | Donald Fleming | United States | 35,800 | 12 |
| Brasilia | 712 | 6 | Juha Helppi | Finland | 146,000 | 49 |
| | | | | | | |
| Brasilia | 713 | 1 | Matthew Greenwald | United States | 22,700 | 8 |
| Brasilia | 713 | 2 | Michael Kuo | United States | 57,800 | 19 |
| Brasilia | 713 | 3 | Jason Fan | United States | 87,400 | 29 |
| Brasilia | 713 | 4 | Cathleen Tran | United States | 83,100 | 28 |
| Brasilia | 713 | 5 | John Racener | United States | 30,700 | 10 |
| Brasilia | 713 | 6 | Yegor Tsurikov | United States | 22,600 | 8 |
| | | | | | | |
| Brasilia | 714 | 1 | Russell Hammontree | United States | 56,900 | 19 |
| Brasilia | 714 | 2 | William Romaine | United States | 78,000 | 26 |
| Brasilia | 714 | 3 | Mickey Craft | United States | 42,500 | 14 |
| Brasilia | 714 | 4 | Jameson Painter | United States | 84,800 | 28 |
| Brasilia | 714 | 5 | Jesse Martin | United States | 98,200 | 33 |
| Brasilia | 714 | 6 | Derek Whatley | United States | 21,400 | 7 |
| | | | | | | |
| Brasilia | 715 | 1 | Yury Ivanou | United States | 22,300 | 7 |
| Brasilia | 715 | 2 | Marwan Abdelal | United States | 2,100 | 1 |
| Brasilia | 715 | 3 | Jason Mercier | United States | 36,000 | 12 |
| Brasilia | 715 | 4 | Jimmy Fricke | United States | 84,000 | 28 |
| Brasilia | 715 | 5 | Alex Keating | United States | 1 | 0 |
| | | | | | | |
| Brasilia | 716 | 1 | Joseph Risi | United States | 84,800 | 28 |
| Brasilia | 716 | 2 | Min Ku | United States | 65,000 | 22 |
| Brasilia | 716 | 3 | Diego Cordovez | United States | 84,000 | 28 |
| Brasilia | 716 | 4 | Paul Roy | United States | 20,200 | 7 |
| Brasilia | 716 | 6 | Konstantin Maslak | Russia | 48,900 | 16 |