Rousso Remanded to the Rail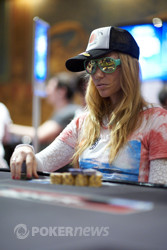 We turned our backs for one second, and when we looked back, Vanessa Rousso was gone. The last remaining lady was trending downwards the last few times we checked on her, and her latest trend takes her all the way down to zero, unfortunately.
We're now left with 32 men, and half of them will go home empty-handed before this day is through.