Event #5: €10,400 No-Limit Hold'em (Split Format)
Day: 3
Event #5: €10,400 No-Limit Hold'em (Split Format)
Day 3 Completed
Level 21 : 6,000-12,000, 2,000 ante
This split format concept is a lot of fun.
Day One resolved the nine-handed dispute, Day Two ended the six-handed dispute and today we had the testosterone fuelled heads-up encounters. 16 players started and four remained after two rounds of action.
In the first round Anatolii Ozhenilok overcame a 2:1 chip deficit to defeat Joel Nordkvist and Brian Hastings overcame Erik Seidel! Yes the man can be beaten! The last encounter to be settled involved fellow countrymen Jason Mercier and Shawn Buchanan. The man nicknamed Bucky flopping straights an incredible three times during their encounter which he eventually progressed through.
With the dangerous Seidel and Mercier out of the way it became anyones contest in the second round. The first casualty was Hastings who was quite litrally ground-down by The Grinder Michael Mizrachi and Shawn Buchanan won his see-saw match with Ozhenilok. Then the biggest upset of the round came when Roger Hairabedian overturn a chip deficit to take out Brian Powell. This left one final match between Dan Fleyshman and Noah Schwartz. Schwartz was always in control but just could not eliminate Fleyshman who kept alive through a series of double ups. In the end Fleyshman found
and Schwartz found
and that is all she wrote.
We will be back for the final two rounds tomorrow at 17.00 (CET) so please join us.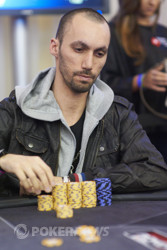 Day Three of Event #5 has come to a close with the elimination of Dan Fleyshman. He fought valiantly until moved his last 136,000 into the middle and received a call from Noah Schwartz.

Showdown

Board:
Noah Schwartz raised the button -- he's been opening to 26,000 but this one looked like 36,000 to us. Either way, Dan Fleyshman came along to the flop, and it rolled out
. Schwartz continued out with a smallish bet of 16,000, and Fleyshman check-called to the
turn. He'd check-call another 40,000 on the
turn, and Schwartz barreled the
river with a healthy bet of 130,000. Fleyshman spent several long minutes in the tank, debating the decision for nearly all his chips. After some time, though, he surrendered.
After Dan Fleyshman doubled up a short while ago, his match with Noah Schwartz seems to have hit the wall and the pair seem content with stealing each other's blinds .
The only hand of note from the past fifteen minutes saw Fleyshman limp in, Schwartz make it 25,000 to play and Fleyshman call. Schwartz lead out with a 25,000 bet on a
flop and Fleyshman called. The turn was the
and when Schwartz bet 31,000 Fleyshman's cards hit the muck.
Level: 21
Blinds: 6,000/12,000
Ante: 2,000
The newly rejuvenated Dan Fleyshman raised to 20,000 and Noah Schwartz three-bet to 49,000. Fleyshman's response was to four-bet jam for 177,000 and Schwartz...folded.
Fleyshman looks well up for this at the moment whereas Schwartz looks a little irritable.
Noah Schwartz had whittled Dan Fleyshman down to 148,000 when he open-shoved the button. Fleyshman has been very patient despite his short stack, and he looked down at
and made the call for his tournament life. It was a flip; Schwartz tabled two red deuces
, and the race was on.
The flop came
, and from the rail, Will Failla piped up, "No deuce now." The turn was the
, and Fleyshman ran through his outs aloud. He found one of them on the river as the
improved him to the winner.
"Jesus Christ!" Failla blurted out, probably louder than he intended. "He made a straight."
Fleyshman smirked and looked around for the source of the noise. "Thanks a lot, Will," he said sarcastically. He's got some fighting chips now, doubling up to 300,000 as near as makes any difference.
Well not exactly a tango, more of a "move around the dancefloor very slowly" dance.
Heads Up action is not the most spectacular poker in the world but both Dan Fleyshman and Noah Schwartz are trying their best. Both players are moving all-in regularly and it is only a matter of time before they both find a hand worthy of showdown.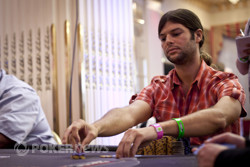 Well, nevermind on that 'passing chips back and forth' thing.
In the last hand, Roger Hairabedian opened to 25,000, and Brian Powelll three-bet to 65,000. After a short pause Hairabedian moved all in, and Powell called off his last ~290,000 total to put himself at risk. The news was not good.
Showdown
Hairabedian:

Powell:
The
flop drew a loud reaction from the French rail that had begun to fill in, and their man now had a commanding lead two cards from the semifinals. The turn
gave Powell at least some hope, but he couldn't find the two-outer on the
river.
So it's Hairabedian who's through to tomorrow's semifinal where he and Michael Mizrachi will play a deep heads-up match.