Event #2: €1,100 No-Limit Hold'em
Days: 1b
Event #2: €1,100 No-Limit Hold'em
Day 1b Completed

Player
Chips
Progress

Marvin Rettenmaier

69,950

Florian Ciuro

44,300

Tarcisio Bruno

43,125

Dominik Nitsche

40,350

Gianluca Cedolia

36,550

Etienne Syren

35,625

Fabrice Bourcier de Carbon

34,100

Marc Bariller

33,325

Joe Kuether

33,275

Tristan Wade

30,875

Erik Cajelais

29,300

John Monnette

28,700

8,825

Gil George

28,400

Antonino Venneri

25,100

Roger Hairabedian

24,050

15,550

Sandy Cedric Denis

23,775

Igor Kalinicenko

23,225

Nicolas Peronnet

22,500

Rocco Palumbo

21,425

Olivier Paris

20,625

Julien Dolay

19,875

Henri Chapuis

19,075

Jasper Vanvlasselaer

18,975

Anthony Pons

18,625

Frederic Penel

18,250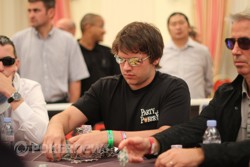 The 2012 World Series of Poker Europe Event #2: €1,100 No-Limit Hold'em continued on Sunday as 331 players turned out for Day 1b, the second of two starting flights. In just over nine levels of play, that number was reduced to just 53 with Marvin Rettenmaier and his stack of 69,950 leading the way.
Combined with Day 1a's 295 players, Event #2 drew a total of 626 entries and created a prize pool of €600,960, which will be distributed to the top 63 with €126,207 reserved for the winner. Tomorrow, the remaining 98 players from both starting flights will combined under the same roof for Day 2 action.
Back on Day 1a, Rettenmaier late registered for the tournament but didn't have much luck as he busted fairly quickly. He took advantage of the re-entry format and fired a second bullet, which proved to be a wise decision. In a hand earlier today, the board read
when an unknown player had checked from early position and Rettenmaier took the opportunity to move all in. His opponent only had 1,550 behind and tank-called only to discover his
was no good against the
of Rettenmaier. It wasn't a huge pot, but it was reminiscent of how the German ran throughout the day.
Unfortunately not everyone was as fortunate as Rettenmaier. Andy Frankenberger, Chance Kornuth, Oliver Speidel, Vanessa Selbst and Michael Mizrachi were just a few of the players who re-entered and fell short for a second time. They were joined by Day 1b newbies Jennifer Tilly, David "ODB" Baker, Phil Hellmuth, Charlotte Van Brabander, Roland Israelashivili, Dan Shak and Brandon Cantu, just to name a few.
With that said, a few re-entries did make the most of their second chance including Dominik Nitsche, Joe Kuether, Tristan Wade, Erik Cajelais and John Monnette, all of whom finished toward the top of the Day 1b chip counts. They, along with John Tababtabia, Roger Hairabedian, Jean Paul Pasqualini, Bourcier de Carbon, and Gil George, will join the likes of Day 1a's Antonio Esfandiari, Mclean Karr and Antonin Teisseire on Monday for Day 2 action.
Notable Day 1b Chip Counts
| Player | Count |
| --- | --- |
| Marvin Rettenmair | 69,950 |
| Florian Ciuro | 44,300 |
| Dominik Nitsche | 40,350 |
| Gianluca Cedolia | 36,550 |
| Bourcier de Carbon | 34,100 |
| Marc Bariller | 33,325 |
| Joe Kuether | 33,275 |
| Tristan Wade | 30,875 |
| Erik Cajelais | 29,300 |
| Gil George | 28,400 |
| John Monnette | 19,875 |
The remaining 98 players will transfer to the Casino Barrière de Cannes Croisette for Day 2 action at 14:00 CET (10:00 EST), so join us then as we bring you all the latest and greatest from Event #2: €1,100 No-Limit Hold'em on the way to the money!
Player
Chips
Progress

Marvin Rettenmaier

69,950

19,950

Florian Ciuro

44,300

Dominik Nitsche

40,350

5,350

Gianluca Cedolia

36,550

Bourcier de Carbon

34,100

-1,900

Marc Bariller

33,325

22,825

Joe Kuether

33,275

23,275

Tristan Wade

30,875

-1,625

Erik Cajelais

29,300

9,300

Gil George

28,400

5,200

John Monnette

19,875

-10,125

John Tabatabai

6,175

-4,825

Matmar Kouider

Busted
Players are now bagging and tagging, which means action has come to an end with 53 players remaining. Combined with Day 1a's 45, 98 players will return tomorrow for Day 2 and look to make the money at the top 63.
Stay tuned for the top chip counts and a full recap of today's action.
Tristan Wade opened for 850 from middle position only to have the small blind three-bet to 2,200. Wade opted to make the call and then bet 2,300 after his opponent checked the
flop. The small blind thought for a few seconds before folding his hand.
"Queens?" Wade asked. His opponent, who didn't speak english, just smiled. "We could have gotten it in," Wade added as he flashed
.

Level: 9
Blinds: 300/600
Ante: 75
There are approximately 12 minutes left in Level 8, and the plan is to skip the scheduled break, play ten minutes into Level 9, and then end at the same time as the Day 1a flight; in other words, players will be bagging and tagging in 20 minutes or so.
We paid a visit to Table 18 in the back of the room and saw the dealer counting out a bunch of chips. When we arrived, Erik Cajelais had
laid out in front of him on a
board. His opponent held the inferior
and the dealer was counting down his stack to pay out Cajelais. From what we could tell, the two had built the pot on both the flop and turn, before Cajelais got his last 4,000 or so in on the river.