Tilly Takes on Star-Studded Field to Soar to the Top
Level 8 : 300-600, 75 ante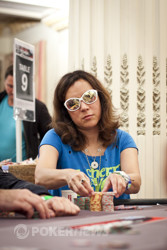 Some times at PokerNews we have to prepare a recap of the day's play bearing in mind one of a few players could finish on top of the pile. It's almost like a live reporter's range. Today we had no such problems as one player smashed, bashed, value-bet and sucked out on all comers to amass a huge stack after eight levels of play. That person was Jennifer Tilly who bagged up 218,000 chips. Asked about how her day went she just said, "I got lucky!" Ashton Griffin quickly piped in and said that she played great as well as getting lucky.
She is far clear of a chasing pack that includes Faraz Jaka (126,000), Brain Park (114,200), Marvin Rettenmaier (109,000), Michael Mizrachi (89,700), Bertrand "Elky" Grospellier (82,500) and Mori Eskandani (89,400). A total of 52 players remain. With all the success Mizrachi has had in the last year, lest us not forget he is the defending champ.
The tone of Tilly's day was set very early on when she eliminated Eugene Katchalov in the first level when her set of jacks bettered his set of eights. From there she never looked back as she eliminated player after player. If she didn't have it she made it, if she did have it they paid her off, and if they were bluffing she sniffed it out. She basically just had one of those days you dream of.
For her to have such a good day many had to have bad days. Steve O'Dwyer paid a very quick visit, Mohsin Charania couldn't win with aces or kings, Daniel Negreanu came and talked a lot before flipping off, Andrew Lichtenberger busted to go and take his Chance on Broadway, and Isaac Haxton fell to the in-form Rettenmaier.
Haxton was really straightened out by German Pro. The two took a
flop with Justin Bonomo and it was the latter who fired for 1,250. Haxton raised to 4,000 and Bonomo folded after Rettenmaier called. The turn came
and Haxton bet 8,200, tank-called by the German. The river fell
and Haxton bet his last 15,000 and was snapped off by Rettenmaier who had filled up with
. The unlucky Haxton opened
for straight and made his exit.
Play will resume at 2pm (CET) tomorrow where the tournament format moves on to the next stage. It's all about action-packed 6-max, and play will continue until we have 16 players remaining. From there the tournament moves into a heads-up format. If we reach the required number early enough then the round of 16 matches will also play out tomorrow, and will negate the need for a fourth day of play.
Join the PokerNews reporting team back here tomorrow for what promises to be an exciting day of play. This fun tournament, played for the first time here last year, sees momentum build and build as it progresses.