Event #5: €10,450 Mixed Max - No-Limit Hold'em
Day: 2
Event #5: €10,450 Mixed Max - No-Limit Hold'em
Day 2 Completed

Level 14 : 1,200/2,400, 400 ante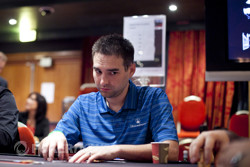 The six-handed portion of the €10,450 Mixed Max - No-Limit Hold'em event has come to an end. A total of 52 players returned today from a starting field of 96. Now only 16 remain which means that winning four heads up matches will secure a World Series of Poker Europe bracelet. Brandon Cantu emerged as the clear chip leader by holding over 25% of the total chips in play by the end of the night.
Cantu ran incredibly hot all day and began his hot streak during a massive preflop three-way all in where two players were coolered. Cantu held pocket aces and managed to eliminate Ognjen Sekularac who held pocket kings and Andy Frankenberger who held pocket queens. Cantu continued his domination throughout the day, even after Phil Hellmuth was moved next to him. Hellmuth and Cantu went to war throughout the evening and were seemingly constantly bickering as play went on. Hellmuth vowed revenge on Cantu and he will get that chance as the two will play heads up together in Round 1. Hellmuth will have his work cut out for him as he is sporting a stack of 127,400 to Cantu's 738,100
Jennifer Tilly began play today as the chip leader and she has indeed progressed onto the heads up portion of this tournament. Tilly held her spot among the leaders in the tournament until the last few levels of play. Tilly lost several chips to recent World Series of Poker Europe bracelet winner Roger Hairabedian during the hand-for-hand portion of the evening. Despite the rocky patch at the evening's end, Tilly will be moving on to Day 3 with a stack of 163,300.
The day began with some interesting table draws that promised for heavy action early and these tables did not disappoint. Within the first twenty minutes of play both Phil Ivey and Antonio Esfandiari were sent to the rail by the hands of Michael "The Grinder" Mizrachi. Mizrachi, who is the reigning champion of this event, will not be repeating his victory as he was also eliminated before play ended for the evening. Other players to leave empty handed today include: Justin Bonomo, Roberto Romanello, John Juanda, Brian Park, JC Alvarado, Chance Kornuth, and Jonathan Duhamel.
Players were finding the rail at a rapid pace up until the bubble hit. Hand-for-hand play lasted for several hours and everyone was anxiously awaiting the last person to be eliminated. Finally, Mori Eskandani fell by the hand of Marvin Rettenmaier, and each of the 16 remaining players were guaranteed a payday of at least €20,443.
After a random seeding, the heads up bracket is as follows:
| Match | Player | Chips |
| --- | --- | --- |
| 1 | Paul Tedeschi | 278,600 |
| | vs. | |
| | Roger Hairabedian | 225,600 |
| | | |
| 2 | Kristijonas Andrulis | 142,000 |
| | vs. | |
| | Mike Watson | 50,700 |
| | | |
| 3 | Martin Jacobson | 164,900 |
| | vs. | |
| | Joe Keuther | 37,100 |
| | | |
| 4 | Brandon Cantu | 738,100 |
| | vs. | |
| | Phil Hellmuth | 127,400 |
| | | |
| 5 | Faraz Jaka | 258,100 |
| | vs. | |
| | Vladimir Troyanovskiy | 66,300 |
| | | |
| 6 | Konstantin Puchkov | 183,700 |
| | vs. | |
| | Bertrand Grospellier | 18,000 |
| | | |
| 7 | Jennifer Tilly | 163,300 |
| | vs. | |
| | Marvin Rettenmaier | 191,100 |
| | | |
| 8 | Jason Mercier | 16,800 |
| | vs. | |
| | Jonathan Aguiar | 212,200 |
We will play two matches tomorrow which will leave us with the top four players. Be sure to tune at 2:00 PM CET for all of the heads up updates!

Player
Chips
Progress

Brandon Cantu

738,100

59,100

Paul Tedeschi

278,600

2,700

Faraz Jaka

258,100

6,100

Roger Hairabedian

225,600

36,300

Jonathan Aguiar

212,000

-500

Marvin Rettenmaier

191,100

1,100

Konstantin Puchkov

183,400

-32,000

Martin Jacobson

164,900

-25,100

Jennifer Tilly

163,300

16,000

Kristijonas Andrulis

147,000

34,000

Phil Hellmuth

127,400

-7,800

Vladimir Troyanovskiy

66,300

-13,600

Mike Watson

50,100

-1,200

Joe Kuether

37,100

-5,900

Bertrand Grospellier

18,000

-11,600

Jason Mercier

16,800

-11,600

Marvin Rettenmaier raised to 5,200 from the cutoff and it folded to short-stacked Mori Eskandani's big blind. Eskandani moved all in for 18,700 and after some thinking, Rettenmaier called.
Rettenmaier:

Eskandani:
Rettenmaier was crushed and it looked like the bubble would continue, but the board came
and paired Rettenmaier's jack, sending Eskandani home as the last person without money.
Martin Jacobson has had a great opening to this level after finding a way to deal with pesky neighbour, Kristijonas Andrulis.
They've played out two heads up pots and the Swede has won them both.
The first hand we witnessed saw Jacobson check-call a 19,300 bet on the turn before both players checked the river. The final board read
and Jacobson opened
for trips. Andrulis mucked.
The next hand Jacobson raised to 4,800 from the button and called when Andrulis three-bet to 13,700 from the small blind. Jacobson called and called a 9,500 c-bet on a
flop. The turn was
and Andrulis check-folded to a 16,000 bet from his opponent.
Level: 14
Blinds: 1,200/2,400
Ante: 400
Player
Chips
Progress

Brandon Cantu

679,000

-71,000

Paul Tedeschi

275,900

175,800

Faraz Jaka

252,000

52,900

Konstantin Puchkov

215,400

52,700

Jonathan Aguiar

212,500

18,400

Kristijonas Andrulis

196,700

41,700

Marvin Rettenmaier

190,000

18,700

Roger Hairabedian

189,300

-25,700

Jennifer Tilly

147,300

-54,700

Phil Hellmuth

135,200

Martin Jacobson

97,300

-18,900

Vladimir Troyanovskiy

79,900

Mike Watson

51,300

-61,900

Joe Kuether

43,000

-22,000

Bertrand Grospellier

29,600

-8,100

Jason Mercier

28,400

-8,700

Mori Eskandani

26,700

-73,600
Level 13 : 1,000/2,000, 300 ante
The bubble failed to burst in that level. The players are now on a 75-minute dinner break.
We'll have full chips counts when we return.

Hand-for-hand play will resume after players return from their one-hour dinner break. However, the last couple of hands at Phil Hellmuth's table were filled with drama.
Phil Hellmuth open limped from under the gun and Vladimir Troyanovskiy moved his short stack all in. Action was on Joe Kuether who is also sporting a short stack. Kuether went into the tank for about two minutes before Troyanovskiy attempted to call the clock. Hellmuth objected and called the TD over explaining that Kuether needs more than just three minutes to make a decision for his tournament life on the bubble. The TD obliged but eventually Kuether relented and folded his hand.
The next hand was the final hand before the break and Troyanovskiy opened to 6,000. Kuether once again thought for a solid minute before folding his cards. Cantu called and Hellmuth made it 45,000 to go. Troyanovskiy called all in for 32,800 and Cantu folded.
Hellmuth tabled
but Troyanovskiy kept his cards face down while waiting for tournament staff to come over to the table. The other two tables had wrapped up their action at this point and were waiting to see the results of this hand before adjourning to their dinner break.
As Hellmuth showed Troyanovskiy his hand he inquired as to what Troyanovskiy was holding.
"Only one hand I can have" replied Troyanovskiy without showing his cards.
Another roughly fifteen seconds passed before Troyanovskiy triumphantly threw
on the felt.
Hellmuth jumped up from the table.
"He f*ckin' slow rolled me!" Hellmuth yelled. "Only one hand you can have...you just moved in with f*cking fours! That's horrible Vladimir. You are in the wrong. You tried to call the clock on him and then you go and slow roll me."
The dealer dealt out
and Hellmuth was forced to ship over 32,800 to Troyanovskiy.
A steamed Hellmuth will have time to cool off during dinner, after which he and the rest of the players will return to hand-for-hand play.

Level 13 : 1,000/2,000, 300 ante

PokerNews is giving you the chance to boost your bankroll by $50 thanks to a special offer for new members on PartyPoker. This is definitely something you don't want to miss out on!
Simply sign up to PartyPoker through PokerNews, follow some simple registration steps highlighted below, and the free $50 will find its way to your account in a matter of days:
Download the PartyPoker software through PokerNews
Create a new PartyPoker account and enter the bonus code "PN50FREE"
Fill in the registration form in the PartyPoker cashier
Return to PokerNews and fill in our small registration form
Check your email inbox for a confirmation email from [email protected]