Netaliev Barrels it Off Against Bujtas

Level 13 : 2,000-4,000, 4,000 ante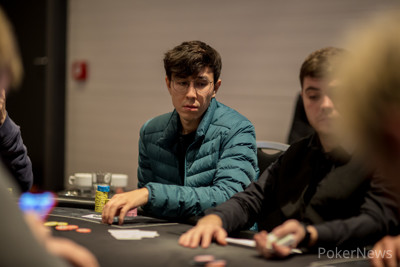 Laszlo Bujtas opened with a raise to 9,000 and Jason Wheeler called one seat over. Oleg Netaliev was next to act and three-bet to 36,000. Bujtas called, as did Wheeler, to create a pot of over 100,000 already before the flop was dealt.
The
flop got checked to Netaliev, who continued for 45,000. Bujtas stuck around while Wheeler gave it up.
On the
turn, Netaliev pondered for over a minute before coming up with a bet of 95,000. Bujtas once again called the bet.
The
river completed the board and Bujtas checked a third time. Netaliev thought briefly before moving in for 208,000 total. Bujtas double-checked his hole cards to be sure, then put his stack in with a loud thump.
Oleg Netaliev:

Laszlo Bujtas:
Netaliev had nothing to show for except a daring attempt with king-high, but had run into Butjas' stone-cold nuts to be left with mere dust.
After doubling his crumbs, Netaliev shoved once more for 20,500 from under the gun and got called by Andrei Boghean in the cutoff and Timo Kamphues on the button. Bujtas wanted to finish what he had begun and reshoved from the small blind to get the others out of the way. Netaliev held
but couldn't beat Bujtas'
and was eliminated.