Brand-New Event #3: €1,350 Mini Main Event Starts Day 1a at 2 PM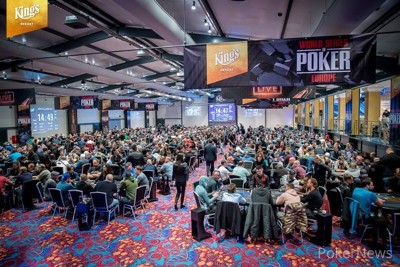 The third event of the 2019 World Series of Poker Europe is set to start at 2 p.m. local time today here at the King's Resort in the Czech Republic. Event #3: €1,350 Mini Main Event will be the first event to cross the €1,000 buy-in-mark and is a brand-new appearance here in Rozvadov. There is a €551,750 guaranteed prize pool which includes five seats to the Main Event worth €10,350 each.
Many familiar players have already been spotted during the WSOP International Circuit which came to a close two days ago and quite a few of them are expected to participate in this tournament too. Fresh WSOP Circuit Ring winners like Andrei Makavets, Muhamet Perati, Jaroslav Peter, Marius Gicovanu, Michael Sklenicka, and WSOP Circuit Main Event Winner, Jakub Oliva might be showing their faces again.
When players take their seat on Day 1a, they will get 100,000 in chips. There are three starting flights in total with one reentry possible per flight. The late registration and reentry period is open for twelve levels and the break that follows it. A 15-minute break has been scheduled after every three levels of 40 minutes each with a 60-minute dinner break after Level 9. Play will continue until there is 15% of the field left on the Day 1s.
The PokerNews live reporting team will be on hand to bring you all the updates from the floor as they happen throughout the day until the final bag has been stored away.
Day 1 Structure
| Level | Duration | Small Blind | Big Blind | BB Ante |
| --- | --- | --- | --- | --- |
| 1 | 40 | 100 | 300 | 300 |
| 2 | 40 | 200 | 400 | 400 |
| 3 | 40 | 300 | 500 | 500 |
| Break | 15 | | | |
| 4 | 40 | 300 | 600 | 600 |
| 5 | 40 | 400 | 800 | 800 |
| 6 | 40 | 500 | 1,000 | 1,000 |
| Break | 15 | | | |
| 7 | 40 | 600 | 1,200 | 1,200 |
| 8 | 40 | 800 | 1,600 | 1,600 |
| 9 | 40 | 1,000 | 2,000 | 2,000 |
| Break | 60 | | | |
| 10 | 40 | 1,000 | 2,500 | 2,500 |
| 11 | 40 | 1,500 | 3,000 | 3,000 |
| 12 | 40 | 2,000 | 4,000 | 4,000 |
| Break | 15 | | | |
| 13 | 40 | 3,000 | 5,000 | 5,000 |
| 14 | 40 | 3,000 | 6,000 | 6,000 |
| 15 | 40 | 4,000 | 8,000 | 8,000 |
| Break | 15 | | | |
| 16 | 40 | 5,000 | 10,000 | 10,000 |
| 17 | 40 | 6,000 | 12,000 | 12,000 |
| 18 | 40 | 8,000 | 16,000 | 16,000 |
| Break | 15 | | | |
| 19 | 40 | 10,000 | 20,000 | 20,000 |
| 20 | 40 | 12,000 | 24,000 | 24,000 |