Event #5: €2,500 8-Game Mix
Day: 2
Event #5: €2,500 8-Game Mix
Day 2 Completed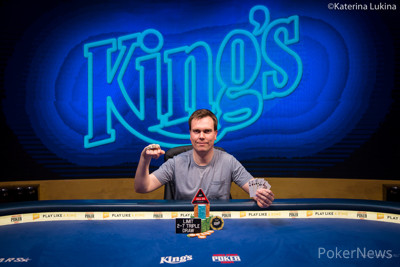 Norway's Espen Sandvik has become the fourth bracelet winner of the 2019 World Series of Poker Europe in King's Resort. Sandvik reigned supreme at the end of Event #5: €2,500 8-Game Mix and received €75,246 as well as the coveted WSOP gold bracelet. He follows in the footsteps of Thor Hansen, Sigurd Eskeland, and Annette Obrestad as the fourth bracelet winner from the Scandinavian country.
Phil Hellmuth, meanwhile had his quest for bracelet No. 16 cut just short. He was relegated to a third-place finish, adding to his nearly $15M in lifetime WSOP winnings.
Much to the delight of the crowd, Hellmuth was making a very deep run in this event and ensured a packed rail at times in King's. "The Poker Brat" came very close to improving further on his legacy, but, like the others, ultimately had to tap out to the relentless Norwegian, who knocked out each of his opponents single-handedly.
Being challenged by a driven and arguably the most successful player in WSOP history isn't for the faint of heart, and Sandvik admitted the thought about a possible heads-up looming with the 15-time champ crossed his mind.
"I was hoping not to play heads-up against him, because maybe I'd become a bit more nervous then," he said.
Despite these jitters, Sandvik added that he's not one to easily become flustered, and quipped back at Hellmuth when asked if he was nervous, as Hellmuth tried to leverage his experience over the opposition. The calm Norwegian kept his composure and did so as well when he explained what winning a WSOP gold bracelet meant to him.
"More confidence and more inspiration to work harder," he said, explaining that playing within his roll kept him confident. "I'm mature in bankroll management, the buy-in of the Main Event is too much. I don't take too big risks. I feel good about playing like this and not be nervous."
Event #5: €2,500 8-Game Mix Final Table Results
| Place | Player | Country | Prize (EUR) | Prize (USD) |
| --- | --- | --- | --- | --- |
| 1 | Espen Sandvik | Norway | €75,246 | $84,058 |
| 2 | Ville Haavisto | Finland | €46,613 | $52,072 |
| 3 | Phil Hellmuth | United States | €31,058 | $34,695 |
| 4 | Jeff Madsen | United States | €21,386 | $23,890 |
| 5 | Thomer Pidun | Germany | €15,235 | $17,019 |
| 6 | Jochen Kaiser | Germany | €11,242 | $12,559 |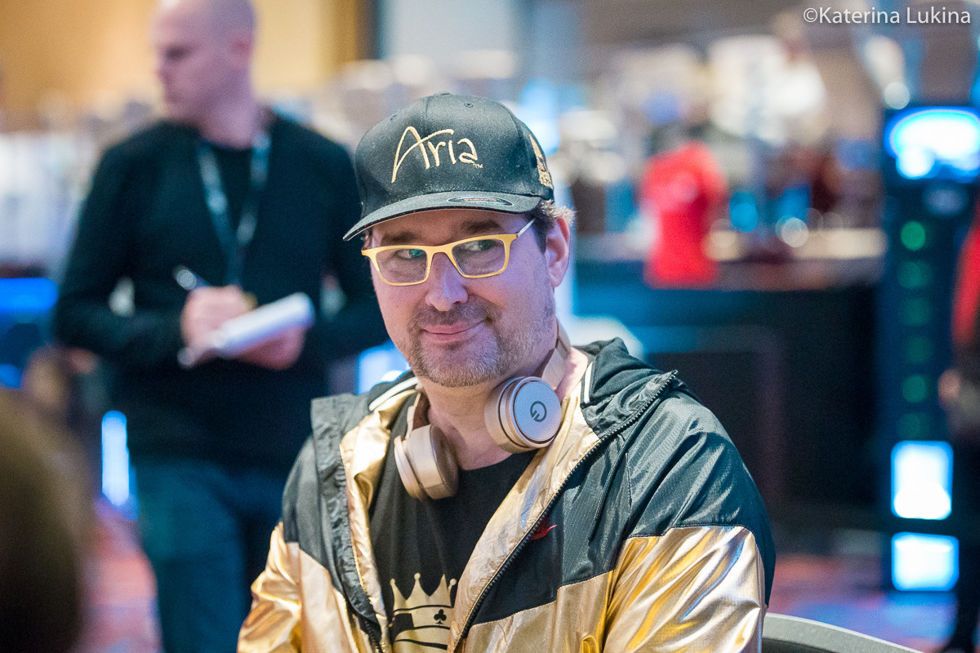 Blom, Negreanu Miss Out on the Money
Twenty-six players returned at 3 p.m. to King's Resort to play down to a winner, with only a money finish waiting for 11 of them.
At the start, Sandvik was still an unknown face positioned in the middle of the pack, far away from the spotlights that were being hogged by big dogs such as Viktor Blom, Eli Elezra and Daniel Negreanu. However, the arduous nature of limit poker reared its head once again, providing some brutal swings along the way that caused many a player to yo-yo up and down the leaderboard as the day progressed.
Perhaps the one player that's eponymous when it comes to swings in poker, online legend "Isildur1" Blom, ran into the bad side of variance today. Despite starting the day off second in chips, Blom became one of the early casualties after losing several sizable limit pots before getting his aces cracked in his signature pot-limit Omaha game by Kahle Burns.
Burns was also responsible for knocking out Negreanu, whose run came to an end shy of the money as well. "Kid Poker" found himself in good companionship, as fellow big names Jeff Lisandro, Allen Kessler, Manig Loeser and Eli Elezra also missed out on another WSOP cash. David "ODB" Baker was the bubble after losing a nine-low to Madsen's seven-low in razz.
Once in the money, Tomasz Gluszko and Didier Rabl were the ones having to settle for min-cashes, as did Burns who lost queens versus Joao Vieira's kings in stud. After Sebastian Pauli finished in eighth place, it was Vieira who bowed out next, despite holding the chip lead not long before that. First, the 2019 bracelet winner lost part of his stack to Hellmuth before Sandvik broke him in stud with a full house versus a flush.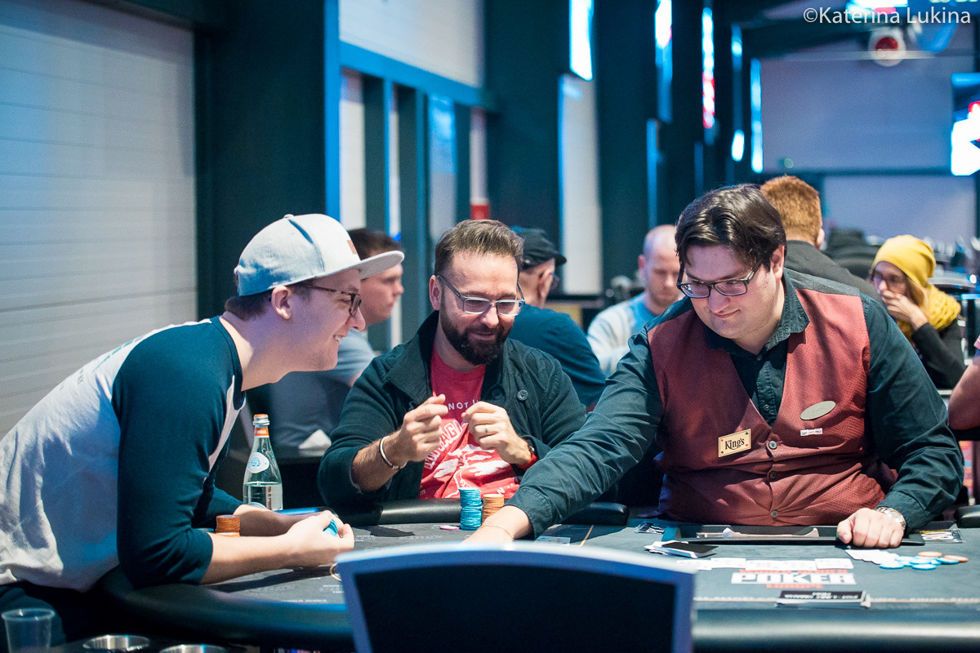 Sandvik Steamrolls the FT
With the knockout of Vieira, Sandvik started the official final table with a sizable chip lead and strapped the rocket accordingly. Shortly after the dinner break, he knocked out Jochen Kaiser in triple draw, then toppled Thomer Pidun in razz to leave the field with four.
Not done yet, Sandvik subsequently took Jeff Madsen apart in fourth place. Holding jack-eight of spades on a king-eight-three flop with one spade, Sandvik got it in against Madsen's pocket tens. Two more spades came on the turn and river to give Sandvik an overwhelming chip lead against Hellmuth and Ville Haavisto.
"I was hoping not to play heads-up against [Hellmuth]"
Twenty minutes after Madsen's bust, it was Hellmuth who became the next to fall to Sandvik. In triple draw, Hellmuth check-called all the way in a hand where both players kept drawing until the final draw. Sandvik showed him a made eighty-seven to leave Hellmuth with crumbs, which he lost the next hand.
Sandvik started the heads-up with an 18-to-1 lead against Haavisto, who got his stack in on the very first hand to try and turn things around. Still in triple draw, Haavisto was drawing live on the final draw against a pat queen-low, but bricked by pairing his hand to make Sandvik the fourth bracelet winner of the 2019 World Series of Poker.
Photos by Katerina Lukina / King's Resort.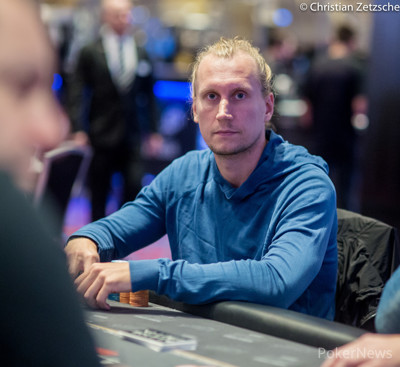 2-7 Triple Draw
Facing a 18:1 chip deficit, it was clear the heads-up would be quite the uphill battle for Ville Haavisto if he was to make a stunning comeback. In the first hand of heads-up, his stack of 183,000 quickly went into the middle after a series of raises.
On the first draw, Haavisto drew two and Espen Sandvik three. Both drew two apiece on the second draw.
On the final draw, Haavisto drew one while Sandvik waved his hand, indicating a pat.
Ville Haavisto:

Espen Sandvik:
Haavisto had plenty of outs to double but paired up with the
to finish in second place, worth €46,613.

Level 24 : 50,000/100,000, 0 ante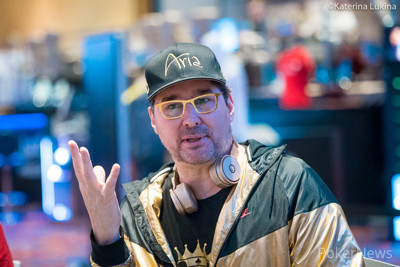 2-7 Triple Draw
Two triple draw hands became the demise of Phil Hellmuth, who saw his attempt to win bracelet No. 16 end in third place. In the first hand, Hellmuth raised the small blind and Sandvik called. They both drew two apiece on the first draw and Hellmuth check-called a bet.
Hellmuth drew two cards on the second draw while Sandvik drew one. Once again, Hellmuth check-called. On the third draw, both drew one card and Hellmuth check-called another street.
Sandvik showed
and Hellmuth mucked, leaving himself with just 120,000.
Two hands later, Sandvik raised on the button and Hellmuth called from the big blind. Hellmuth drew four cards while Sandvik took two.
Hellmuth put the rest of his chips in the middle and was all in, while Sandvik called him quickly.
On the next two draws, Hellmuth drew two cards each time, while Sandvik drew one. Agonizingly slow, Hellmuth revealed
for a paired hand. Sandvik showed
to take the pot and eliminate Hellmuth in third place.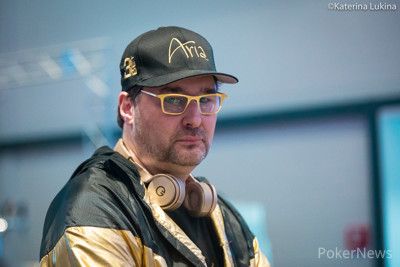 Stud Hi-Lo
Phil Hellmuth:
/
/

Espen Sandvik:
/
/
Ville Haavisto was the bring-in with the
. Phil Hellmuth completed, Espen Sandvik made it two bets, Haavisto folded, and Hellmuth called. Sandvik check-called fourth street before leading out on the remaining streets. Hellmuth raised the river all in and Sandvik called.
Hellmuth showed
, Sandvik tabled
and the two chopped it up.
Under the watchful eye of a densely-packed crowd, due to the Mini Main being on break, the pair then tangled in another Stud Hi-Lo hand. This time, Sandvik brought it in, Hellmuth completed and bet all the way, with Sandvik calling him down.
Phil Hellmuth:
/
/

Espen Sandvik:
/
/
Hellmuth rolled over
for a pair of sevens and seventy-six low, but Sandvik once again took half after revealing
for a better low. The Poker Brat jolted from his seat and created a lively show for the many onlookers before sitting down again.
Player
Chips
Progress

Espen Sandvik

2,765,000

265,000

Phil Hellmuth

400,000

-75,000

Level 24 : 50,000/100,000, 0 ante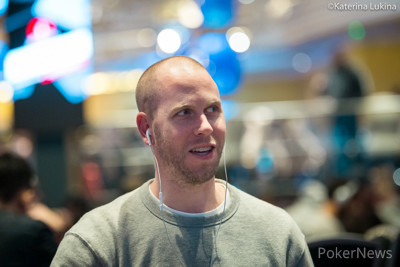 Limit Hold'em
Espen Sandvik raised the button, Jeff Madsen three-bet the big blind and Sandvik called. The flop was
and Madsen bet. Sandvik raised, Madsen pushed and Sandvik called.
Jeff Madsen:

Espen Sandvik:
Madsen was ahead with his pair of tens but the
on the turn gave some extra outs to Sandvik. The
on the river was one of them and Sandvik completed his flush to send one more opponent to the rail.
Level: 24
Limit - 25,000/50,000 blinds
Stud Games - 10,000 ante/15,000 bring-in/50,000 completion
No-Limit & Pot-Limit - 36,000 ante, 12,000/24,000 blinds
Pot-Limit Omaha
Espen Sandvik raised to 50,000 first to act and Phil Hellmuth defended his big blind. Sandvik bet 35,000 on the
flop and 100,000 on the
turn, check-called twice by Hellmuth.
Hellmuth checked the
river and Sandvik checked behind after thirty seconds, opting not to fire another bet with
. Hellmuth flashed
and mucked.
Player
Chips
Progress

Espen Sandvik

2,050,000

210,000

Phil Hellmuth

475,000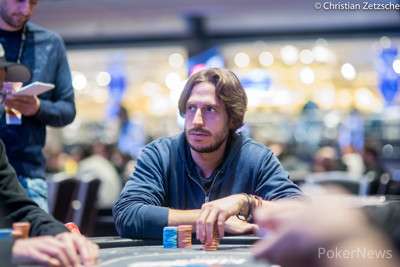 Razz
Thomer Pidun:
/
/

Espen Sandvik:
/
/
Ville Haavisto was the bring-in with the
. Thomer Pidun, left short after the massive three-way clash in the previous hand, completed and Espen Sandvik called with his jack after some thought. Haavisto folded.
On fourth street, Pidun moved all in for his last 40,000 and Sandvik, catching a Broadway card, took his time before committing the call.
Pidun had caught a brick on fourth and bricked again on fifth, ultimately ending up with Q-8-7-5-4. Sandvik played T-9-7-6-A and Pidun was eliminated.