Event #14: €10,350 Main Event No-Limit Hold'em
Day: 5
Event #14: €10,350 Main Event No-Limit Hold'em
Day 5 Completed

Level 29 : 100,000/200,000, 200,000 ante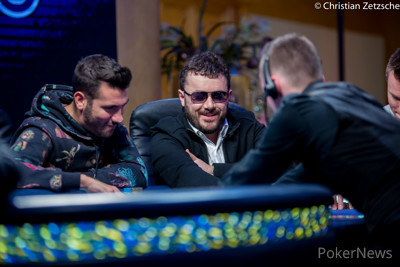 Not even four full levels were needed to whittle a field of 14 players down to the last six players of the 2019 World Series of Poker Europe €10,350 Main Event at King's Resort. Anthony Zinno from the United States leads the way with 16,845,000 in chips.
Behind Zinno is Alexandros Kolonias, who bagged 12,150,000 in chips after spinning up a short stack on the penultimate day. Dario Sammartino, chip leader at the start of the day, remains in contention as well. The Italian is just the fourth player that made two World Series of Poker Main Event final tables in the same year, after Ivan Demidov, Antoine Saout, and James Akenhead. Sammartino will enter Day 6 with 7,100,000 chips, giving him the fourth-biggest stack among the remaining hopefuls.
The other three players that round the top six are Anh Do (8,725,000), Claas Segebrecht (6,400,000), and Rifat Palevic (2,915,000). Here are how the players are seated when play resumes on Thursday, October 31 at 2 p.m. local time.
2019 WSOPE Main Event - Seat Assignments for the Final Day
| Seat | Player | Country | Chip Count | Big Blinds |
| --- | --- | --- | --- | --- |
| 1 | Rifat Palevic | Sweden | 2,915,000 | 15 |
| 2 | Anh Do | Czech Republic | 8,725,000 | 44 |
| 3 | Claas Segebrecht | Germany | 6,400,000 | 32 |
| 4 | Dario Sammartino | Italy | 7,100,000 | 36 |
| 5 | Anthony Zinno | United States | 16,845,000 | 84 |
| 6 | Alexandros Kolonias | Greece | 12,150,000 | 61 |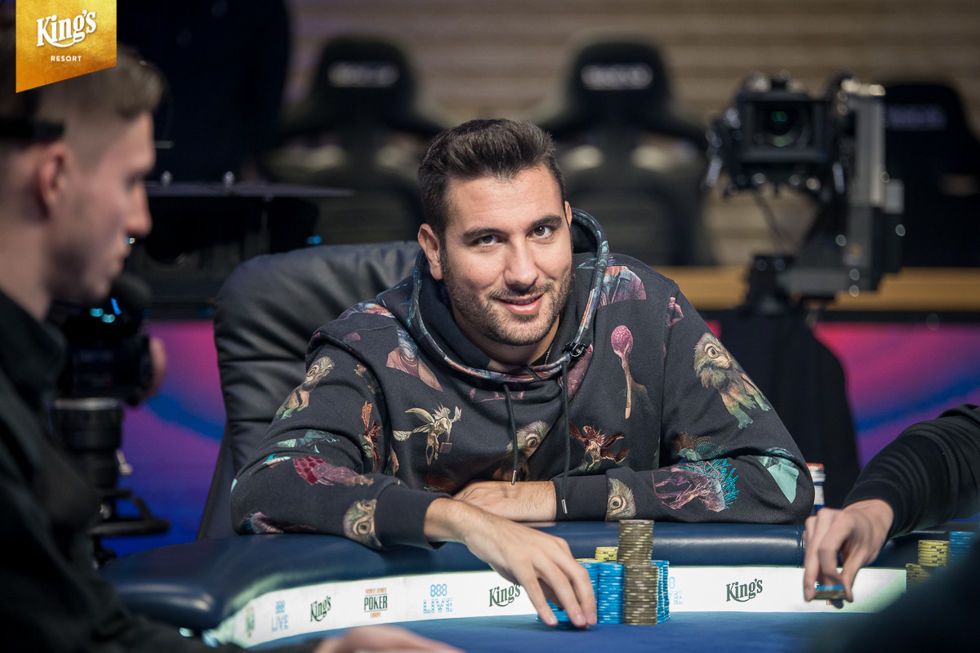 A Real Blast for Zinno
"My final day was a blast, a real blast", Zinno said after he was done with bagging and tagging his chips. "I started the day feeling optimistic about the outcome, this is how I play every tournament, always focused on winning. I lost a preflop all-in during the final table with ace-jack versus ace-queen, but I tried to remain calm. I realized that I still have a big stack and there is no reason to be disappointed," the bracelet-winner added.
If Zinno wins the Main Event tomorrow, it will be his third WSOP gold bracelet and his third seven-digit score, all of which will correspond to first places. "No matter how big your volume is in the span of two years, the variance is a huge factor and usually you get many top 18 finishes. It is very important to run well in these spots, and this is exactly what happened to me today. I ran pure," Zinno explained.
The most important hand of the day for Zinno was the last one, where he eliminated Julien Martini in seventh place. The Frenchman opened from the hijack with queens, Anh Do called from the cutoff with ten-nine and Zinno picked up aces in the big blind.
"This was a straight cooler, as I was blessed to hold aces. I could have ace-jack and the progress of the hand would have been exactly the same except the result, so then the final table would have been a whole different story. Martini is one of the best tournament players and I can say that this was the perfect spot for me, having pocket aces in a standard squeeze spot against an aggressive player with pocket queens," Zinno said about the cooler. Martini ended up shoving all in for 5.87 million chips and Zinno called to send him to the rail after a clean board for him.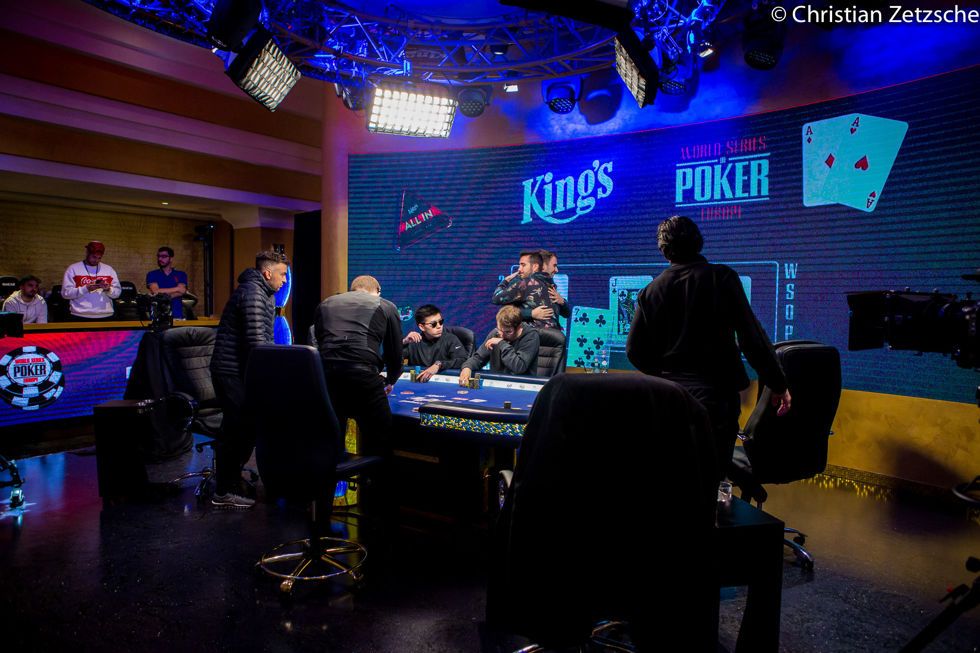 Day 5 Results and Remaining Payouts
| Place | Winner | Country | Prize (in EUR) | Prize (in USD) |
| --- | --- | --- | --- | --- |
| 1 | | | €1,133,678 | $1,258,383 |
| 2 | | | €700,639 | $777,709 |
| 3 | | | €485,291 | $538,673 |
| 4 | | | €341,702 | $379,289 |
| 5 | | | €244,653 | $271,565 |
| 6 | | | €178,171 | $197,770 |
| 7 | Julien Martini | France | €132,017 | $146,539 |
| 8 | Jakob Madsen | Denmark | €99,555 | $110,506 |
| 9 | Marek Blasko | Slovakia | €76,432 | $84,840 |
| 10 | Daniel Rezaei | Austria | €76,432 | $84,840 |
| 11 | Jan-Peter Jachtmann | Germany | €59,759 | $66,332 |
| 12 | David "ODB" Baker | United States | €59,759 | $66,332 |
| 13 | Christian Rudolph | Germany | €47,599 | $52,835 |
| 14 | Mykol Kostyrko | Ukraine | €47,599 | $52,835 |
Day 5 Action
Play started for Day 5 of the event with 14 players returning to the tables to battle it out for a seat on the unofficial final table of nine and then in the final six players of the Main Event. At the beginning of the day there were multiple double ups as it looked like the short stacks were always finding a way to stay alive and win the all in clashes.
It took almost an hour for the first elimination to come and it was Mykola Kostyrko who busted in 14th place. After the eliminations of Christian Rudolph, David "ODB" Baker, Jan-Peter Jachtmann, and Daniel Rezaei the unofficial final table of nine was set.
A record nine different nationalities composed the final table of the event, with Alexandros Kolonias holding the chip lead with over eight million chips, but there were three more players who had more than eight million. The players were mostly careful during the final table and it took almost one and a half level for the first elimination.
Marek Blasko saw his king-queen being in the losing end of the hand against Zinno's king-ten, despite hitting a queen on the flop, since two tens in the turn and the river respectively sent him to the rail. Jakob Madsen lost a flip against Kolonias when he was left short to bust in eighth place and sent the remaining players to the final day bubble.
Martini started Day 5 in the best possible way since he doubled up in the very first hand against Baker to take the lead but finished just one place away from the final day of the event. "So close but yet so far," is what he said after busting in his fourth career WSOP final table.
The final day kicks off Thursday at 2:00 pm. and will play down to a winner with 44 minutes remaining in Level 29 with blinds 50,000/100,000 and a big blind ante of 100,000. PokerNews will be here to provide you all the coverage, with the live stream and the updates on a one-hour delay at 3:00 p.m. and concluding when the WSOPE Main Event champion is crowned.
Day 5 has concluded with six players remaining and 44 minutes left in the level. A full recap of today's action is to follow.
Player
Chips
Progress

Anthony Zinno

16,845,000

Alexandros Kolonias

12,150,000

35,000

Anh Do

8,725,000

-450,000

Dario Sammartino

7,100,000

-850,000

Claas Segebrecht

6,400,000

Rifat Palevic

2,915,000

-500,000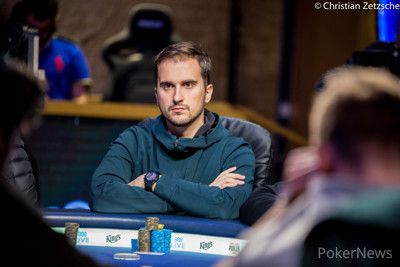 Julien Martini raised to 450,000 from the hijack and Anh Do called from the cutoff with
. Anthony Zinno three-bet to 1,700,000 from the big blind and Martini responded by moving all in for for 5,870,000. Do gave up his hand but Zinno snap-called
Julien Martini:

Anthony Zinno:
The
board was of no help to Martini and he headed to the exit in 7th place for €132,017.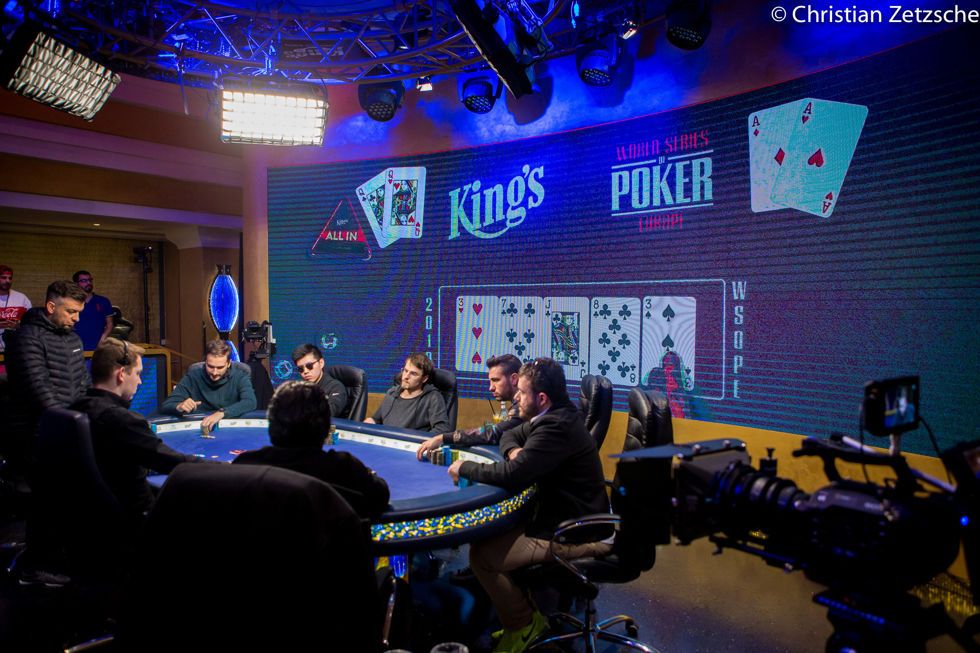 Player
Chips
Progress

Anthony Zinno

16,845,000

7,920,000

Julien Martini

Busted
Anh Do on the button raised to 480,000 on the button and Claas Segebrecht three-bet to 1,800,000 with 1,200,000 behind. Do moved all in and Segebrecht instantly called.
Anh Do:

Claas Segebrecht:
"Domination nation," Do said in table chat and there was plenty of laughter at the table, Segebrecht had a smile on his face.
The flop came
and changed nothing yet. Segebrecht picked up no help on the
turn but the
on the river came to the rescue for the German.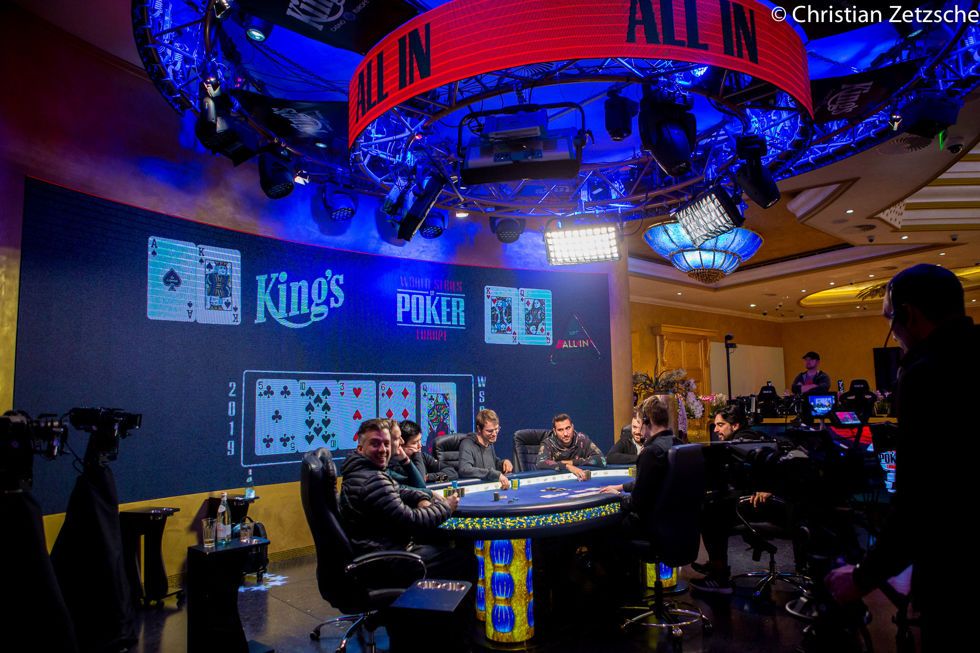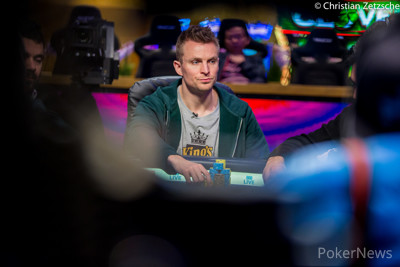 Anthony Zinno raised to 500,000 from early position with
and Jakob Madsen three-bet shoved for 2,060,000 from middle position. Alexandros Kolonias made the call from the hijack but Zinno let it go.
Jakob Madsen:

Alexandros Kolonias:
The board ran out
and Kolonias raked in the pot with jacks and fours, sending Madsen to the rail in 8th place for €99,555.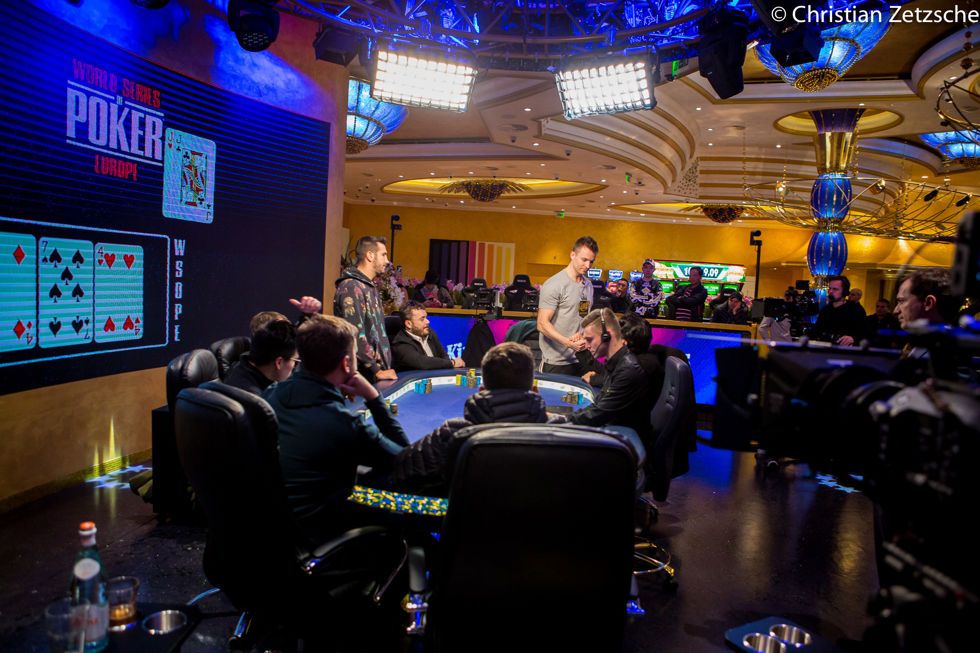 Dario Sammartino raised to 450,000 from middle position with
and Alexandros Kolonias called from the button with
.
The flop fell
and was checked through to the
turn. Sammartino checked again but Kolonias threw in a bet of 475,000. Sammartino check-called.
The
filled up the river and was checked around. Sammartino took down the pot.
Julien Martini opened the action with a raise to 450,000 in the hijack with the
and Anthony Zinno came along out of the big blind with the
. On a flop of
, Zinno checked Martini did so as well in order to see the
turn for free.
Zinno checked once more and Martini now bet 800,000 to instantly win the pot.
Claas Segebrecht raised to 400,000 with the
and Jakob Madsen in the big blind gave it some thought before laying down
.
Player
Chips
Progress

Anthony Zinno

8,925,000

-750,000

Julien Martini

6,370,000

250,000

Claas Segebrecht

3,400,000

Jakob Madsen

2,060,000

-500,000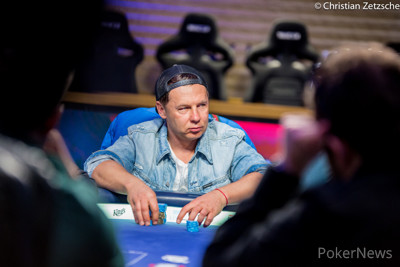 Anthony Zinno raised to 450,000 from early position with and Marek Blasko called from the cutoff.
The dealer fanned a flop of
and Zinno bet 2,000,000. Blasko, with 1,270,000 behind, went deep into the tank.
"I don't have 2 million, I cannot pay you," commented Blakso jokingly.
After some more reflection, Blasko made the call.
Anthony Zinno:

Marek Blasko:
Zinno had a gutshot but Blasko was ahead with a pair of queens. However, the turn brought the
giving Zinno a pair of tens and the
river completed the board improving Zinno's hand to trip tens for him to win the pot, eliminating Blasko in 9th place for €76,432.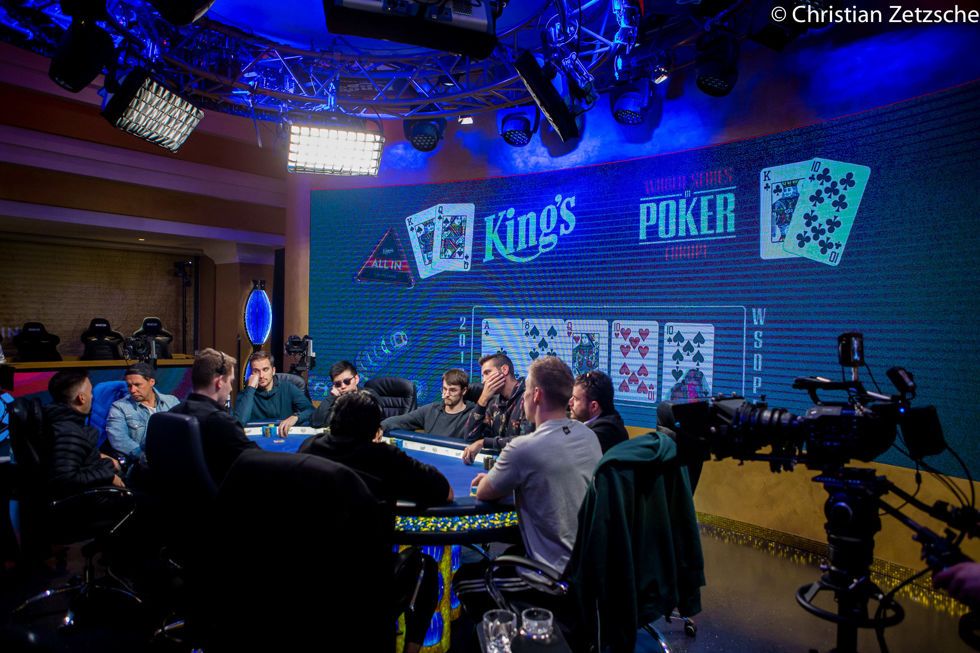 Level: 29
Blinds: 100,000/200,000
Ante: 200,000