Life on the Road: Krisztina Polgar On Her Experience at the PokerStars European Poker Tour
Krisztina Polgar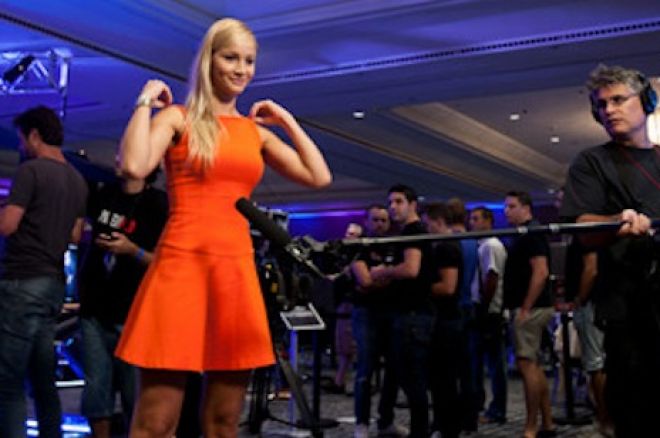 A week full of experiences...
Once upon a time there was a little girl who always knew that a card game — namely poker — will play an important part in her life. Well, okay, this is not exactly the truth. I had other plans in mind as a little girl, but perhaps the best thing that could have happened was poker crossing my path.
While sitting in school, I felt that I needed something to satisfy my adrenaline addiction, and then someone unexpectedly entered my life who introduced this superb game to me, taught me the basics, and I've loved the game ever since — for more than four years now.
I love playing it and I grab every opportunity to sit to the table. So far, I have mostly played face-to-face. I like when there is a personal contact between the players, and to be honest muliebrity is often advantageous at the table. So why have I started to like online poker nowadays? I am going to speak about it a little bit later.
I graduated college last year as a communications-cultural manager and I was thinking a lot how to connect the worlds of media and poker, since both of them are truly exciting areas. And at this point the creative power of thought, which plays a huge role in every area of life, came into force. My phone started ringing about a month ago, I got the opportunity to accompany the PokerNews team to Barcelona, the first stop of European Poker Tour's ninth season. When I had first learned what was waiting for me and how I could be of help for this professional team, I was really frightened because, although I am familiar with Hungarian media, poker is an area which needs great professional expertise and knowledge, and moreover I couldn't use my mother tongue. It seemed to be a hard nut to crack, but I love challenges so by hearing the good news I was jumping for joy.
I am always very confident at the poker table and in other areas of life as well, but now I have stepped into the unknown. Unknown but apparently also very exciting.
I only had a week to prepare. I tried my best. I was traveling to the wonderful Spanish city on Aug. 19 and upon arrival I met the PokerNews team. I can say that every anxiety and fear slipped away immediately. I got into a very friendly, helpful, and incredibly professional atmosphere where everyone knows their duties and fulfills them completely. Although I had no knowledge and experience, it felt like I had arrived "home."
Kristy Arnett and Lynn Gilmartin have been pillars of the team for years now. They are reporters and show incredible professionalism in the work they do. They were the ones who took me under their wings and I couldn't have been in better hands. They answered all my questions with great patience, taught me, and I am very grateful to them for accepting me as member of the team. I know them as very valuable and interesting persons with whom there's no way of getting bored because something crazy always comes to their minds (in a positive sense).
The girls threw me in at the deep end on my first day. I did interviews, followed them and tried to learn a lot from them, since they possess all the knowledge and skills. I felt increasingly confident with each day, I felt I know more and more and I would like to follow in their footsteps in many things.
Beside the lot of work, there were also chances to fool around, watch:
After sitting with Kristy so much in the PokerNews media room, we got on the same wavelength and started showing up in matching clothes.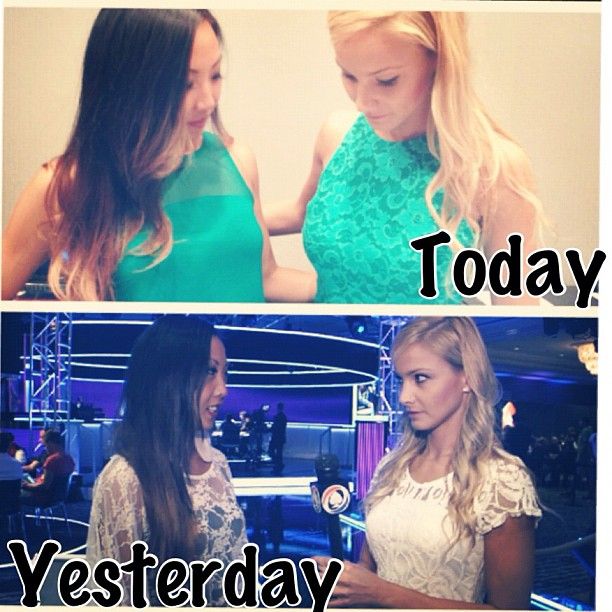 Kristy and Lynn are both beautiful and very different characters. After I joined the team we were representing three continents — Asia, Australia and Europe — but let the pictures speak for themselves: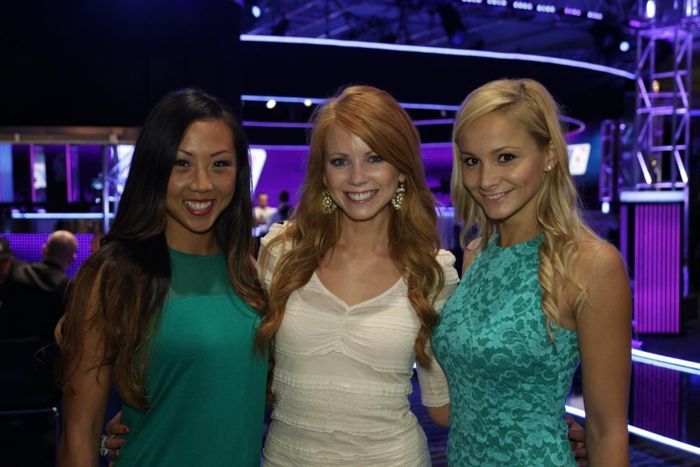 I had many positive experiences during that week. I worked with a fantastic team, very good people, got acquainted with many renowned and talented players, and last but not least, I have learned a lot. I expanded my knowledge in a field which I love and adore and consider a very important part of my life. I am grateful for every moment I could spend there.
But this story is not over yet…
I arrived home from Barcelona on a Sunday and since I couldn't sleep the previous night because of the plane's departure, I tried to get some sleep in the afternoon. As a result, I was no longer tired by the evening. I hopped on PokerStars thinking if I can't rest, at least I will try my luck. I had $150 in my account and I usually participate in small-stake games, but I had a strange feeling. I caught a glimpse of the Bigger $55 — a $55 buy-in tournament.. What I did next cannot be called a professional bankroll management — I entered the tournament.
I thought, if I fail, I send money to my account. But to be honest, I was concentrating so much on being among the best that I only looked at how much it will pay for the first three places. I refused to pay attention to the others. The long and short of it is, being equipped with the loads of positive experiences gained in Barcelona, I sat down on the couch to play with 5,056 fellow players at 10 p.m. and finished second at 9 a.m., for which I won $29,500. If something, this was definitely the culmination of my happiness.
The week in Barcelona and the success after it in the game contributed to one of the happiest periods of my life and I hope I will have the opportunity again to show how committed I am to this beautiful sport, poker.
Mr. Poker, I remain your faithful devotee, both at the table as well as around it by walking with a microphone.